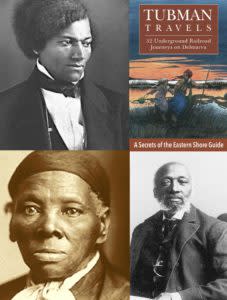 Clockwise from the top left, Frederick Douglass, Book jacket of 'Tubman Travels', Moses Viney (who escaped slavery and settled into NY) and Harriet Tubman. Photo courtesy of Visit Annapolis.
Those who've seen the film "Harriet," the Hollywood version of the Harriet Tubman story, no doubt came away feeling both sorrow and anger at once. As is usually the case, some dramatic license was taken, but according to the popular online current affairs, politics, and culture magazine, Slate, her sojourn as the conductor of the Underground Railroad was mostly accurate.
The Underground Railroad
Above all, the Underground Railroad (for which Tubman—whose likeness is ostensibly set to replace Andrew Jackson's on the $20 bill—was referred to as a "conductor") was not a "railroad," at least in the literal sense. Instead, it was a patchwork of hiding spaces and a transportation network that employed any means necessary, by land and waterway, for moving escaped slaves from the south to safe havens in the north.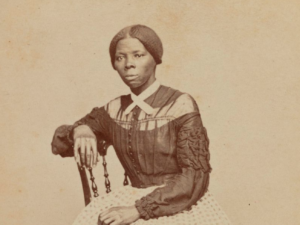 A young Harriet Tubman, this Emily Howland photo album containing the portrait of Tubman, (above: detail, ca. 1868) was unveiled March 2019 at the Smithsonian's National Museum of African American History and Culture. (Photo courtesy NMAAHC, Library of Congress)
As part of his 2015 review in The Atlantic of historian Eric Foner's groundbreaking book, Gateway to Freedom: The Hidden History of the Underground Railroad, Professor Adam Goodheart elaborated on the term as "a movement operated not under cover of darkness, but in broad daylight. . . . The Underground Railroad often was not hidden at all." Goodheart heads the C. V. Starr Center for the Study of the American Experience at Washington College in Chestertown, on Maryland's Eastern Shore. According to his review, as early as 1851, "the Mason-Dixon Line had become slavery's fraying hem. How long before the entire fabric began to unravel?" But unravel it did.
International Underground Railroad Month
In 2019, Maryland Governor Larry Hogan proclaimed September to be International Underground Railroad Month and has done so again this year. Among the state's 85 sites on the National Park Service "Underground Railroad Network to Freedom," Annapolis continues to be a central destination for anyone in pursuit of the true story behind this troubling yet ultimately triumphant chapter in American history.
Discerning visitors should consider making the city a home nerve center for exploring the entire network, especially covering such scenic drives as the 116-mile Harriet Tubman Underground Railroad Byway, which crosses the Mason-Dixon into Pennsylvania, and the Frederick Douglass Driving Tour, from the Eastern Shore to Baltimore and Washington, D.C. Part of the network is the Maryland State Archives, which operates a website, highlighting nearly 250 enslavement case studies that should lay a solid groundwork in the topic. For more information, head to their website.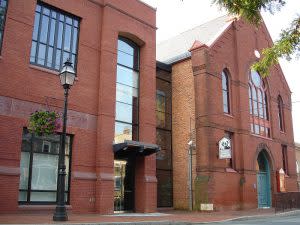 Photo of the Banneker-Douglass Museum in Annapolis, MD. Photo courtesy of Mike Busada for Visit Annapolis.
A good starting point for an Underground Railroad tour of Maryland's capital is the Banneker-Douglass Museum, which occupies the former 1874 Mt. Moriah African Methodist Episcopal Church. Administered by the Maryland Commission on African American History and Culture, it's named after Benjamin Banneker and Frederick Douglass, both towering figures in American history.
Banneker was the son of a free Black woman and a former slave. He was a self-taught astronomer, mathematician, and compiler of an early almanac who famously wrote a letter in 1871 to the author of the "Declaration of Independence," Thomas Jefferson, a slave owner himself and secretary of state at the time. In the letter, he expressed hope that Jefferson would "readily embrace every opportunity to eradicate that train of absurd and false ideas and opinions which so generally prevail with respect to us," lamenting as well "the almost general prejudice and prepossession which is so prevalent in the world against those of my complexion."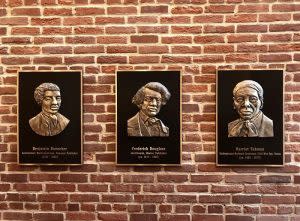 Wall plaques at the Banneker-Douglass Museum honor Banneker, Douglass and Tubman. Photo courtesy of the Banneker-Douglass Museum.
Douglass was the subject of a book by Timothy Sandefur titled: Frederick Douglass: Self-Made Man. The book's main premise is that Douglass considered the U.S. Constitution to be "an essentially anti-slavery document and that its guarantees for individual rights belonged to all Americans."
Douglass, along with Underground Railroad "conductor" Tubman, are now memorialized, as of February this year, with life-size statues unveiled in the Maryland State House's Old House Chambers to commemorate the date 155 years ago, when the state adopted a new constitution, banning slavery.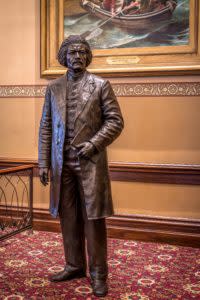 Frederick Douglass Statue in the Annapolis State House. Photo courtesy of Visit Annapolis.
The William Paca House and Garden, a National Historic Landmark at 184 Prince George Street, depicts life in the home of a signer of the Declaration of Independence. William Paca was a governor of Maryland, and himself a slave owner. In 2005, a new display opened, acknowledging a Paca family slave named Bett, complete with "a plate showing a slave's typical diet, consisting largely of hominy, and beans, with a few greens." The kitchen depicts "a kind of hierarchy among the African-American slaves living in the Paca household," according to InsideAnnapolis.com. "Thin mattress ticks, made of simple striped cotton and stuffed with corn husks or straw, lie rolled up against the wall. This was as soft a night's sleep as most of the eight to ten slaves that lived in the house could expect to enjoy."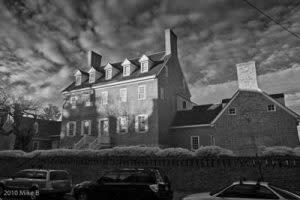 William Paca House, photo courtesy of Mike Busada.
Anyone who's seen the 2019 film "Harriet" cannot help but be moved by the story as it unfolds on the big screen. However, there's nothing better than the true stories awaiting you at the African American Heritage sites across Annapolis and Maryland- especially during International Underground Railroad month.