Blackwall Hitch (400 Sixth St.) in the Annapolis neighborhood of Eastport has quickly become one of my favorite places to eat and drink in downtown Annapolis. With one of the best rooftops in town, Blackwall Hitch excels in fresh food, fresh ingredients and an amazing beer, cocktail, and wine list to pair your food with.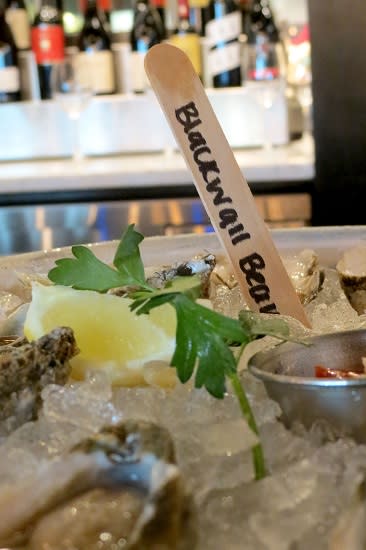 On our recent visit to Blackwall, we had the privilege to taste the Blackwall Beauty Oyster. With a recommended pairing of Stellia Di Notte Prosecco and Segura Viudas Rose´, this was a perfect afternoon treat! As a proud Maryland girl, I tend to prefer the natural salty taste of the sea when eating seafood. Topped with horseradish, Tabasco sauce, and cocktail sauce, this oyster is smooth with just enough natural salt and heat from its toppings. Not interested in all the toppings? This oyster is a crowd-pleaser all on its own. Thanks to a handful of restaurants in Downtown Annapolis, we've had our fair share of good oysters to choose from. I am happy to say that the Blackwall Beauty Oyster is now added closer to the top of that list!
Cultivated exclusively for Blackwall Hitch by family-owned, Virginia-based War Shore Oysters, this bivalve boasts a unique taste and unparalleled freshness with delivery from farm to restaurant within 24 hours of harvest.
"The Blackwall Beauty has a distinct salty start, medium velvety texture and ocean-y like finish," said Chef Jonathan Seningen, award-winning executive chef of Blackwall Annapolis. "It's grown in the waters around Chincoteague and Assateague and brought to us fresh from the oyster farm."
War Shore Oyster Company and Blackwall Hitch are associates with the Oyster Recovery Partnership (ORP), for sustainable, shellfish ecological restoration and aquaculture to improve the environment in the Chesapeake Bay.  Blackwall Hitch has been partner in shell recycling with ORP since opening in 2014.
The Blackwall Beauty oyster plate is served with two mignonettes, a cucumber-lemon and mango, as well as the traditional horseradish, Tabasco and cocktail sauce. The Blackwall Beauty oyster is one of several local oyster selections featured at the restaurants' Wine and Oyster bar, located in the main dining room in view of the exhibition kitchen.
Get over to Blackwall Hitch ans give them a try!
Photos courtesy of Darin Gilliam