Find them at the back of Old Fox Books on Maryland Ave. Photo courtesy of Brown Mustache Coffee.
Just off the beaten path on Maryland Avenue- down an alley and behind Old Fox Books- you'll find one of Annapolis' best kept secrets, Brown Mustache Coffee!
This quaint coffee shop was founded in 2016 by Joel and Colleen Bunker to provide a space for the local community to gather over a great book and an even better cup of coffee. Their community ties run deep. The locally minded owners source their coffee from Ceremony Coffee Roasters and also look to local vendors for their teas, dairy and pastry options.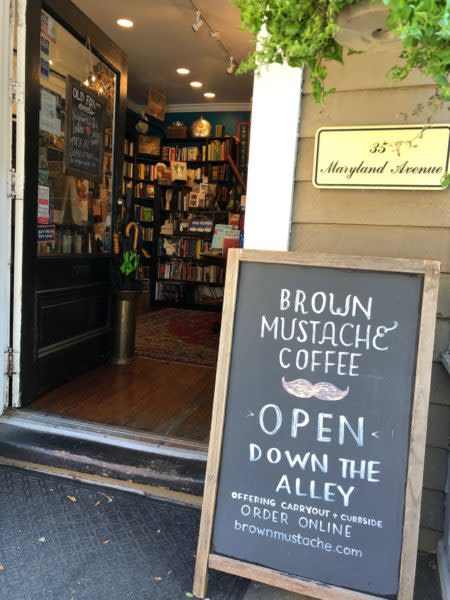 Brown Mustache Coffee has the perfect outdoor patio for a socially distant coffee chat! Image courtesy of Visit Annapolis
After you order, you'll find the loveliest little spot to enjoy your specialty brew; their outdoor garden and patio!
Watch our latest Foodie video as Joel Bunker shares his passion for coffee. You'll want to grab a friend and experience this one-of-a-kind gem for yourself. As always, be sure to follow these homegrown businesses on social media and follow Annapolis Discovered for more great Annapolis and Anne Arundel County highlights!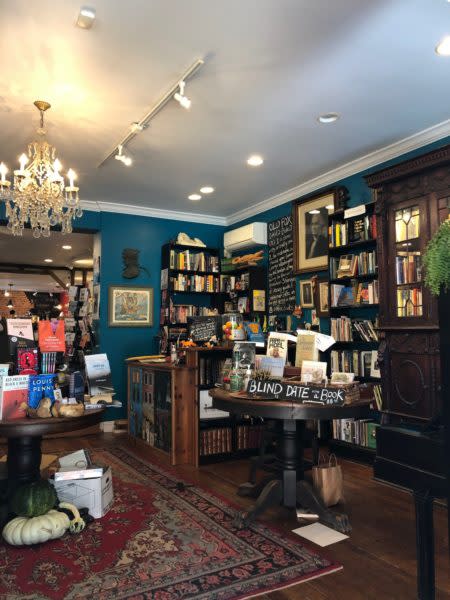 Old Fox Books is a wonderfully local book store on Maryland Avenue. In the back of the shop you will find brown mustache Coffee, a true Annapolis gem! Image courtesy of Visit Annapolis.