There are tons of reasons to party in the Annapolis area; home of the United States Naval Academy, scene of the largest in-water sail and power boat shows, an active boating community and a population that thrives on celebrations of all kinds.  Standards are high for the caterers I recommend in this article, with subjects gleaned from a list compiled by Historic Annapolis.  Those included here are considered "the very best local caterers" and based on reliable feedback and personal experience, I agree.  Most of them "take their show on the road," serving clients in Maryland, Virginia, and D.C.  And all of them do what they love and love what they do.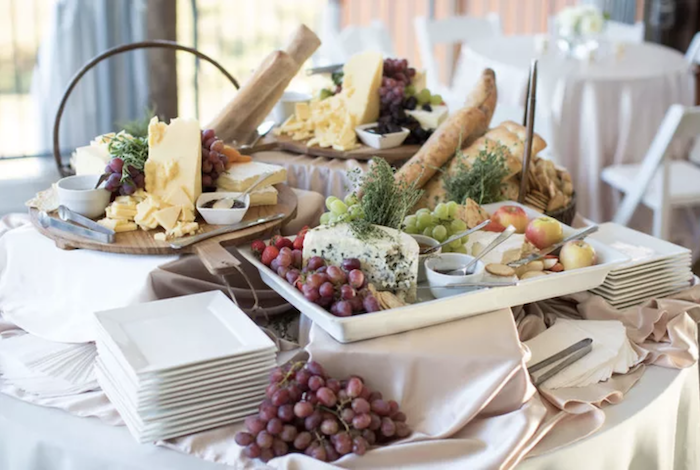 Image courtesy of The Knot
Ken's Creative Kitchen
Ken Upton, the founder of Ken's Creative Kitchen and unofficial "dean of the local catering community," has his team ready and rarin' to go year-round.  Upton has been in the catering business for 32 years.  "I still love what I do," says Upton, whose company includes his wife Doran, their grown children David and Loren and a dedicated staff. Upton and his colleagues in the local catering community comprise a formidable cadre of talented professionals serving the needs of Annapolis entertainers.  Upton works with clients to learn about their dreams and knows just how to make them come true.   The results, from his signature red roses to the final toasts, are rated "fabulous" by happy hosts. Whether a lavish wedding reception, a small dinner party, bar/bat mitzvahs, beach bash or anniversary, these people are ready to help.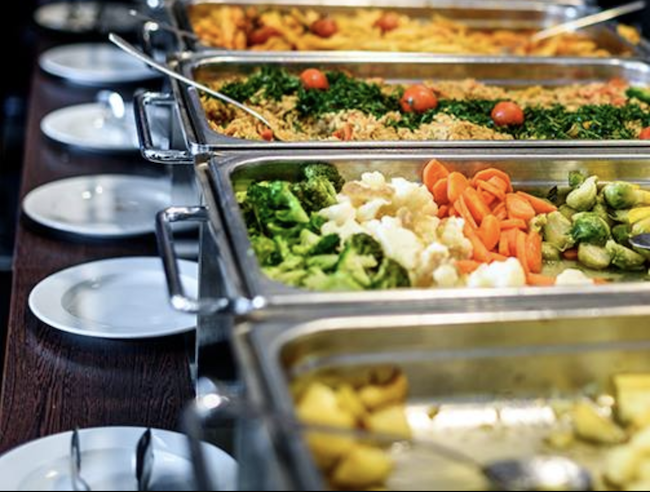 Image courtesy of Adams Taphouse and Grill Annapolis
Adam's Taphouse and Grill
Adam's Taphouse and Grill started as a small restaurant 30 years ago and has expanded to include six locations and catering for events that are rustic casual.  While their current menu is extensive and includes carving stations, a full selection of sides as well as their famous barbecued ribs and chicken, a popular choice is a whole roast pig – primed for picking.  Provide bibs for your guests and let the good times roll to your favorite country music.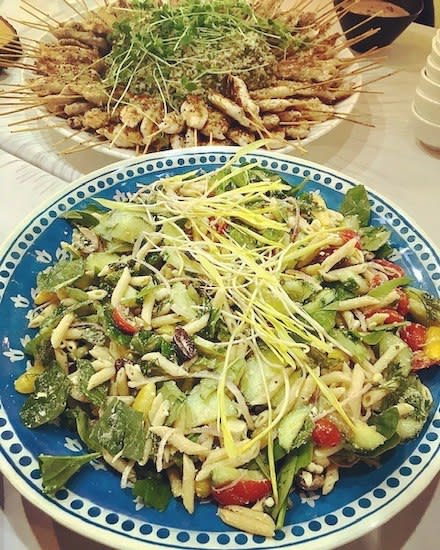 Image courtesy of Bowl of Cherries
Bowl of Cherries
Bowl of Cherries is a relatively new but notable catering company founded by experienced and charming food professional Barb Duvall.  With a background as an event designer for Ridgewell Catering in D.C. and the USNA, Duvall embraces the farm-to-table creed and creates menus that reflect local specialties.  Clients tend to superlatives when describing her work, with one former Naval Academy colleague calling her "a genius" while recalling the seated dinner for "top brass" that Duvall made so comfortable that the event went on until practically midnight.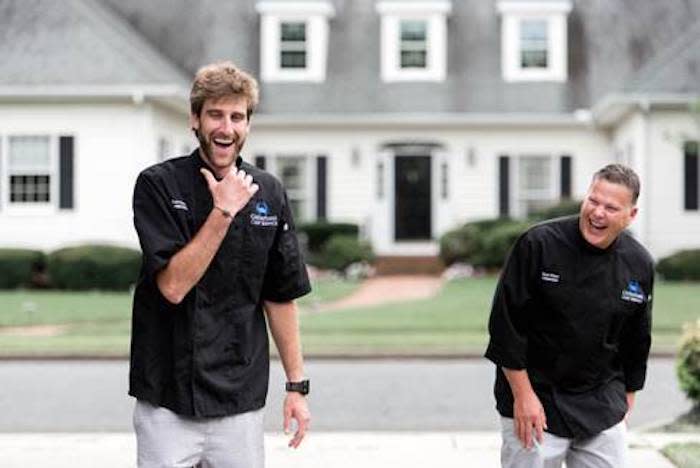 Image courtesy of Kurt Peter and Shawn Harlan, partners in Chesapeake Chef Service
Chesapeake Chef Service
Chesapeake Chef Service, a new enterprise from Eastern Shore native Kurt Peter, reflects the owner's passion for the outdoors.  He is fresh off a six-year stint as executive chef of The Westin Annapolis.  The Chesapeake Bay and working farms are the inspiration for his menus, co-created with Chef Shawn Harlan, whose creds include the storied Inn at Little Washington, Lespinasse in DC and mentorship by noted chef Rudy Speckhemp.  Peter has a small farm that provides much of the produce and herbs that distinguish this small but rapidly growing company specializing in full service for events with an environmental tilt. These guys are great to work with – easy going but very professional. Creative Cuisine owner Christina Eichenmuller has built a solid reputation for excellence for food, staff, rentals, and flowers since she opened her business nine years ago.  Eichenmuller works closely with clients on choices of menu items and style.  She and her staff take pride in their record of pleasing clients in all categories.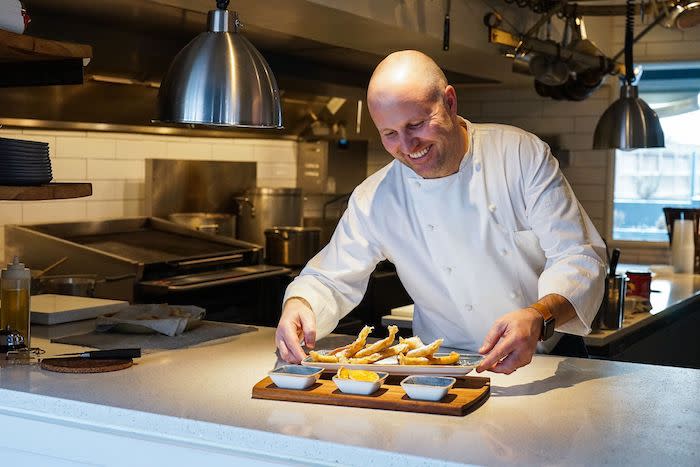 Image courtesy of Chef Frederik De Pue
Flamant
Flamant Catering, an offshoot of Chef Frederik De Pew's iconic fine-dining establishment in West Annapolis, guarantees that your party will be an original.  De Pew, a native of Belgium, is a master if creativity who works with clients who admire the style and content of his restaurant's menu and wish to share them with their guests.  While he can handle large events (i.e.: 1,500 at a DAR function) he enjoys doing small dinner parties (a group of women book him for monthly gatherings in their homes).  His restaurant, seating 64 inside and 20 outside, is available for mid-sized groups, but he is game for all sizes and spaces.  "You name it. We do it." Is his mantra Average costs for guests starts at $65, per guest/wine.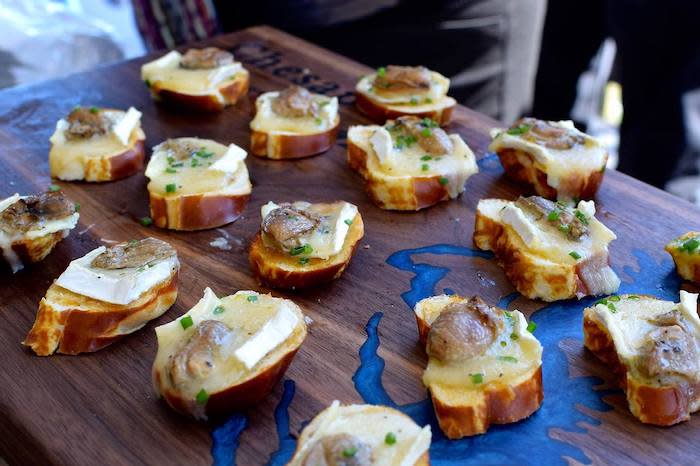 Image courtesy of Main & Market
Main & Market
Main & Market Catering has won lots of "bests" in reader surveys, a tribute to its high energy can-do team.  They have a 10-guest minimum and a max of 2,500 for their services which include food service and rentals as well as recommendations for flowers and music. "We go anywhere you want – from a field to the Chesapeake Bay Foundation," said coordinator Evie Turner.   While ample lead time is desirable, they can perform on short notice.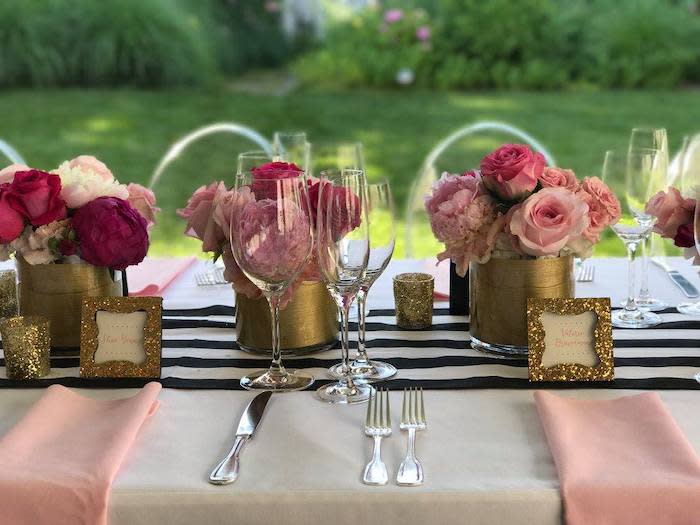 Image courtesy of Palate Pleasers
Palate Pleasers
Palate Pleasers was introduced 38 years ago by Sally Kaiser, who could be considered the "mother" of the catering community and is still an active player on the local foodie scene.  These days son-in-law Eric Daniels runs the business, which is favored for corporate events, private parties and mid-sized events on land or sea.  Their catering location is the same as its tiny take-out food shop, a pricey but popular destination for local gourmets who recognize the high quality of its products.  Clients appreciate the personal attention that Daniels and staff give to the planning and execution of their events.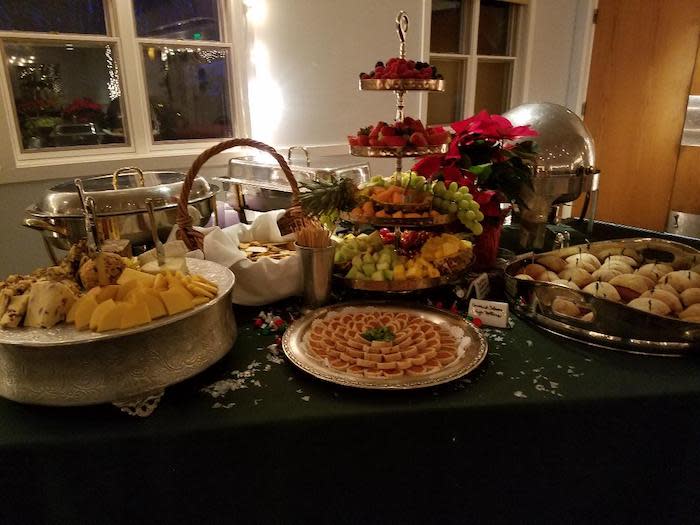 Image courtesy of Saucy Salamander
Saucy Salamander
Saucy Salamander owner Rhonda Falcon counts 40 years in the food business, first as the owner of a small Annapolis restaurant and eventually someone who people hired for help with their weddings and other special events. Her son Jonathan has helped out for the past 15 years and now serves as executive chef.  A helper by nature with an upbeat persona, Falcon offers a full-service package from set-up to breakdown and everything in between except decorations.
Note:  Among the favorite venues mentioned by the caterers interviewed for this article were the USNA, Quiet Waters Park, the Chesapeake Bay Foundation, Historic Inns of Annapolis, Historic London Towne and Gardens,  William Paca House and Gardens.  Restaurants that will cater include Harry Browne's, Galway Bay and Metropolitan Kitchen and Lounge – all in Annapolis.  Most caterers will do Crab Feasts, depending on the season and availability of Maryland crabs.