When Annapolis restaurants were shut down during the pandemic, many business owners wondered how they would pay their bills and support their staff. Would they survive? During Phase One, restaurants were allowed to offer carry-out, but knew it would only carry them so far. That's when Brian and Lisa Bolter, owners of Red Red Wine Bar and Dry 85 on Main St., hatched a plan to extend outdoor dining into the streets of downtown Annapolis.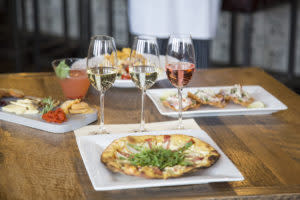 Red Red Wine Bar serves up wine, coastal cuisine and hand tossed pizzas at their Main Street location. Photo courtesy of Visit Annapolis.
In an instant they mobilized restaurants, businesses and residents to create outdoor dining zones throughout the city. Red Red Wine Bar and Dry 85 are located just steps apart from one another on Main Street in downtown Annapolis. Sitting outside on their patios and staring down the street towards the water is easily one of the best views in town.
In our latest Annapolis Discovered video; Brian Bolter tells us how they were able to make history & come together to bring outdoor dining back to Annapolis!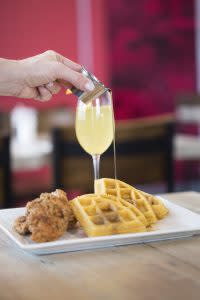 Dry 85 is a bourbon bar known for their extensive bourbon collection and delicious comfort food, especially their very popular brunch menu! Photo courtesy of Dry 85.