Two months ago, I loved traversing through the streets of downtown Annapolis to take in all of the unique, lively, and creative energy that our area helps to foster. The bars and restaurants filled with patrons, outside seating beginning to fill up as the cold weather showed signs of breaking, live music streaming out of every other door nightly, and art displayed in countless cafés, storefronts, and galleries. Two months ago one of the restaurants that I work at, 49 West Coffeehouse, Winebar, and Gallery, was opening Cindy Berry Sullivan's debut art show. Two months ago, I was trying to figure out how to prioritize more creative time in my own life.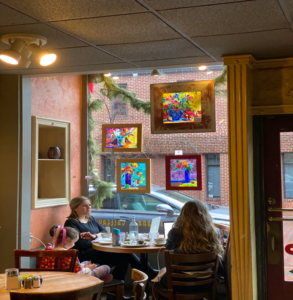 49 West Coffeehouse. Photo courtesy of the Annapolis Discovered.
COVID-19 has turned nearly every aspect of our lives upside down. Driving through the streets of Annapolis now fulfills a little bit of a morbid fascination: our lively metropolis of local culture has become a bit of a ghost town. Most businesses have taken an indefinite hiatus from being open to the public while others are running with a barebones staff to provide curbside pickup and delivery. However, showcasing, displaying, and selling art requires that people be able to see it, some might say experience it. Thankfully, we are in a day in age where we can support all of our local artists without leaving our homes.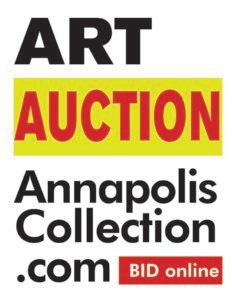 Photo courtesy of the author.
My high school art teacher rightfully professed that creativity is best bred out of limitations and many artists are using these new life parameters to do just that. The Annapolis Collection Gallery, spearheaded by Katherine Burke, is hosting 72 hour online auctions weekly, until this passes. This Gallery is devoted to the promotion of six "Annapolis Masters" who have gained recognition nationally and abroad. You can view the pieces that are for sale online; you'll have three days to win the bid, and then a new collection will go up when the prior one has finished. The Annapolis Watercolor Club has also created an online gallery in partnership with the Unitarian Universalist Church.  This gallery features watercolors of members that will be rotated monthly.
While it may seem like staying home reduces what you can do, allow the limitation to inspire you! There are a number of platforms that have adapted to have art classes to go virtual as well. Locally, ArtFarm Annapolis, released a number of online classes that will be offered. Examples of classes being offered include drawing, watercolors, nature art, and more. The best part is? You can stay in your PJs.  Give yourself the freedom to try something new…you might have the time to finally do it. They also launched an at home " Get Your Sketch On" series and an online gallery is in the works.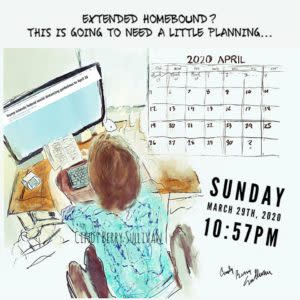 Photo courtesy of the author.
I've also noticed artist seeking different forms of inspiration and promotion. For example, Cindy Berry Sullivan, who is accustomed to live drawing music acts nearly every night, has started a new series highlighting the art of life—highlighting new elements in the routine and attempting to find beauty in life as it stands. Not to mention, many of my online connections have "finally" taken the leap to list their art up for sale, finally starting their websites, and finally getting social media accounts together to begin to promote their art in a more professional fashion.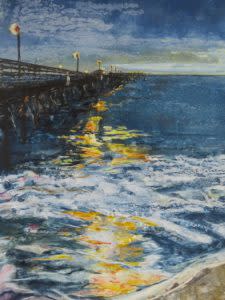 The Annapolis Watercolor Club. Photo courtesy of the author.
This is the time to come together and support each other. That does not always include purchasing art, but rather sharing, promoting, and helping artists fill the virtual crossroads with art and opportunity. We live in a time when staying at home does not mean staying away from your community. Still as lively as ever, online forums are full of ways that we can continue to be there for one another. Two months ago, I didn't have time to make art. Two months ago, I was not as involved in supporting my community. Two months ago, I took inspiration for granted. In these unprecedented times, let all that we lost in the hustle and bustle come back to us full of life, color, and a little bit outside of the lines.