In Annapolis, it doesn't matter whether you're 0 or 100% Irish, there's good reason to grab your shamrocks, wear your green and dance a jig this month. While we can't promise that you'll find that elusive pot of gold, we can promise you'll find no shortage of St. Patrick's Day events that everyone in the family can enjoy. Here's a rundown: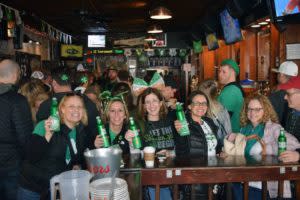 Shamrock stroll. Photo courtesy TripSavvy.com
Shamrock Stroll, March 7th Come celebrate all things GREEN at the 6th Annual Shamrock Stroll. $5 gets you all the features and a souvenir koozie as you "stroll" with Bag Pipers to many of downtown's favorite restaurants.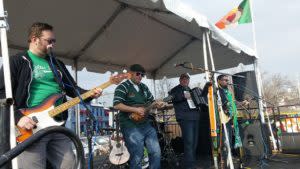 Photo courtesy of Annapolis St. Patrick's Day Parade Facebook
The Hooley, March 7th at City Dock A Hooley is what the Irish and Scottish call "a party; an evening of traditional music and dance."
The 6-year-old Hooley is the prelude to the St. Patrick's Day Parade the following day. In 2015, local resident John O'Leary created the Hooley which bills itself as "the Irish party of the year." It must be because unless you're one of the lucky 350+ who scored tickets, it's sold out for 2020.
O'Leary said his goal is to present both benefactors, Warrior Events and the Annapolis Police Foundation, checks for $5000 from funds raised. Get your tickets early next year so you can partake in the fun!
Photo courtesy of VAAAC
St. Patrick's Day Parade, March 8th As the saying goes, 'everyone loves a parade', and Annapolitans are no different. The parade celebrates eight years this year and like good wine, only gets better with age. Get in position along West, Church Circle or Main Streets for prime viewing.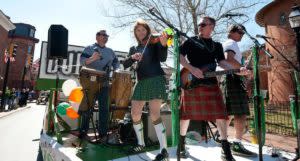 Photo courtesy of Annapolis St. Patrick's Day Parade Facebook
Shamrock the Dock, March 8th at 1pm Follow the parade procession down to Susan Campbell Park to continue the festivities at this family friendly event. Enjoy bands such as We're NOT Handsome and Dublin 5, face painters, food and libations.
"Irish Stew" at the Creative and Performing Arts, March 14th and 15th Enjoy St Patrick's Day Dinner Theater and an original ballet, 'Memories of the Green', inspired by Ireland and performed by National Ballet Company.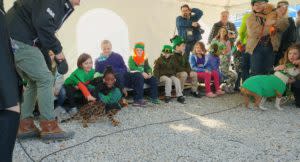 Photo courtesy of EDC Facebook.
Eastport Democratic Club "Green Beer Races" March 14th Don't be fooled by its name; the Eastport Democratic Club is apolitical! Come down to 525 State Street and enjoy kid races, best dressed pooch contest, keg toss, adult races, and live music by Dublin 5.
The Green Turtle's "RYE DAY the 13th", March 13th Enjoy Sagamore Rye's VIP whiskeys tasting, "Lucky Charms eating contest," bar pong & flip cup tournament, drink specials, games & live music.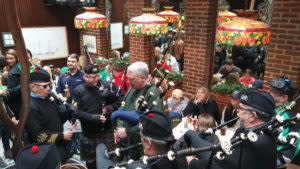 Bag Pipers Performing at McGarvey's Saloon. Photo courtesy of Annapolis St. Patrick's Day Parade Facebook
St Patrick's Day Party at Rams Head, March 14th This is Rams Head's 17th year throwing the party. Enjoy Guinness, great food, and live music from White Ford Bronco.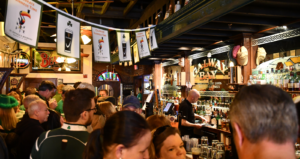 Killarney House, Galway Bay and Brian Boru Irish Restaurant, March 17th These three celebrate St. Patrick's Day all month! But on the real St. Patrick's Day, you'll find live Irish music and Irish dancers throughout the day at all three places.
Fado's Irish Pub, March 17th Fado's opens at 8am with live music all day and an Irish dancers performance. Sean Pelan, one of the singers taking the stage at 9am plays at Fado's every St. Patrick's Day, which he describes as a "perfect setting for family-friendly shenanigans".