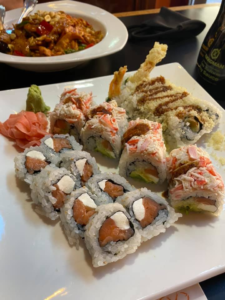 Nano Sushi is just one of the restaurants with rave reviews on the Annapolis Takeout Page. Photo courtesy of the Annapolis Takeout Facebook Page.
I can't be the only person who feels like March was just six months ago and not six years. It was then when we were forced into lock down, frantically stocking our fridges, freezers and pantries since dining out would not be an option for a couple of weeks. As those weeks turned to months, I for one was climbing the walls wanting to see the inside of a restaurant, or even the outside of a restaurant. Anything to help me step away from one more bowl of Lucky Charms. Yes, Lucky Charms. Pandemics do strange things to people. So, to my delight sometime in April, I discovered the Annapolis Takeout Facebook page started by a local resident, with no stake in the restaurant industry, Jeanne Campbell Poole.
Annapolis Takeout Facebook Page
The intent of Annapolis Takeout was to help connect area restaurants offering takeout, with the many of us desperate to not-cook-one-more-meal (for one night, at least). Culling through the posts, it's easy to see how quickly, and why the page took off so soon; people were clearly looking for a way to connect socially, while in lock down, and Facebook obviously provides that forum. Throw in the topic of food and the masses will come.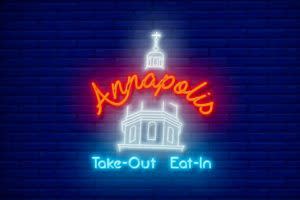 Annapolis Takeout Facebook Group even has their own logo. Photo courtesy of Annapolis Takeout Facebook Page.
Face Behind the Mask
Why did Jeanne create this David that soon became a Goliath? "I've been a small business owner for 18 years and this was simply a way I felt I could help support other small business owners during this time," she stated in a post. "It also allows those of us who patronize local businesses to share our recommendations and positive experiences."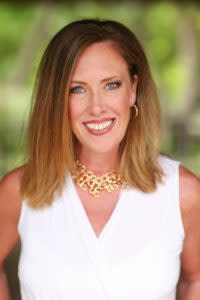 Jeanne Campbell Pool formed the Annapolis Takeout Facebook page as a way to support local restaurants when they were unable to open to guests at the beginning of the pandemic. The page has grown into a large community of supporters, 15,000 members strong! Photo courtesy of Jeanne Campbell Poole.
"Positive experiences" is the operative phrase. You'll find frequent reminders that the group's main purpose is to share recommendations and images of good experiences with local restaurants, and not post anything disparaging as businesses are doing their best in very challenging times. Equally, the group is meant to provide a free platform for local restaurant owners and staff to promote their daily offerings to the community.
Support for Annapolis Takeout
There has been an overwhelming response and show of support to the community through this page which has just about 15,000 followers. Speaking from experience, my family has tried restaurants we didn't know existed before this page existed. (Hello, Senor's Chile! Take all of our money!) And the very first time we ordered takeout during the pandemic, it came from The Boatyard Bar & Grill. I almost cried when I took the first bite of those crab cakes.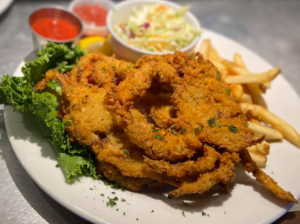 Softshell crabs on the menu at Boatyard Bar & Grill in Eastport. Photo courtesy of the Annapolis Takeout Facebook Page.
Praise for the page itself is heaping. Christine Phaneuf Bervid commented: "This group has definitely provided bright spots during a trying time!" Laura Nye Falsone added: "This page has been wonderful for us to explore new restaurants we didn't know about". Laura Washburn chimed in: "I'm delighted to have found out about Julep through this page!" Same, Laura. Same.
Jeanne Campbell Poole
But no accolades are more deserving than the ones given to Jeanne herself. She took the time during the beginning of what feels like an endless crisis, and found a way to bring the community together, one bite at a time. About Jeanne, Christina Sta Baugher said: "I appreciate you!!! Thanks to you, I have learned about so many small and personal businesses that I didn't know about. I love that I know where my money is going, and how it is helping people who need it." Kari Roddy Kruesi added: "Thank you Jeanne Campbell Poole for doing an outstanding job helping to promote our local establishments! You've done a great thing for our community!"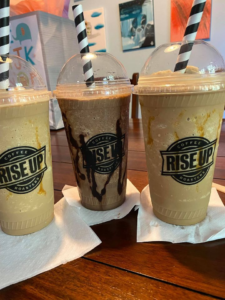 Iced Coffee from Rise Up Coffee from one of the members of the Annapolis Takeout Facebook Group. Photo courtesy of the Annapolis Takeout Page.
And Elisa Infante Freeman couldn't have said it better: "I've found taquerias in yacht clubs and Mexican in gas stations. Jeanne always brilliantly shines light on those who need it while providing a useful service in general, all with a beautiful smile. She is a gem in Annapolis!"