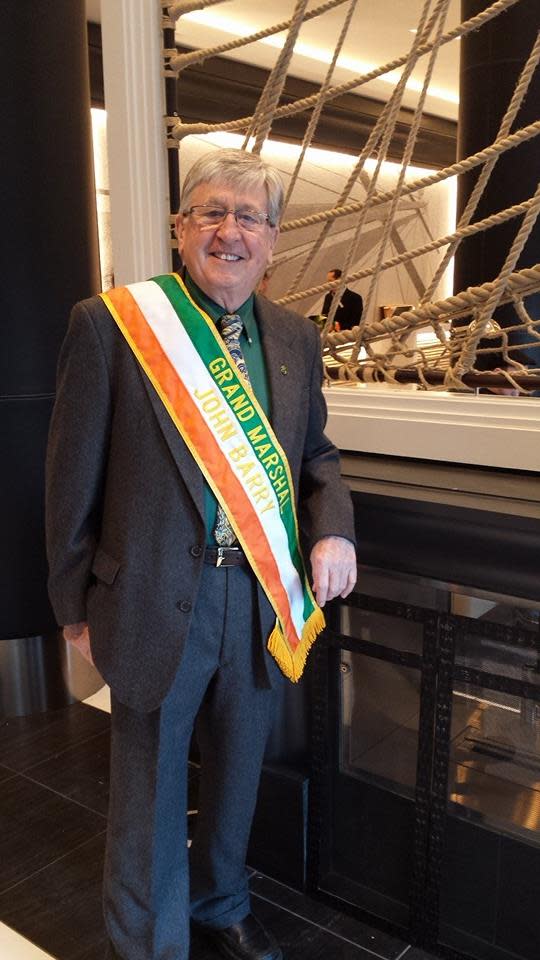 John Barry has served as the Grand Marshall for the Annapolis St. Patrick's Day Parade twice! Once in 2015 and again in 2017. Photo courtesy of Margaret Barry LeMore.
John Patrick Barry is an Irishman through and through.  He hails from County Kerry, Ireland and came to the U.S. sixty years ago.  John has lived in Anne Arundel County for 11 years. Currently, he works as an Ambassador for Visit Annapolis and Anne Arundel County Visitors Center.  On Fridays and Sundays, during the months with pleasant weather, if you are visiting historic Annapolis, there's a good chance you will see John helping someone find their way around town.  You might even want to step up and ask him a question or two yourself!
Face Behind the Mask
John's personality is infectious!  He's a very likable gentleman of 81 who enjoys talking with people and helping visitors find interesting places to visit in and around Annapolis. He shared his business card with me, which I will now share with you:
Authentic Irishman for Hire
Storytelling, Singing, Dancing & Carrying On
Professional Greeter
Experienced Drinking Companion
Available All Hours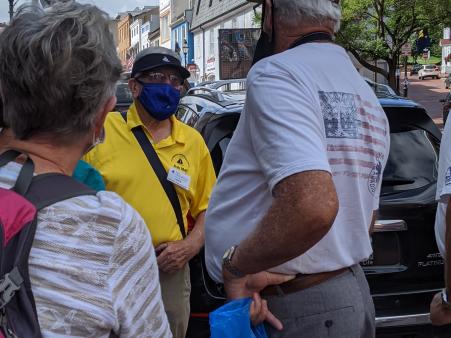 John Barry has been a Visit Annapolis Ambassador for 2 years.
Photo courtesy of the author.
John Barry, Annapolis Ambassador
On this particular sunny Sunday in September, I accompanied John as he made his way down Main St. in Annapolis.  He chatted with visitors and Naval Academy midshipmen, engaging them in conversation, during his walk.  John hands out many maps and brochures as he points out sites to visit, how to find various attractions, and where to park that is convenient to their preferred list of attractions.
It was not only tourists that greeted him.  He also is well acquainted with many business owners in town.  But chatting with the visitors is his specialty.  John has been honing this art for 2 years, so far.  He is well versed in the sites and activities in and around Anne Arundel County.  While at work, John's "uniform" is a brilliant yellow tee shirt which reads, "ASK ME" inside the Visit Annapolis and Anne Arundel County round logo, and on his back, it reads, "Visitor Information" in big print.  During his walk, he covers much of downtown Annapolis before he finishes his shift.  John goes where the tourists are likely to be found in good supply.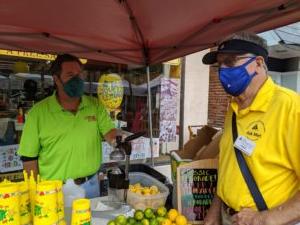 John is well acquainted with many business owners in town often stopping by to say hello.
Photo courtesy of the author.
When I asked John what questions he receives most frequently, he said, "deciphering parking signs and parking restrictions are some of my most frequent questions."  He indicated that also at the top of the list were: "what should I see first?", "where are the restrooms?," and "where's the water?", meaning where is the Chesapeake Bay!  Barry often gets repeat questions, but they are always new to the visitor who is asking them, and he politely responds like he's heard it for the first time.
Man About Town
So, as he nears 82, why does he do this in the spring, heat of summer, and fall on weekends?  John says "it gets me out of the house, and I like talking to people, especially out in the fresh air.  I like the atmosphere in town, and I like to help people."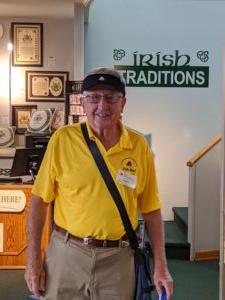 John Barry without his mask, inside his daughter's shop, Irish Traditions on Main Street.
Photo courtesy of the author.
John garnered the distinction of having served twice as Grand Marshall of the Annapolis St. Patrick's Day parades in 2015 and 2017.  John's middle name is Patrick and he really was named after St. Patrick, as his birthday is in March.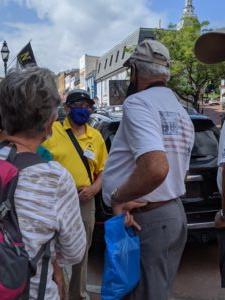 John Barry speaking with tourists from Punta Gorda, Florida about the sites in Annapolis.
Photo courtesy of the author.
 While John has been a roaming Ambassador for two years, he previously worked as a Washington, DC firefighter, and he also owned a pub for 20 years. John has 4 grown children and currently lives with his daughter, Margaret Barry McLemore, who is the proprietor of the Irish Traditions shop on Main St. At times when he is not working as an Ambassador, John keeps his daughter's garden well maintained. His friends about town say he is very good at the skills listed on his business card, too! So when you see him passing by in his bright yellow shirt- greeting visitors and Annapolitans alike with a warm hello in an Irish brogue- say hello and have a chat.