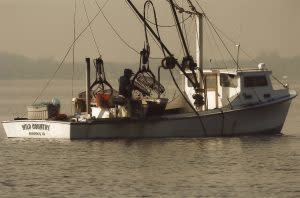 Pat Mahoney Sr. and son Pat Mahoney Jr. captain the last commercial workboats out of Eastport, once a thriving center of the seafood business. Photo courtesy of Wild Country Seafood.
Craving oysters, Maryland crabs, rockfish straight out of the Chesapeake Bay?  Wild Country Seafood in Eastport is calling you. A visit to this modest little seafood shop will plug you into one of the area's oldest remnants of the once-thriving community of Annapolis watermen.
The Wild Country Family
Meet the Mahoneys, the last of the commercial fishermen who once serviced Eastport's thriving oyster and seafood packing houses.  But Wild Country Seafood, founded in 2009 by Pat Mahoney Sr, still thrives.  The senior Mahoney recently retired, leaving his son and namesake in charge.  Once it was both father and son who launched their respective fishing boats (Wild Country and Baby Boy} early each morning to harvest the crabs, fin fish, and oysters to sell to an appreciative public. Now it is the younger man who brings back the day's catch to his little shop in an alley behind the Annapolis Maritime Museum.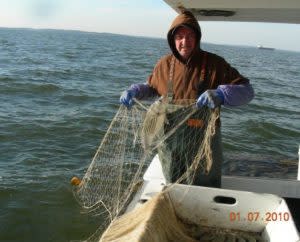 The Mahoneys are out on the Bay most mornings to harvest crabs and fresh fin fish for sale in their small shop behind the Annapolis Maritime Museum in Eastport. Photo courtesy of Wild Country Seafood.
Pat Mahoney, Sr.
Pat Mahoney Sr., was a waterman for more than 40 years, mentoring his son as he showed an interest in following in his footsteps. In 2009, the father-son team opened their shop and outdoor restaurant, with seating at five picnic tables just out front. These days, the younger Mahoney has taken over the business of stocking the shop and handling an increasing number of clients who order their crabs, oysters, rockfish, mussels, shrimp and scallops for curbside pick-up. When you support Wild Country, you are supporting the epitome of 'local'.
Pat Mahoney Jr.
Pat Mahoney Jr. and his family live on a 40-acre farm in South County, where they tend to a four-acre oyster aquaculture bed. Wild Country has earned its reputation for "the area's best oysters" with its impeccably fresh and plump "Patty's Fatty's", carefully cultivated and harvested at their peak.  I vouch for their superior quality (a dozen of these salty treats is $9.99), as well as for the size and "meatiness" of Wild Country's soft shell crabs. I recommend trying the soft shell crab sandwich layered with the Mahoney family's homegrown tomatoes. You can also rely on the shop's measuring methods for the jumbo, large, and medium crabs – available steamed- at no charge. Additionally, there's no charge for fileting the rockfish or perch displayed on ice beds in the glass case dominating the front room.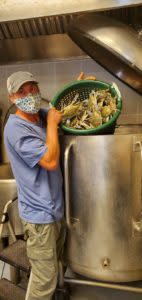 Pat Mahoney, Jr., second-generation proprietor of Wild Country Seafood, not only brings in the crabs to the shop but steams them himself on-site. The shop's famous oysters, called "Patty's Fatty's" are raised in the family's oyster beds in South County. Photo courtesy of Geoffrey Baker.
Wild Country Seafood
Our party of four was pleased and speechless as we enjoyed a lunch starring a dozen oysters. They came attractively plated on a giant white shell garnished with lemon slices and a house-made seafood sauce; co-starring broiled day scallops and soft crab sandwiches and crisp house-made slaw and fried potatoes.
Wild Country's prices are very competitive and the quality is superlative. Most of the crabs are Maryland born. This year has been a good one for him, says Pat Mahoney Jr. He gets his mussels from Maine and outsources for shrimp and scallops, but all are first-rate to meet his high standards. The menu includes sandwiches, platters plain and fancy, including jumbo shrimp stuffed with crab imperial. And of course, the hard shell crabs, which they are known for throughout the county.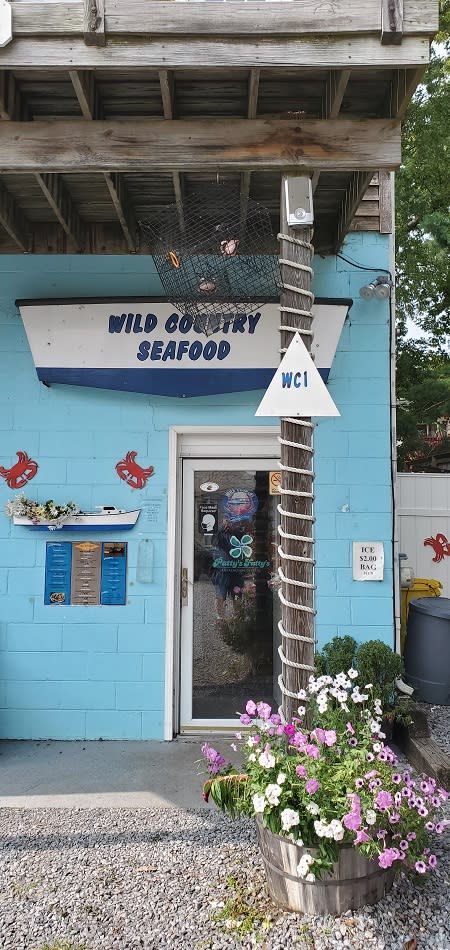 Wild Country Seafood specializes in a variety of seafood, always fresh! Photo courtesy of Geoffrey Baker.
Wild Country Seafood
At Wild Country, the experience revolves around family. Nephew Dave White works the kitchen where he steams, broils and fries the orders as they come in. You will find Mahoney Jr. is often on-site shucking oysters. His sons Patrick and Hunter as well as daughter Riley often help out at this family business. Wild Country is a true family affair!
To join in on the action and grab some of the best local seafood Annapolis has to offer, Wild Country is located at 124 Bay Shore Ave. in Annapolis. They are generally open May 15-Oct 1, Wed.-Thurs. 3-7 pm, Fri. 11 am- 7 pm, Sat. 11 am-6 pm and Sundays 11 am-4 pm. They are closed Mon-Tues. They offer steamed crabs, fresh fish, shrimp, oysters, and clams on a regular basis. All of their items can be cooked to order for take-out or dine-in at the five picnic tables in front of the restaurant.
Make it an afternoon in Eastport. After a bite at Wild Country Seafood step next door to the Annapolis Maritime Museum and its adjacent waterfront park. If you decide to carry out, the museum is an ideal place to picnic right on Back Creek.  While the museum is temporarily closed, its offices are open and staffers are available to answer questions about the museum's educational programs and the two-hour cruises on the recently renovated skipjack the "Wilma Lee".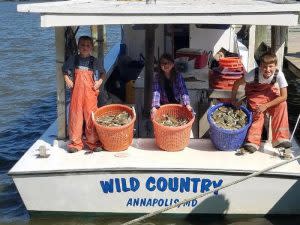 Wild Country Seafood is a family affair, even the kids sometimes have a hand in the daily catch. Photo courtesy of Wild Country Seafood.