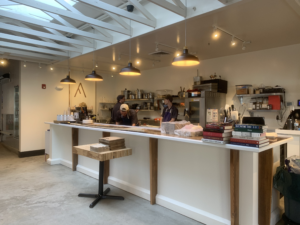 Photo courtesy of author.
Ten years ago, a dream began. A dream that, many people have: "Let's open a bar" or, more specifically, "Let's open a brewery." Cam and Claire Bowdren met while working in the nearby restaurant Vin 909, fell in love, got married and decided to open Annapolis' first nanobrewery together, Forward Brewing Co. It was not a question of getting the community good beer, but rather beer that was authentic, original, and reflected the spirit of Annapolis; specifically Eastport.
Around that time they began looking in to what it would take to start a brewery in Annapolis. All they encountered was red tape and lofty restrictions. Both working other full time jobs at the time, they simply did not have the resources to navigate the system and so the dream was put on hold. Fast forward to about three years ago: Annapolis began to change the rules around opening breweries and the prospect of opening Forward became a possibility.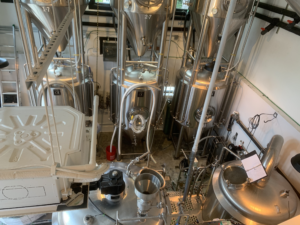 Photo courtesy of author.
With this newfound path up the bureaucratic ladder, they began renovations on an old building that had been in Cam's family for over 30 years. They transformed the building into the modern, homey space it is today. While Annapolis' first nanobrewery is not open to the public right now, the high ceilings and generous natural light paired with the décor and light paint throughout will eventually serve as a welcoming vibrant dining room situated around their open air kitchen.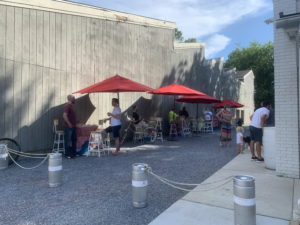 Photo courtesy of author.
Opening amidst a global pandemic was one obstacle that no one foresaw, nevertheless they adapted. When Forward opened its doors in mid May, or more accurately its service window, they could only provide carry out service. In true Eastport fashion the community rallied around the newest local business and the to-go orders began flying in. When it was permissible, they adapted their parking lot and front patio area to accommodate the near 30 outdoor seats that would be in their dining room. The only trash that goes to the landfill are the chip bags and any outside trash, everything else that comes from the restaurant is compostable or recyclable.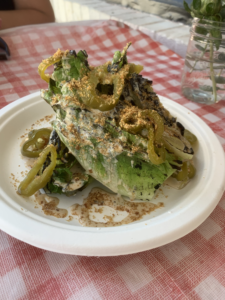 Photo courtesy of author.
Their seasonally changing menu offers a wide range of inventive dishes, offering refreshing takes on familiar selections such as a grilled caesar salad accompanied by a focaccia crumb and pickled peppers, and a deconstructed Gazpacho. One can also enjoy more unique dishes such as a Kimchi Sausage Sando or their Summer Succotash. Working with their chef, Brian Clampet who they also met while working at Vin 909, Cam and Claire have made sure to include plenty of vegan and vegetarian options. As vegetarians themselves they wanted to make sure that there is something for everyone on their menu.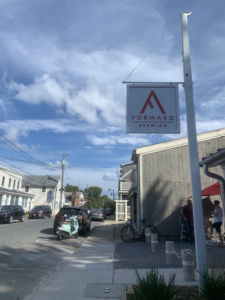 Photo courtesy of the author.
The beer selection is as varied and special as their food. Being a nanobrewery means they have very small amount of barrels, typically seven or less, which allows Forward's two person brewing team to truly focus on small batch craft beers that reflect the "rebellious spirit" and creativity of the community. Up until the first week of July all the beers that were being sold were kegged and bottled off-site. They served their first on-site brewed beer on July 9th: a nice refreshing IPA. On their draft list that day included a chocolate malt coconut porter, a triple berry sour, their "Boat Beer" kölsch style beer, and their Red Tape hoppy red ale. Their draft beers are available in 16oz pours as well as crowlers and growlers. You can also purchase the ones that have been canned.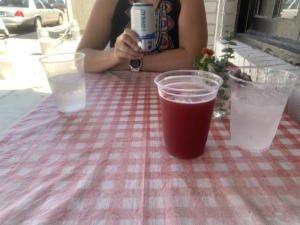 Photo courtesy of author
In addition to the 6 barrels they have on site, there are two fermenters which will allow them to experiment with sours and other funky fermentations. Over the next couple months they are expecting to come out with a new sour IPA as well as a Belgian-style triple. They are also working on moving the brewing of their Boat Beer on location.
If this "Forward" thinking business has not made it on your outdoor dining and carry-out list, certainly add it. The food, beer, people, and practices of Annapolis' first nanobrewery will give back to the community just as much as the community will give to it. Walk on down and get your first sip of Annapolis brewed beer today!