The Breonna Taylor Mural was a labor of love for Jeff Huntington and Julia Gibb, founders of Future History Now. Their vision, organization and execution of this tribute memorial in the historically black neighborhood of Chambers Park, not only inspired Annapolis- but inspired the world!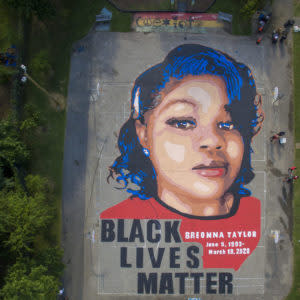 The Breonna Taylor Mural was organized by Future History Now and was painted on the basketball courts of
Chambers Park, photo courtesy of Street Art Films.
The project was spearheaded by Future History Now, a non-profit founded in 2016, in partnership with the Banneker-Douglass Museum and the Maryland Commission on African American History and Culture. This 7,000 square foot mural came together with help from volunteers all over Annapolis, Maryland and the DMV.
After watching the video, be sure to read the full article from this momentous day at Annapolis Discovered by clicking here.