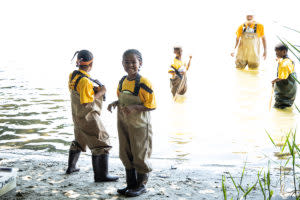 Photo courtesy of VAAAC
With apologies to newspaperman Horace Greeley—or whoever truly coined the phrase "Go west, young man"—visitors to this area are urged to "go south." Those yearning to peel away the veneer of the main attractions here in search of elusive "local color" would do well to investigate what locals call "south county," the region of Anne Arundel County that seems like another world away from the bustle of Annapolis. If you want to see what enticed people to settle here and make a living on the Chesapeake Bay, you would do well to take at least a day to set the GPS on places like Galesville and Deale just off the mostly two-lane Solomon's Island Road (Route 2).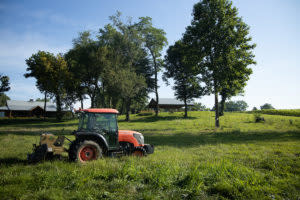 Photo courtesy of VAAAC
You'll know you're heading into another dimension soon after crossing the South River Bridge and proceeding through the town of Edgewater, when the landscape gradually turns rural, with pastures and farmland on both sides of Route 2. In the warmer months, tell-tale roadside signs pop up, telling travelers that "Local Jimmies" (large male crabs to the uninitiated) are available dead-ahead, and southern Maryland produce—from coveted juicy blackberries in late spring to fresh sweet corn, tomatoes, melons, and peppers in early to mid-summer—is just around the bend.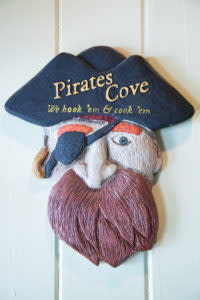 Pirates Cove Restaurant. Photo courtesy of VAAAC
Start checking signs for Galesville, the first quaint hamlet heading south and the home of the popular Pirates Cove Restaurant and Dock Bar and Stan and Joe's Riverside. From either perch, you can catch sweeping views of the West River, which slices through Galesville and another little town worth checking out, Shady Side, home of the low-key but visit-worthy Captain Salem Avery Museum.
Just south of Galesville arguably lies the heart of what drew people to live here and try earning a living on the water in the first place. The pulse appears to be in what has been variously named "The Swamp," then "Cedar Grove," until a post office was to open there in 1908, and the name had already been taken by a Cedar Grove elsewhere in the state. Tasked with quickly picking another name, the postmaster chose Deale, his mother's maiden name. Since then, the Deale-Tracys Landing-Churchton area (you can't really tell where one ends and another begins) has become a hot spot for marinas and boatbuilders that cater to those yearning for mostly hand-made vessels as they answer the call to the sea—or largely in this case, the bay.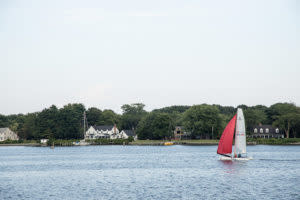 Photo courtesy of VAAAC
Just last year, Chesapeake Bay Magazine's John Page Williams took readers to the inner sanctum of one the most—if not the most—successful and sought-after boatbuilders in the bay area, Jim Weaver, who runs his Hidden Harbor Marina on Rockhold Creek in Deale. It all started in 1998, when Weaver began building the 58-foot Dream Weaver "in a shop behind his house" and grew into the business he owns today, in collaboration with designers Donald Blount & Associates. "Every Weaver boat is a custom project," Williams emphasizes, with "a fully appointed 43 [footer]" costing between $600,000-$620,000. Aside from boat-building, the immediate Deale area has also been deemed over the past year the Chesapeake Bay's readers' choice as the "best of the bay" in the following categories: Place to Sail, Resort Marina, Overall Marina, Small Marina, Dockmaster, Learn-to-Sail Program, and SUP/Kayak Business.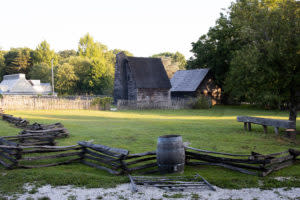 Historic London Town and Gardens. Photo courtesy of VAAAC.
If maritime pursuits don't necessarily "float your boat," the area's history is on full display thanks to the efforts of the Deale Area Historical Society. On site is a 19th-century village featuring Deale area exhibits, a one-room school (the Nutwell School), an African-American beneficial society meetinghouse, and other historically restored buildings. The village is open each Sunday from 1:00 to 4:00 pm from May through October and by appointment if you call 410-279-2078. The location is Herrington Harbor North, 389 Deale Road, Tracys Landing. For more information, visit the historical society's website at www.dahs.us.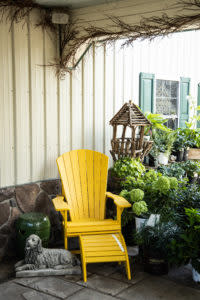 Photo courtesy of VAAAC
This is just a sampling of what's in store for those wishing for a different visitor experience in the region. Go south! And don't forget those spring blackberries on the way back north. As the locals say, "When they're gone, they're gone!"