In case there was ever any doubt, the pandemic has served to remind us that culinary options abound in and around Annapolis – from the wide array of dining destinations along West Street to the many under-the-radar restaurants in West Annapolis. Better yet, their food and drink is now more accessible than ever thanks to the outdoor seating and expanded takeout options they've introduced to counter COVID-19. But for those who might be looking for some options beyond the 21401 zip code, there are plenty of enticing ones within a short drive of here to the West. Here are five must-tries: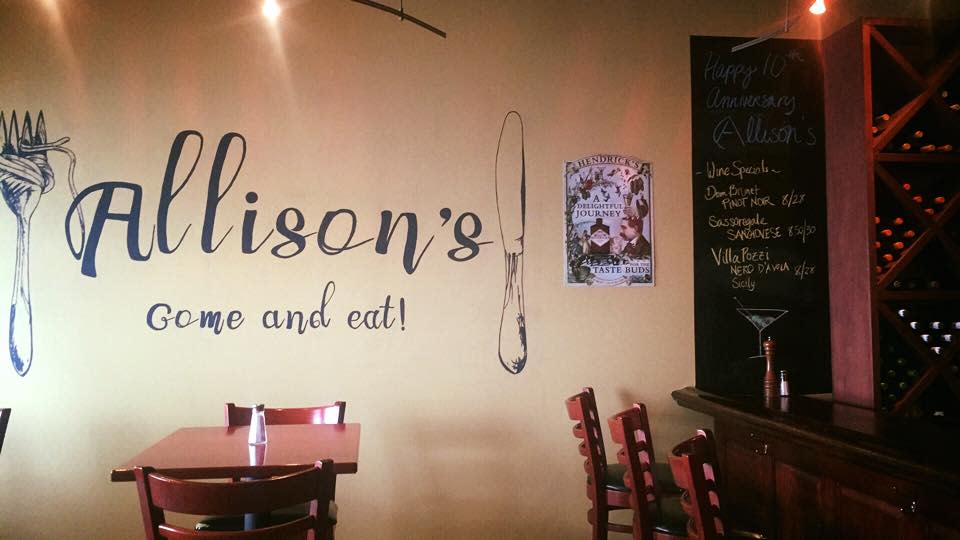 Allison's specializes in homemade Italian comfort food. Image courtesy of Allison's.
Likely the most "family-run" restaurant in West County (and perhaps in all of Anne Arundel County), Allison's is owned and operated by brothers Jim and Bill Hamroch, the executive chef and front of house manager, respectively. Jim's wife, Chona, works there too, and the restaurant is even named after their daughter. The Italian menu support the family feel, with dishes ranging from the classics (for example Chicken Parmesan and Grilled Italian Sausage & Peppers) to the seafood-inspired Lobster and Crabmeat Ravioli. Then, there is my personal favorite, Tilapia and Shrimp Pomodoro. Not to mention, hot rosemary focaccia and polenta bread to start, a lengthy wine list, and homemade desserts to finish.
Allison's offers regular and family-style takeout and a buy one, get one half-off entrée coupon on its website to not only entice first-time visitors but also reward regulars. Located near Crofton Bowling Centre, it's open Tuesday through Saturday, 5pm – 8pm, and Sunday, 4pm – 7pm.
 
Opened in April 2019 by co-owners Elise Letavish and Saeed Ashrafzadeh, Ashling has quickly become a Crofton favorite.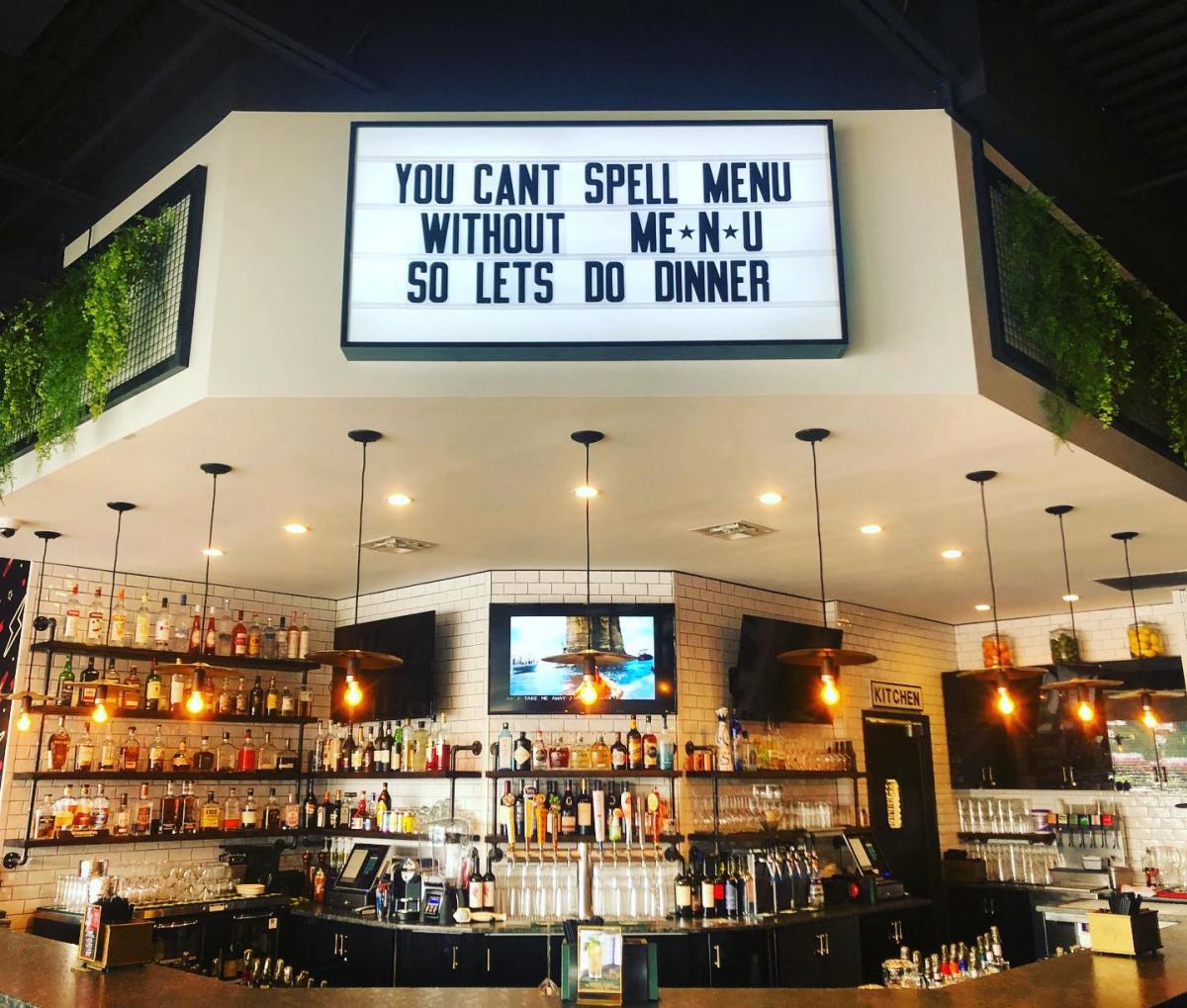 Ashling has quickly become a Crofton area favorite. Image courtesy of Annapolis Discovered.
The ambiance reflects Elise's decade-plus as a chef and caterer in the music industry, with eye-catching décor including a massive world map, showing stops on tours she's catered. A big and bright logo, with its eye-catching rooster and guitar; and posters filled with ticket stubs from concerts running the musical genre gamut – from the Beach Boys to Boyz 2 Men add to the decor. The food and drink are as good as the vibes, with diverse dishes ranging from Roasted Arnold Palmer ½ Chicken to Steak Poutine and tempting beverages such as their Cucumber Cocktail and Lola Lemonade.
 Ashling offers easy-to-use online ordering, catering for all sizes of events, and a food trailer whose stops can be followed on Facebook. It's located in the Route 3 Plaza, just past Crofton Country Club, and open Tuesday through Sunday, 4pm – 8pm.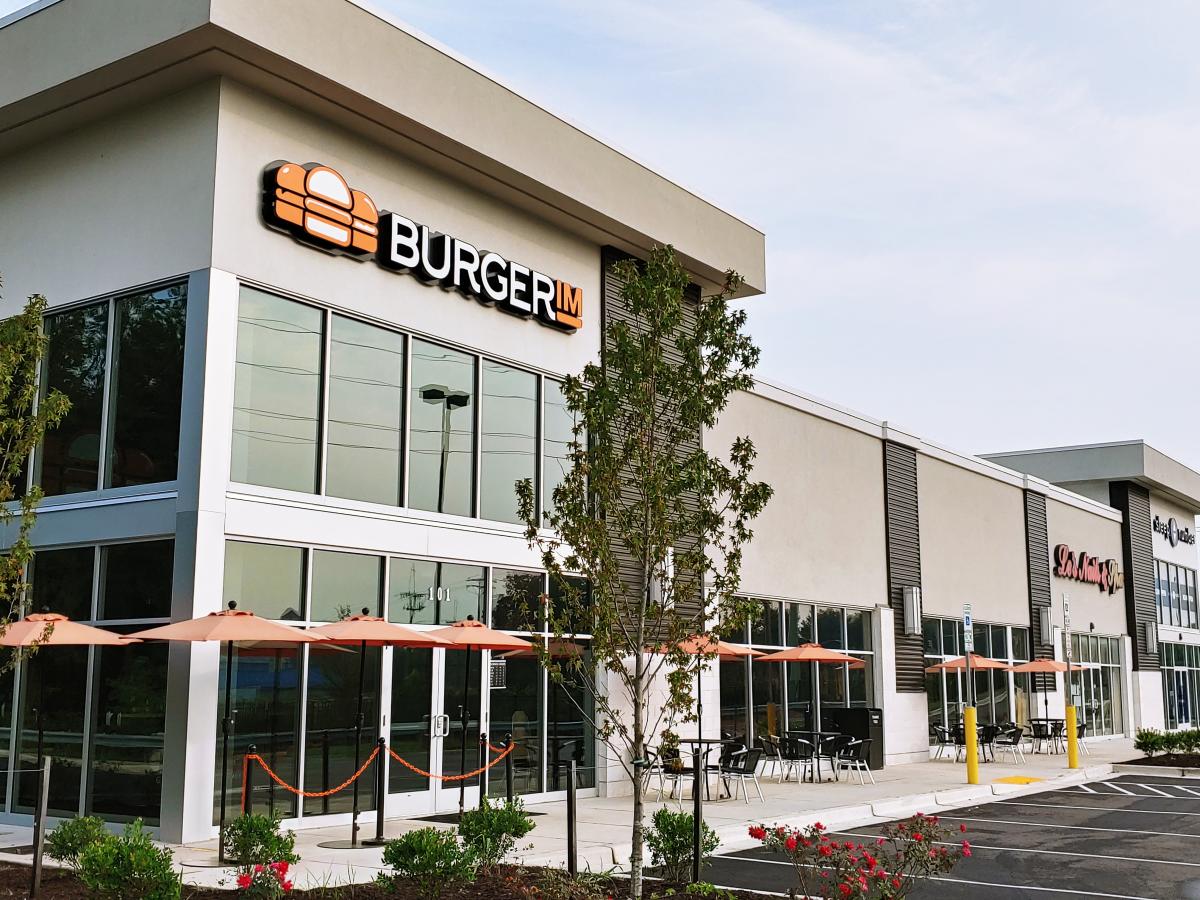 Burger IM is located in Waugh Chapel and opens every day at 11 AM. Image courtesy of Burger IM.
Proving that a mid-pandemic opening is possible, the newest restaurant in Waugh Chapel began serving up its burgers on July 13, 2020. It offers plenty of fresh cooked-to-order patties to choose from (beef, turkey, chicken, lamb, salmon, falafel, and Impossible), unique toppings and sauces (think, fried egg and habanero aioli), and easy online ordering.  
Signature party packs and party samplers are a great catering alternative at the West County Burger Bar. Owner R. Aaron Warren reports that Wings Wednesdays, including $0.88 wings and $2 Bud and Bud Light, have been a hit since being introduced in October. He looks forward to launching Meatless Mondays, offering 15% off Impossible, uncut, and falafel burgers. An Army Veteran, he's also proud to offer 10% off to all first responders, police, and military. Burger IM is located near Wegman's and opens at 11:00 a.m. every day.
 
Although Coal Fire has two locations in Virginia and four others in Maryland, its Gambrills location, opened in 2012 in Waugh Chapel, is the closest.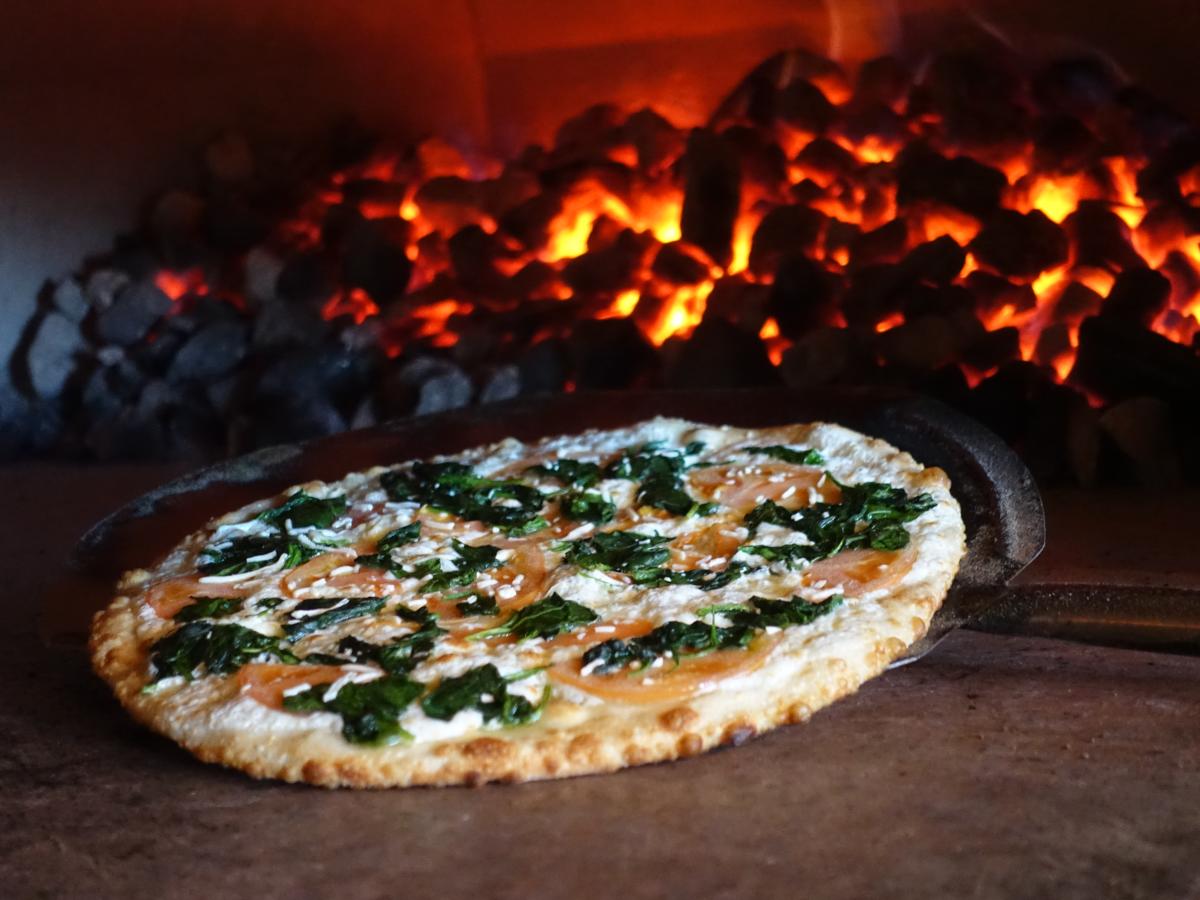 Coal Fire focuses on cooking the best thin crust pizzas possible over coal. Image courtesy of Coal Fire.
As its name suggests, Coal Fire focuses on cooking the best thin crust pizzas possible over coal – and, according to Alexandra French, making them with the best possible ingredients as well. "Our sauce, cheese, and dough is made in-house daily and our ingredients are locally sourced, so our pizzas really are as fresh as you can get," says French. She names two specialty pizzas, the Ring of Fire and Margherita, as her favorite things on the menu. You can also exercise your own cooking muscle with a make-your-own pizza pie and numerous specialty pizzas. They also offer gluten-free and cauliflower crust options, pastas, salads, sandwiches, and, of course, cannoli!
Open at 11:30 a.m. daily, Coal Fire offers carryout, curbside takeaway, catering, and Doordash delivery.
 
Located in what was once Jim's Hideaway, a crab house that served as an Odenton fixture for over thirty years, The Hideaway has quickly become the area's go-to spot for all-things BBQ.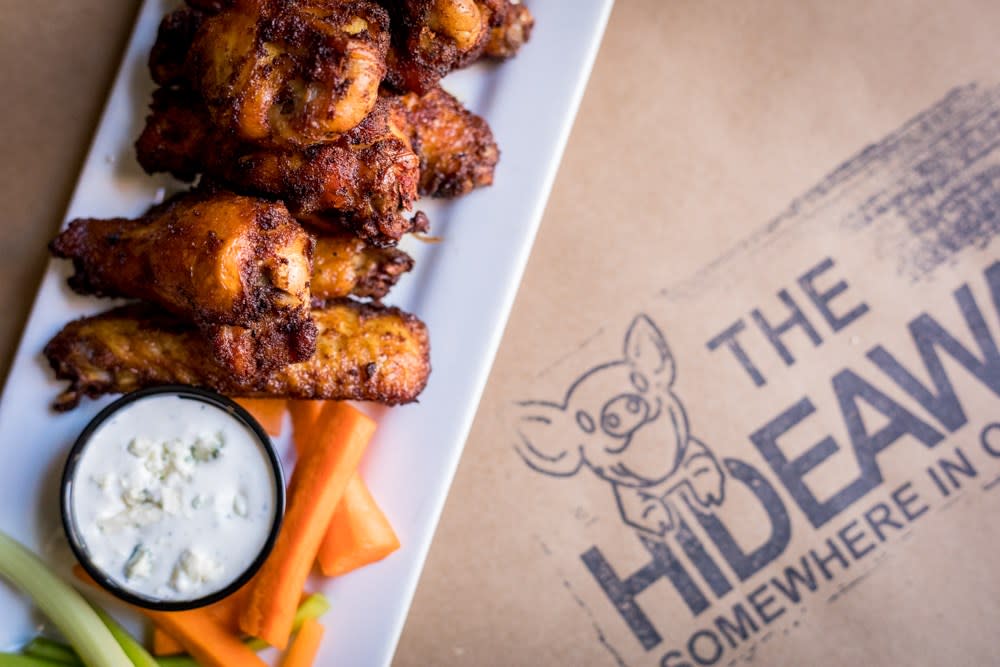 This joint in Odenton is well-known in the county for it's tasty BBQ. Image courtesy of The Hideaway.
The wide-ranging menu includes appetizing apps, from award-winning dry-rubbed wings to pulled pork pierogies; pecan wood-smoked meats including ribs, brisket, chicken, ham, and even salmon; and Southern sides such as hush puppies, collard greens, and bacon-topped brussels sprouts. The restaurant also offers a killer brunch menu on Sundays, with dishes from Banana Bread French Toast and Brisket Hash to Crabcake Benedict and Pulled Pork Benedict. 
 The Hideaway offers takeout and delivery, catering, and happy hour specials Monday through Friday, 3pm – 7pm. It's open Monday and Tuesday, 11am – 9pm; Wednesday through Saturday, 11am – 10pm; and Sunday, 10am -10pm.   Here's a round-up of some more West County Eats: Arturo's Trattoria Blackwall Barn & Lodge The Crab Galley KManna Rice Factory Little Spice Thai Cuisine Molloy's Irish Pub Mamma Roma The Nautilus Diner Newk's Eatery Nonna Angela's Southern Blues Bon Appetit!