Holiday season is upon us, which means the Annapolis area will be dressed up in its prettiest ribbons and greenery. It's a gorgeous time of year to be in the region. This season is also prime time for getting together with family and friends. "The more, the merrier" is an old saying with a lot of truth. But if you're the person responsible for finding a dinner spot for a group, "more" might start to stress you out.
Fortunately, there are dozens of places in the Annapolis area that work for crowds. These are some of my favorites:
Blackwall Hitch Located just over the Spa Creek Bridge into Eastport, Blackwall Hitch is, hands down, one of the best-looking places in town. The food is good, the bartenders know their stuff, and the restaurant has a couple private or semi-private spaces that are ideal for celebratory dinners and drinks.
McGarvey's Saloon & Oyster Bar McGarvey's has been an Annapolis institution for over forty years; it has been my go-to spot for meeting friends and family for twenty of those years. It's a great casual meet-up spot, and if you plan ahead, you can reserve the private upstairs space for sit-down dinners and cocktail parties. The space overlooks the side bar and, among other things, offers a stellar birds' eye view of the tree that makes McGarvey's interior famous.
Harry Browne's When my friends and family aren't gathering at McGarvey's, we're at Harry Browne's, the State Circle restaurant and bar that hides a secretly fun side behind its distinguished façade. Upstairs, a small, semi-private area is available for events and parties; it has an excellent view of the Circle and easy access to the bar.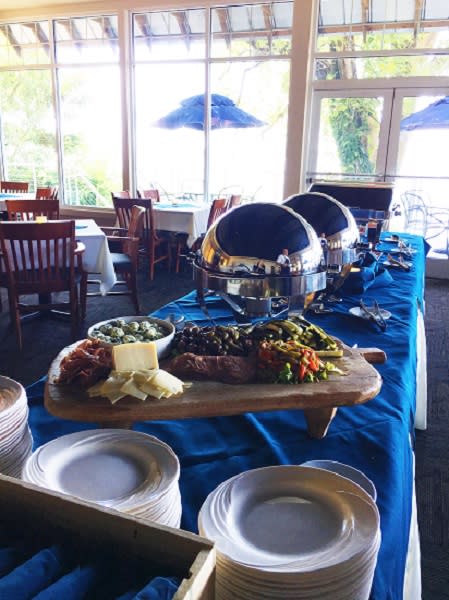 Severn Inn In a town with a lot of stunning views, Severn Inn has one of the best. Located on the Severn River, just across from the Naval Academy, the restaurant's enormous windows and large deck offer a breathtaking look at the water and the opposite shore. The restaurant can accommodate mid-sized groups in its main dining room, but it's also available to rent out; it's a gorgeous spot for a larger party.
Rams Head Tavern Rams Head's original location, on West Street in Annapolis, is a fantastic place for both casual and well-planned events. Outdoor heaters make the patio a lovely spot for get-togethers just about year-round and, inside, multiple private and semi-private spaces of different sizes (and atmospheres) are good options for gatherings of family and friends.
Carrol's Creek Café With terrific views, great crab cakes, large private spaces and convenient parking, Carrol's Creek is an ideal spot for bigger events, like rehearsal dinners. But even the regular dining room, with its well-trained staff, is well-equipped to handle mid-size groups who just want to meet for dinner.
Lewnes' Steakhouse One of the best big group meals I've ever had took place at Lewnes', when two dozen people converged upon the Eastport steakhouse for a farewell dinner for a friend heading overseas. The restaurant accommodated us, giving us most of the upstairs, and kept us in stellar wine and red meat for hours.
Middleton's Tavern An Annapolis landmark since 1750, Middleton's delivers the quintessential colonial experience. The restaurant is divided into several rooms, which makes easy planning for a party. I love the upstairs, where one room is outfitted with both a dedicated bar and a piano for entertainment.
Fortunately, there are dozens of places in the Annapolis area that work for crowds. Some have the capacity for very large groups; some are more appropriate for smaller, casual get-togethers. No matter where you're headed in Annapolis, it makes sense to make a reservation or, at the very least, call ahead to warn the restaurant you're coming. Even if they don't take formal reservations, they'll appreciate the heads up.
Photos courtesy of Kit Waskom Pollard, Blackwall Hitch, Severn Inn, VisitAnnapolis.org