Annapolis has its very own dowager countess. The grande dame of Annapolis is a true lady – a lady who wears her age well, moves with grace and dignity, and knows how to have fun. Want to meet her? Well, come on down to the Annapolis City Dock and catch a ride on the Harbor Queen.
Harbor Queen is a 65-foot long tour boat that has been plying the Annapolis Harbor for more than forty-five years. With her red zig-zag trim and black and yellow faux smokestacks, this iconic riverboat with a carnival look is quite a serious workhouse. Since 1973, she has steadfastly provided harbor tours for thousands of visitors in every season. Harbor Queen is the darling, the "dear old girl" of Watermark, which has been an independent Annapolis tour provider operating since 1972.
Debbie Gosselin, President and owner of Watermark, has nostalgic feelings about Harbor Queen. Debbie has worked with Watermark since the days when her father created the marine touring operation. "Harbor Queen is the centerpiece of our maritime hospitality family of thirteen vessels," Gosselin asserted. "She's helped with educating school children and entertaining more than 2.6 million guests in her forty-five years. Harbor Queen's legacy includes sharing in many Annapolis celebrations, including the Fourth of July fireworks, Naval Academy Commissioning Week, Blue Angels flyovers, weddings, birthday parties, family reunions, concerts, country-western dances, and dog rescue events."
Harbor Queen's signature 40-minute cruises begin at the ticket booth on the Annapolis City Dock, with the Captain sounding one long blast and three short blasts on the vessel's very loud air horn. The voyage takes guests along the Naval Academy seawall, up the Severn River, and back downriver toward the Bay for the view across the water to the Bay Bridge and Kent Island. Guests onboard can ride either outside on the top deck, where the view is unobstructed, or inside the main salon, where the River Run Bar offers beverages and snacks for sale.
Visitors, tourists, and school children (including thousands of fourth graders) learn about Annapolis history, the state of Maryland, and the Naval Academy, as the recorded tour plays over speakers on both decks. The tour touches on the maritime history of the Annapolis and Eastport working waterfronts while treating guests to views of the skyline from the water's vantage point. The trip concludes at Harbor Queen's longtime berth alongside City Dock.
Captain Melonie Abernethy (known by all as Captain "Mel") started as a crew member with Watermark in 1994 and earned her Master Captain's license in 1997. She pilots Watermark's largest vessels, and Harbor Queen is her favorite. "I have a huge sense of pride when driving Harbor Queen, representing Annapolis as an ambassador on the water," says Captain Mel. "It's who I am and what I was meant to do, welcoming passengers and getting them safely out on the water. Harbor Queen and I have seen a lot together –  weddings, birthdays, engagements, retirements, graduations, reunions. This boat has brought happiness to me and to lots and lots of people."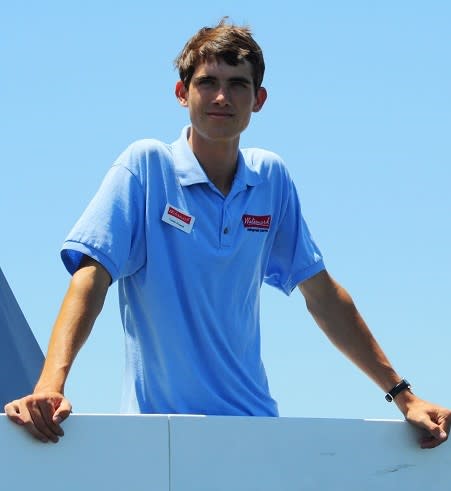 My son, Caleb aboard the Harbor Queen (Photo by Ann Powell)
Caleb Powell is one of Watermark's younger crew members, working the boats for his fourth summer this year. Caleb (who happens to be my son) has logged in many hours on Harbor Queen and the other Watermark vessels. He says, "My favorite thing about Harbor Queen is meeting people from all over the world. I like greeting guests from different cultures and hearing about how and why they're visiting Annapolis. On Harbor Queen, people always love seeing the osprey nest on the Horn Point shoal marker. The same osprey pair, George and Martha, come back to this nest every summer, and we've watched them raise all their baby osprey."
Whenever my own family takes our boat anywhere near the Annapolis Harbor, the grande dame with her red zigzag trim is always visible somewhere on the course of her tour route. Harbor Queen is a reliable presence, a dependable feature of the Annapolis scene. She's just always around, plying the waters in her slow but steady way and getting folks out to see the best views of the City. When we wave to the folks on the boat, nearly every visitor on Harbor Queen waves cheerfully in return. It's a funny sight, but it certainly looks like they're having fun. After taking a tour on Harbor Queen, I can vouch for that—the boat and the people who operate it are here to have fun.
*****
In addition to narrated Harbor Queen cruises, Watermark offers private yacht charters, a water taxi service, lighthouse cruises, and a Day on the Bay. On terra firma, Watermark provides historic walking tours, ghost tours, and other special events with interpreters in colonial period costumes. For a complete list, visit www.watermarkjourney.com.
Photos courtesy of Ann Powell and Watermark