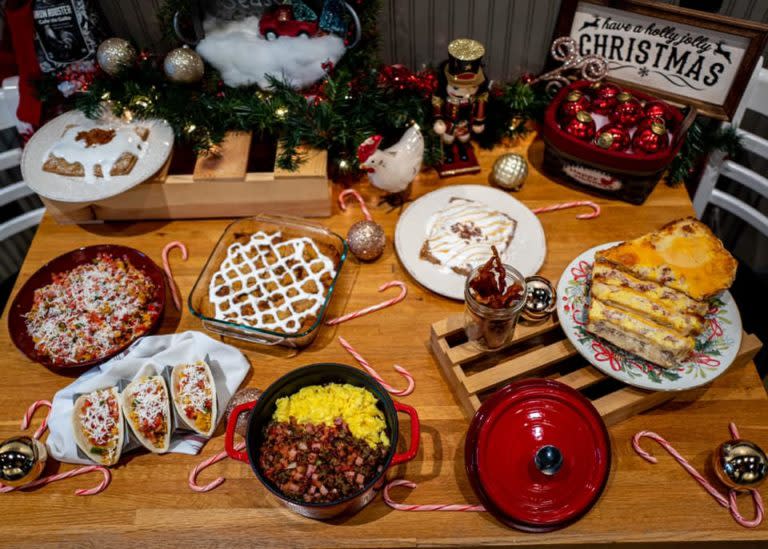 Restaurants in our area offer everything you might need to celebrate the season with a tasty holiday brunch at home! Image courtesy of Iron Rooster.
Although our first, and hopefully last, COVID-era Holiday Season will certainly include fewer holiday parties and meals out than in normal years, it doesn't mean you have to go without great food and drink. Many of the restaurants and fine food purveyors in our area have made their brunch favorites available to-go, so you can take the fuss out of meal prep and spend more time enjoying your Annapolis holiday!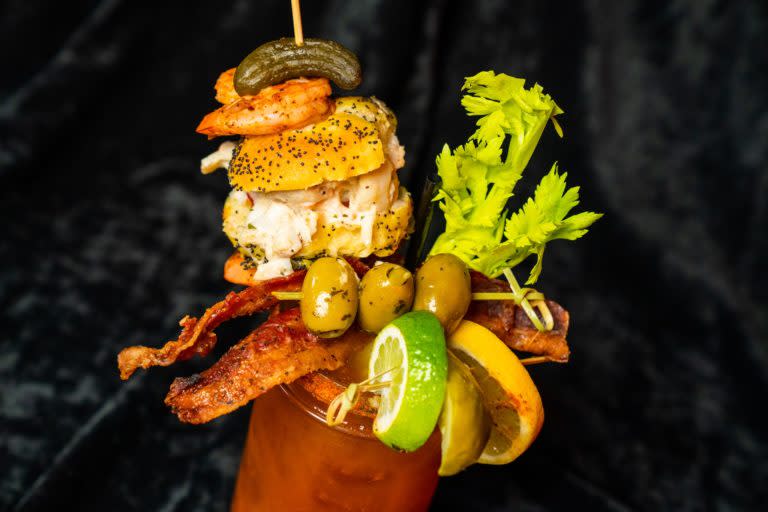 Many restaurants also offer their delectable cocktails to-go as well! Image courtesy of Blackwall Hitch.
While you'll have to create your own Massive (Bloody) Mary – a Blackwall staple that's topped with ingredients including crabmeat, shrimp, and Million Dollar bacon – you can order and enjoy most of the restaurant's brunch items at home. Some favorites include the Mahi Mahi Tacos, Shrimp & Grits, Jumbo Lump Crab Cake Sandwich, Fried Green Tomatoes, and, of course, Oven-Baked Cinnamon Rolls.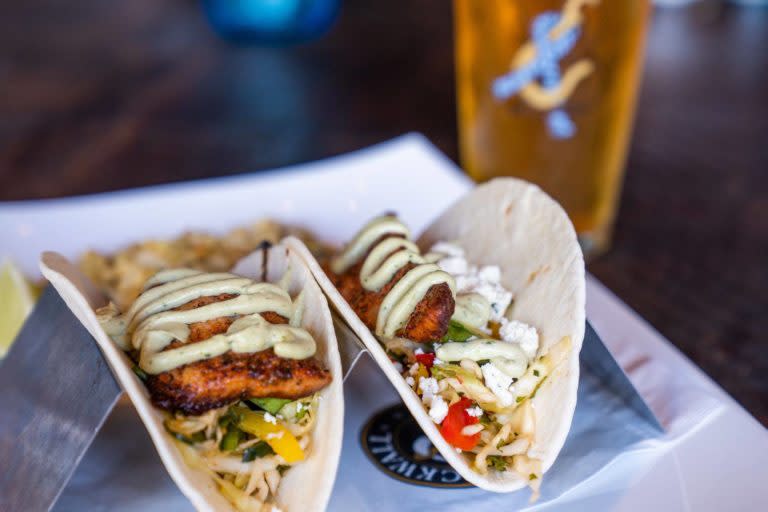 Mahi Mahi Tacos are a fan favorite for ! Image courtesy of Blackwall Hitch.
"Though the ambiance and views won't be the same, we're very happy to be able to give customers the ability to enjoy the majority of our fresh, coastally-inspired brunch dishes at home, whether on a weekend or during the week," says General Manager Doug Degler.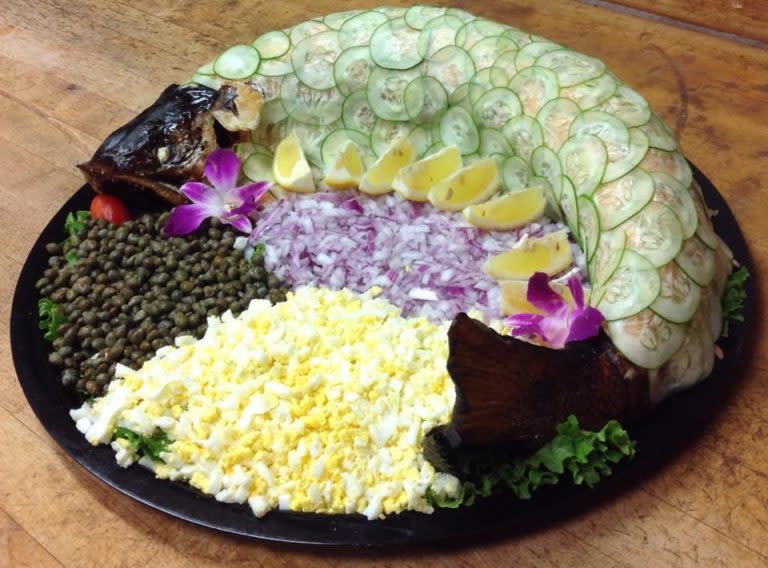 The feast of Seven Fishes is an Italian holiday tradition and Giolitti's has you covered. Smoked Salmon platter courtesy of Giolitti's.
Founded in 1992, this Italian market and delicatessen specializes in authentic, homemade Italian cuisine – including my vote for the best pizza and pasta in Annapolis. It also offers a long list of very brunch-appropriate to-go dishes. From Antipasto Platters and House-Smoked or Poached Salmon to Spinach and Ricotta Pastry Puffs and a wide variety of Caprese and Pasta Salads. On the sweet side, traditional desserts include Mini Cannoli, Tiramisu, and Cheesecake.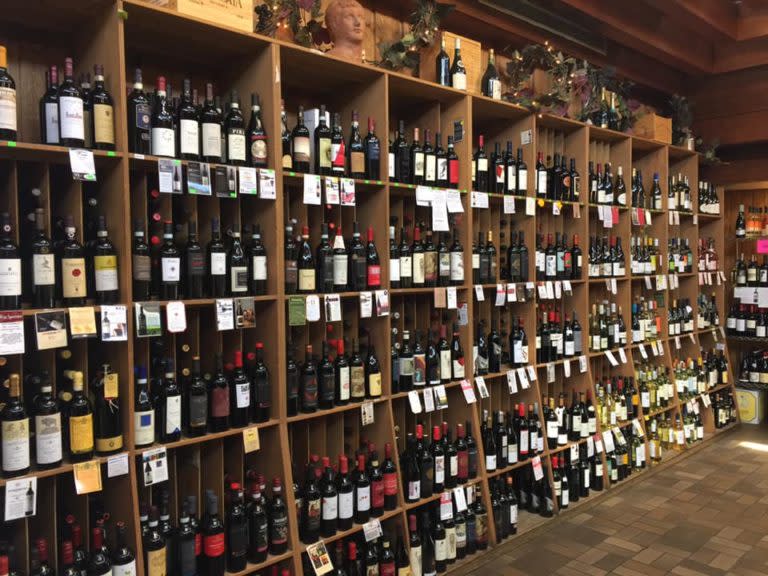 A curated selection of regional Italian wines greets you when you enter Giolitti's. Image courtesy of Giolitti's.
As an added bonus, Giolitti's has plenty of hard-to-find wines and a very wide selection of imported goods – including seasonal homemade Christmas cookies and panettones from brands such as Balocco, Flamigni, Albertengo, and Fratelli Sicilia. Grab one as a gift when you stop by to pick up your order.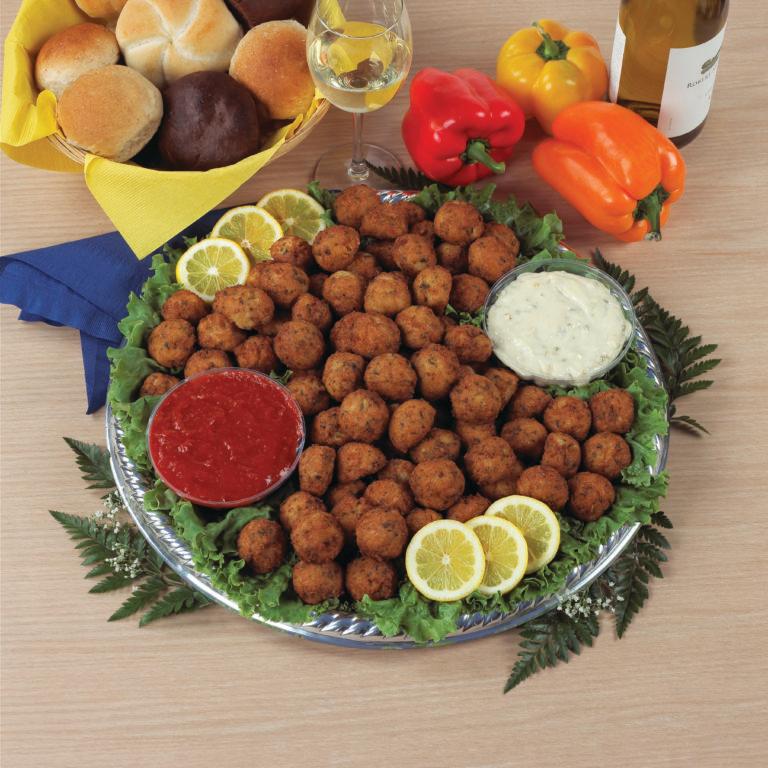 This local supermarket also has an amazing catering department and bakery. Image courtesy of Graul's.
Celebrating its 100-year anniversary in 2020, Graul's is first and foremost a grocery store but also has a catering department that offers a long list of expertly-prepared brunch items.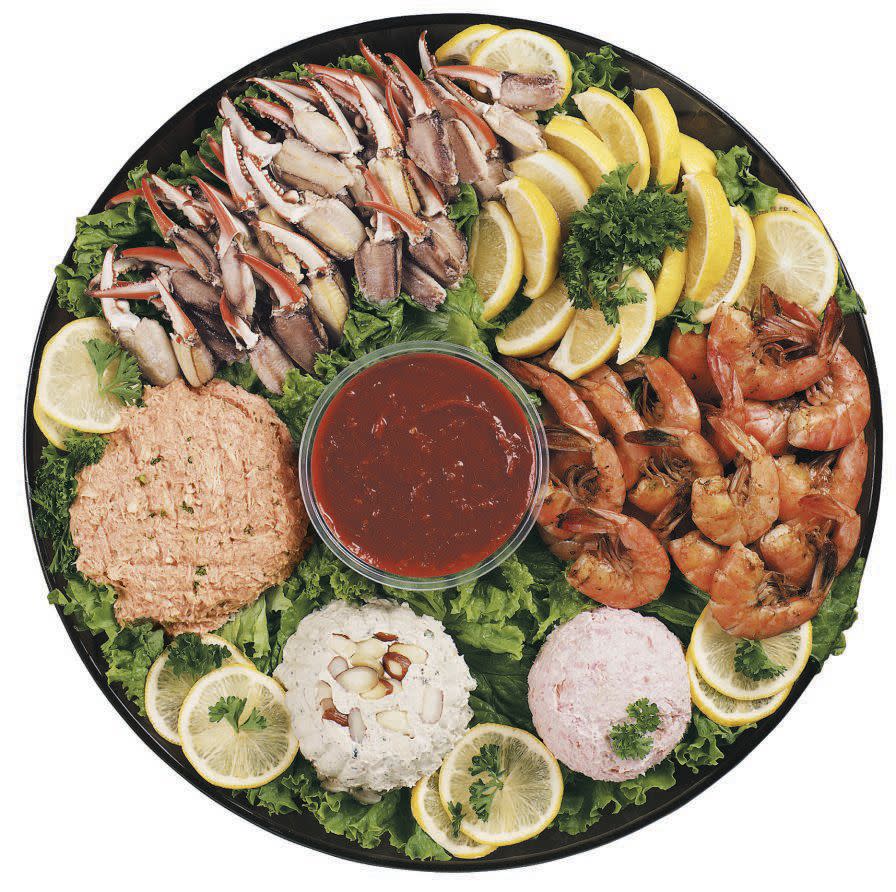 Take the stress out of Christmas Eve preparations with an easy and festive seafood platter. Image courtesy of Graul's.
Among them: fresh fruit arrangements, quiches, and salads; crab dip and crab balls, poached and smoked salmon, and steamed shrimp. In addition to their seafood selection you'll find a variety of vegetable, meat, and cheese platters as well as whole roasted turkey, spiral sliced ham, and beef tenderloin. Don't forget the baked goods! Graul's carries a wide selection of freshly-baked breads, bagels, cakes, pastries, pies, and mini desserts.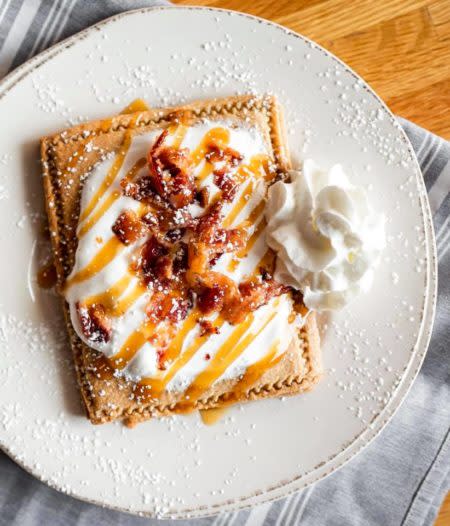 Roos Tarts are an Iron Rooster institution and can be shipped to your loved ones in time for Christmas! Image courtesy of Iron Rooster.
Not surprisingly, Iron Rooster features numerous flavors of its much-renowned RoosTarts. These confections are essentially massive Pop-Tarts that put the name brands to shame in both size and taste. On the Holiday Brunch To-Go menu you'll find: Pumpkin Pie, Apple, and Salted Caramel & Candied Bacon (in addition to the traditional Brown Sugar and Mixed Berry).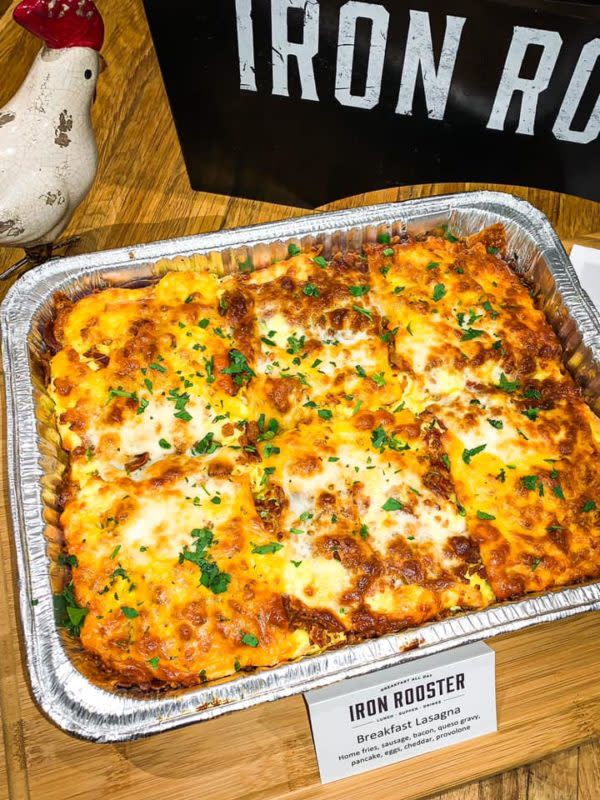 Additional brunch highlights include, family style iterations of their popular brunch items that can feed four to six hungry stomachs. Try their Big Brunch Bowl, Breakfast Tacos, Breakfast Lasagna, Baked French Toast, and, of course, Bacon!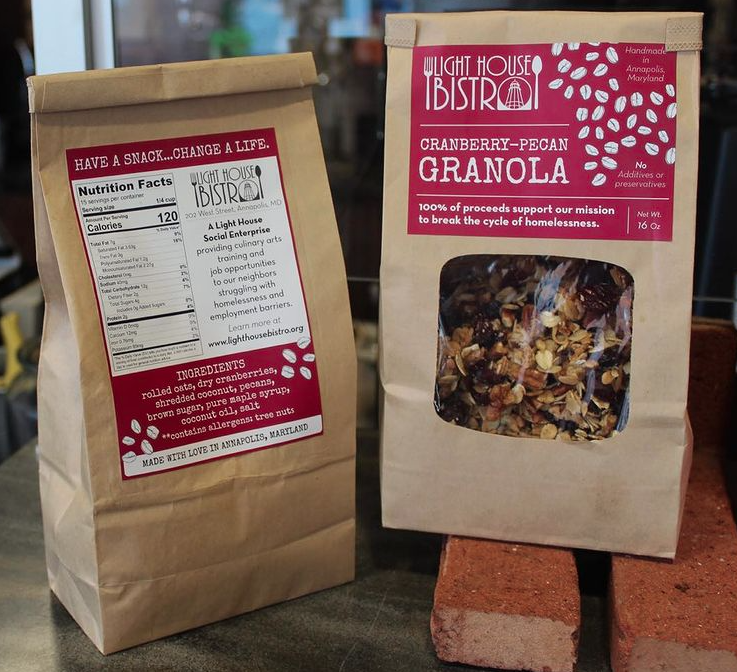 Light House Bistro is the perfect way to support a local business and give back – all at the same time! Image courtesy of Light House Bistro.
Although COVID-19 forced the Light House Bistro to temporarily close, Catering Manager Marie Friedland is happy to report that it is offering a number of tasty items to help keep the lights on and continue its social mission.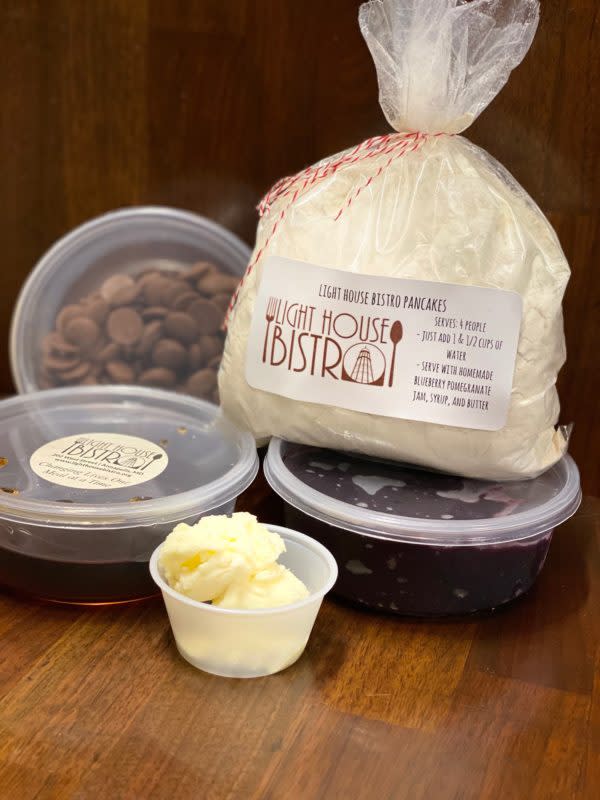 Santa and his reindeer love pancakes, especially when they come from Lighthouse Bistro. Image courtesy of Lighthouse Bistro.
The brunch to-go menu includes a make-at-home Pancake Kit; House-Made Cranberry Pecan Granola, Blueberry Jam, and Pepper Jelly; Red Wine, White Wine, and One Hope Brut. The food and drink selection not only make for your own amazing brunch at home but, as Friedland points out, they also make great gifts.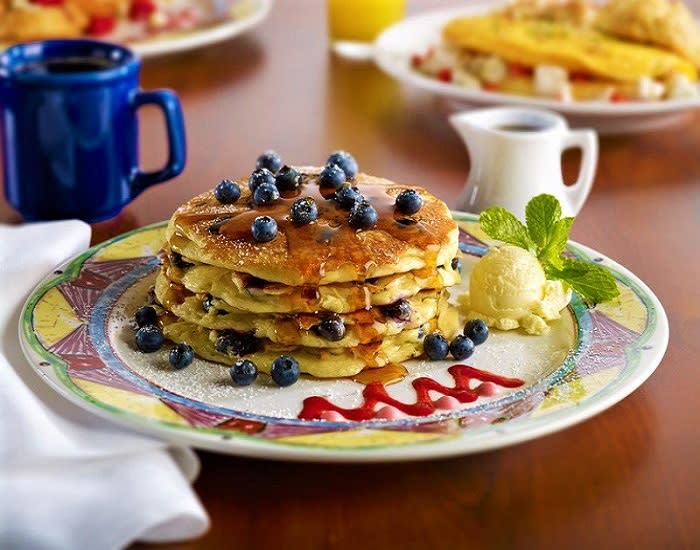 Sweet or Savory? At Miss Shirley's you don't have to choose! Image courtesy of Miss Shirley's.
Saving the sweetest for last, Miss Shirley's is featuring a different festive flavor of Holiday Pancake on its brunch to-go menu each week this December: Peppermint Bark, Hot Cocoa, Reindeer Tracks, Eggnog, and Sugar Cookie.
"We decided we all needed a little extra Holiday Cheer this year, so instead of having just one holiday-themed pancake flavor we decided to offer a new one every week," says Jen McIlwain, Director of Marketing & PR. "It's a family-friendly treat that will be sure to put a smile on everyone's face, whether dining in or at home."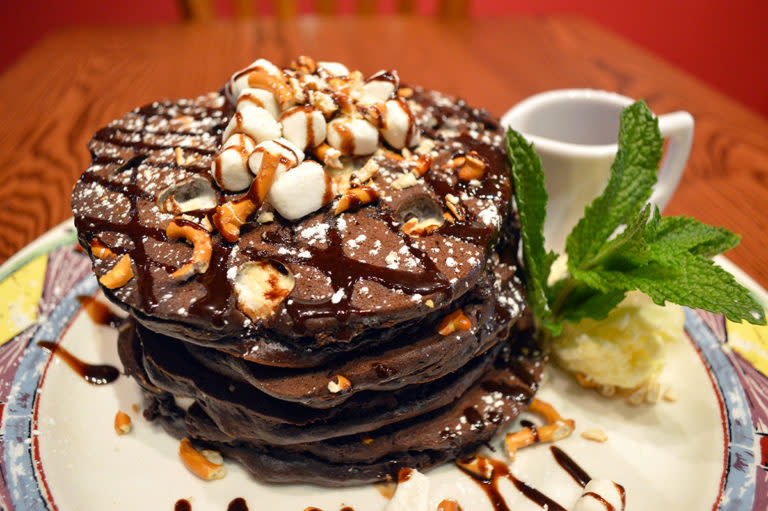 Reindeer Tracks pancakes are the perfect holiday brunch treat, especially when you can order them to-go. Image courtesy of Miss Shirley's.
Beyond pancakes, the to-go menu also includes all of Miss Shirley's signature comfort food favorites. Try their famous Fried Green Tomato Eggs Benedict or Chicken 'n Cheddar Green Onion Waffles. You can't go wrong with Shrimp & Grits or the Gravy Train Southern Skillet. Add a few seasonal specials to your to-go order like a Gumbo Omelet or Gingerbread Cookie-Stuffed French Toast.
The possibilities are endless! Be sure to visit the websites or contact each business to confirm availability and pickup details in this ever-changing environment.