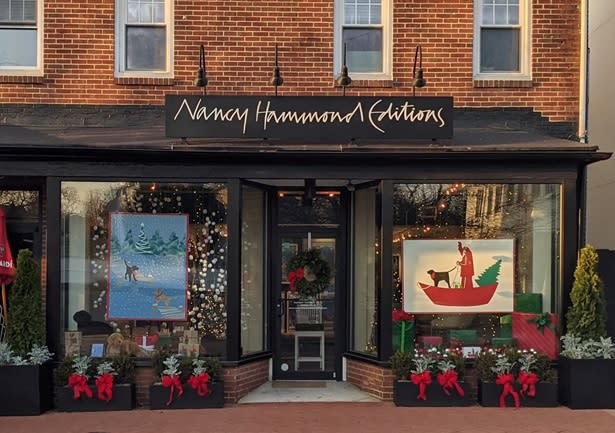 Reach out to those in need of some extra holiday cheer with an assortment of holiday cards from Nancy Hammond Editions.  Photo courtesy of Nancy Hammond Editions.
With uncertainty too often the order of the day, there is comfort knowing December 2020 will still deliver one of the most treasured traditions: holiday cards. This year, though, reach beyond your usual mailing list to those feeling the pangs of isolation a bit more acutely.  Send a local creation to someone unable to leave a nursing home or another deployed overseas.  Maybe a note to someone spending the holidays in a homeless shelter.  Or look no further than the neighbor you see with far less frequency.  A few minutes of downtime can do a lot to lift someone up.
I'm Dreaming of a Lab Christmas
Nancy Hammond's iconic labs are as synonymous with Annapolis as blue crabs.  Added bonus, they're infinitely easier to mail.  Choose a card set from an array of local yuletide scenes, which come in two sizes 5" X 7" (10 cards & envelopes for $15) or 6" X 9" (10 cards & envelopes for $20).  Looking to keep holiday spending more green than red?  Order notecards online through January 1 with code SAILOR at checkout for 10% off.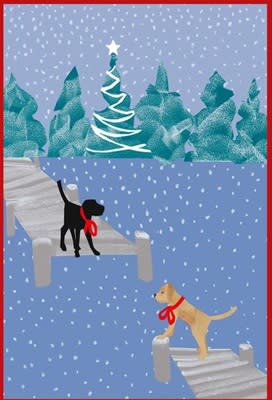 Anyone on your mailing list will warmly welcome the glad tidings heralded by Nancy Hammond's socially distanced labs.  Image courtesy of Nancy Hammond Editions.
Walk into a Winter Wonderland
As long as you are out, continue up the street to Kim Hovell's airy shop tucked in at the top of West Street.  Here you will find a quartet of Christmas cards sure to brighten the day of anyone, near or far, longing for the simple pleasure of taking in the treasured glow of Annapolis in December.  Buy these charming 4.6" X 7.2" cityscapes individually (one card & envelope for $5) or shimmy through even more mail slots by picking up all 4 offerings (set of 8 cards & envelopes for $27.50).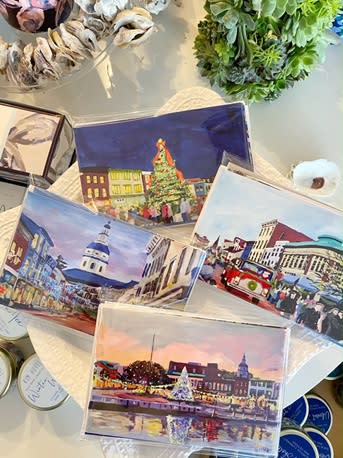 There's no masking the twinkle you'll ignite in the eye of your recipients with Kim Hovell's festive cityscapes.  Image courtesy of Kim Hovell.
It's Beginning to Look a Lot Like Historic Annapolis
Whomever you are reaching out to this season, they will be happy to plug in to memories of Christmases past with cards from Historic Annapolis.  Warm someone's soul with 4.5" X 6.25" cards depicting a snow-capped Governor's House gate (set of 5 cards & envelopes for $12) or 4.25" X 5.5" cards capturing the whimsy of the Parade of Lights (set of 12 cards & envelopes for $20).  Shop online with the code JINGLE15 for 15% discount site wide (some exclusions apply) or stop in to see an even wider selection of cards depicting more local hot spots.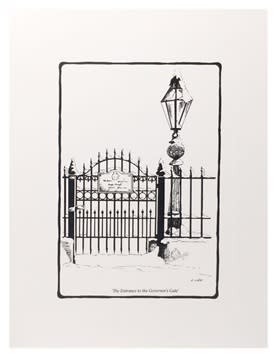 Note cards depicting Christmas past will be warmly received in the present as we patiently wait out Covid's restrictions.  Image courtesy of Historic Annapolis.
We Wish You a Handmade Christmas
Still have a need to create but the thought of a warm oven leaves you feeling cold?  Say hello to friends you know—or strangers who could use some holly jolly—with handmade Christmas cards.  Art Things, in its new location at Maryland Hall, has everything to make your own one-of-a kind Kringle-ly creation. Why stop at one?  As long as you are going large on your favorite medium, pick up a package of blank 5" X 7" cards ($10).  Each one is your own personal canvas.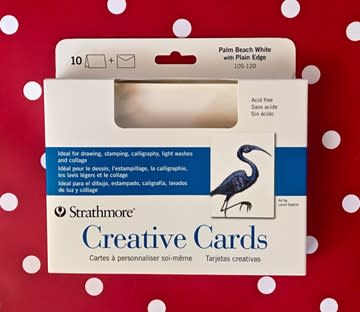 Create your own holiday cards to help make someone's day merry and bright.  Photo courtesy of the author.
Send your cards to people at these organizations:
Whether you are ready to throw open the sash or still grappling with a bit of undigested beef, cast off Covid's chains of isolation with these local opportunities to make a more meaningful impact both next door and next year.