With juuust enough flux still lingering from last year, it's now critical to flex the steadfast muscle memory of Holiday traditions; and Annapolis has a boatload of them.  Fire up the turn table, it's time to spin the Christmas classics.
Yews Light up My Life
For 45 years the Annapolis Jaycees have been keeping it fresh, festooning facades in holiday finery.  This volunteer service organization—in conjunction with The Downtown Annapolis Partnership (DAP)—raises funds (and spirits) by hanging lit garlands, wreaths, and swags on and around the already picture-perfect storefronts.
The tree, from
Deihl's Produce
, boasts ornaments created by
Finart's
Charles Lawrence
. 
Image courtesy of Debbie Latta.
A backdrop like this sets the stage perfectly for a star performance by none other than Santa Clause, as the Jaycees & DAP present the annual Grand Illumination of the city's official tree & menorah (sponsored by South Annapolis Yacht Centre) near Market House. 
Antici-pay-tion
With the countdown underway, keep coming back for more highlights under the twinkling lights.  For the most fun supply chain workaround, set your clock to Midnight Madness where you can take in the charm while also getting some serious shopping done.  Stroll through this seaside-town-turned-winter-wonderland the first three Thursdays in December from 4pm-midnight (until 11pm December 16) as you shop and sip local.  Holiday Cheer never felt so good.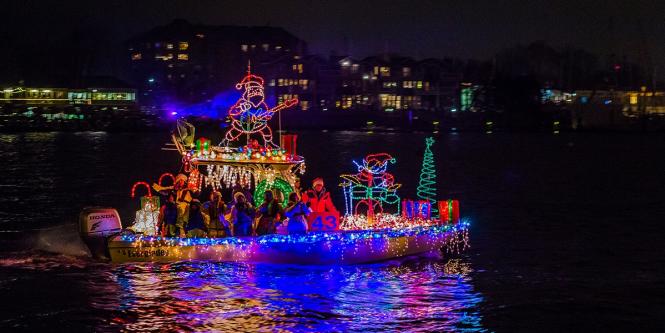 With themes from the silly to the sublime (and all expertly executed), these boats are decked. 
Image courtesy of
Eastport Yacht Club
.
In between bouts of Midnight Madness, keep your coat and hat on hand for Eastport Yacht Club's Lights Parade.  Pick a favorite waterside perch and soak up this unique holiday tradition.  Jonsin' for another light show?  Pack everyone into the family truckster and head to Sandy Point State Park for the SPCA's Lights on the Bay (open daily, 5pm – 10pm, until January 2).  At a reasonable price point of $20/car, a marvelous trick to keep up your sleeve for households in the midst of countdown anxiety.
Let Your Love Flow (You'll Know What I Mean)
Are your house guests still here?  Blink once for yes, and twice for my sister's boyfriend just used my toothbrush.  Circumstances aside, Annapolis is brimming with safe havens promising to cure with ales.  Ram's Head Tavern, 1747 Pub and Fox's Den all offer top-notch toddies—amongst other primo pours—all within the A-plus earthen embrace afforded below grade revelers.  Put another way: Christmas cozy done right.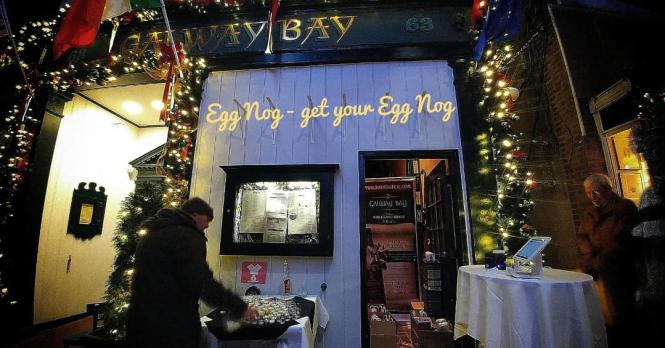 This eggnog will make a believer out of anyone.
Image courtesy of
Galway Bay
.
Even for the eggnog-stic, a proper yuletide season demands a tipple of the commanding comfort-drink, and Galway Bay is the place to get it.  Case (well, half-case for $137 +tax) closed.  Order early, that stuff flies faster than Santa's coursers. 
All that heart-warming eggnog may leave you thinking those houseguests aren't so bad after all.  Carve out some time for a late lunch with the crew at Eastport's Boatyard Bar & Grill.  This clean, well-lighted place is perfect for, well, lifting spirits.  Oh, and the food's good too, with menu items accommodating palates on both the naughty and nice list.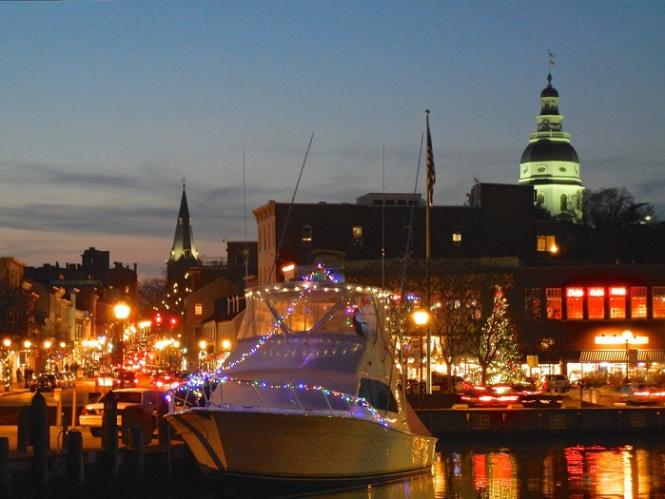 Take in the winterscape of City Dock from the comfort of
Market House
. 
Image courtesy of Annapolis Discovered.
Affording all the ambiance but more flexibility for a fluctuating flock that might be coming and going from last-minute shopping and mid-day bar hopping, Market House is a must.  Harbor view, buzzing atmosphere, award-winning raw bar…eureka!
Don't Fear the Croupier
Dig deep; you've got one more night in you.  Accommodating bedtimes of all shapes and sizes, the City of Annapolis will host an outsized celebration, including fireworks at 5:30 and again at midnight.  Or change it up with a short trip to a long-needed getaway at Maryland Live! Hotel & Casino.  Shop sales at Arundel Mills.  Try your hand at the tables.  Sink your teeth into decadence at The Prime Rib.  Either way, it's a win/win.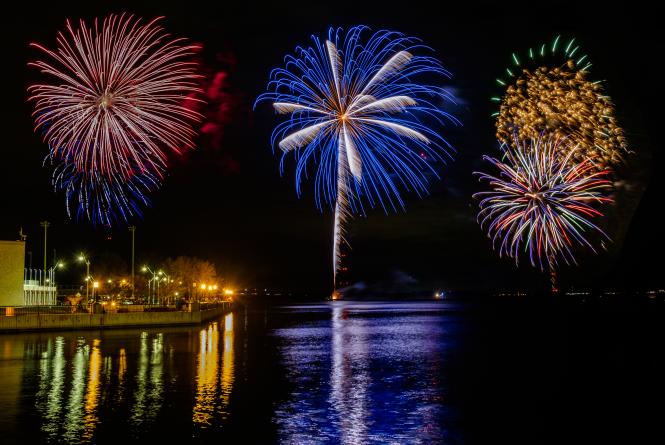 New Year's Eve fireworks at City Dock.
Image courtesy of Bob Peterson.
Hm.  The Holidays are starting to sound pretty good.