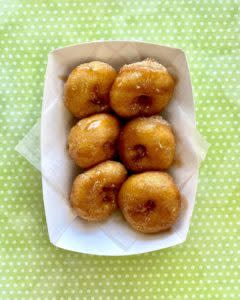 Cinnamon Caramel with Apple Glaze can be found via 'Glazey Days' Donut Truck! Photo courtesy of Glazey Days.
Think "Annapolis food and drink," and apples and apple cider probably don't come to mind too quickly. Indeed, Maryland grows less than 1% of America's favorite fruit each year; and although hard cider was a part of nearly every colonist's daily diet, the only cider-making in Annapolis these days is going into our area's delicious donuts!
A treat that, sure, you could always pick up from a grocery store or attempt to make yourself but will surely taste better when made by a pro. So, with just our second official Maryland Apple Month upon us, here are a few spots to get your fill.
Whether stepping into the Amish Market for your first time or your fiftieth, you're sure to be struck by the intoxicating odors emanating from the bakery. While their bread, cakes, and pies (including the infamous whoopie!) is surely tempting, be sure to make a beeline for the donut stand. It's located on the back side of the market. These generously sized and very reasonably priced ($1 each) Apple Cider donuts quickly sell out. As an added bonus, you can watch these and other seasonal favorites, such as Harvest Apple and Pumpkin Spice, being made by hand with the market's own ingredients. From apple cider to candy, try and convince yourself that you'll be able to wait and eat all these goodies until you get home.
Delightful Bites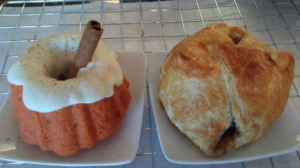 Pumpkin Cake and Apple Dumplings from Delightful Bites. Photo courtesy of Delightful Bites.
While they don't offer apple cider donuts, Delightful Bites can't be left off of on any list of Fall-friendly baked goods. Along with a wide variety of apple- and pumpkin-infused mini breads, scones, croissants, and more, the baker offers a laundry list of rotating flavors at the Anne Arundel County Farmers' Market. Among them: Chocolate Chip, Pumpkin Coffee Cake, Confetti Cake, Pumpkin Pie, Nutella, Banana Chocolate Chip, Peanut Butter Banana, Maple Bacon, Cookies and Cream, and Strawberry. Just be sure to arrive early – they sell out quickly!
Blondie's Doughnuts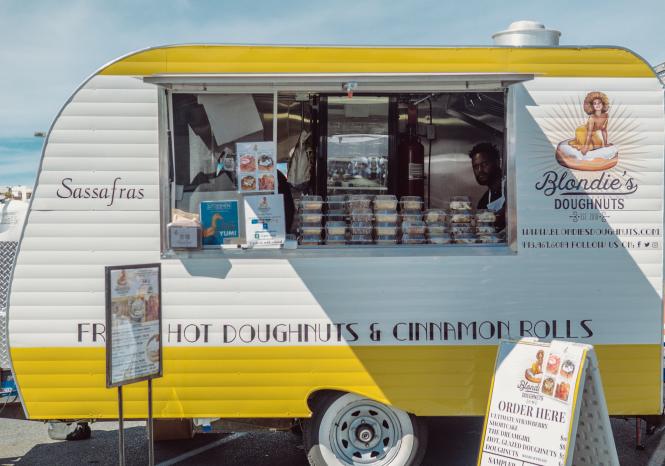 Find these delicious doughnuts at their food truck across the DMV! Locally, you can find them at the Crofton Farmer's Market, and they deliver, oh joy! Their food truck was so popular it spurred them to open a brick-and-mortar doughnut shop in Edgewater, MD. Follow them on social for their grand opening. With flavors like their Hot Honey Dip, Cookies N' Cream, and Nutella & Strawberry, you may find yourself being a doughnut groupie!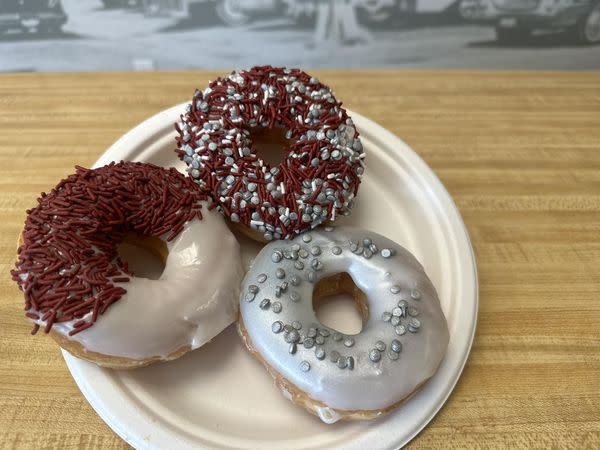 Beer and Donuts? Don't knock it 'til you try it! Photo courtesy of Donut Shack.
A Severna Park favorite since it first opened its doors in the late 1970s, the Shack was purchased by its current owners, a small group of locals aiming to "bring it back to its former glory," in January 2020. They're certainly off to a good start. They offer a wide variety of standard and not-so-standard flavors, such as "The Kitchen Sink," aka "The Michael Scott," topped with chocolate fudge, chocolate chip cookies, Oreos, M&M's, pretzels, and more. These delightful treats are available for pickup, delivery, and, most recently, at Park Deli in Annapolis.
They offer plenty of fall flavors as well, including Maple Frosted, Apple Spice, Apple Crumb, Maple Bacon, Spooky Sprinkles, Pumpkin, and, yes, Apple Cider.
"Apple Cider is definitely my favorite, but Pumpkin is also a huge hit," says Allie Matthews, who reports that they will thankfully be available through November.
She also advises ordering these particular flavors ahead of time or showing up shortly after the Shack opens (6:00 AM) to make sure you get your hands on some. Pro tip, consider enjoying them with a few donut-inspired Chocolate Coffee Glazed Donut Stouts from Oliver Brewing Company.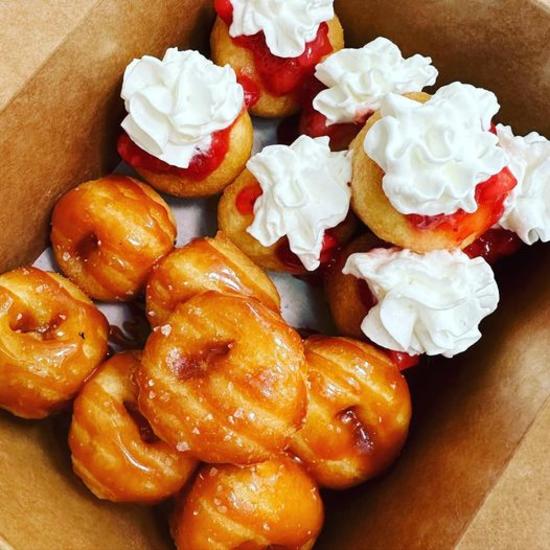 Glazey Days is a donut shop on wheels! Photo courtesy of Glazey Days.
You'll have to do a bit of social media stalking to track down this mobile gourmet donut company's bright yellow trailer. Glazey Days posts its weekly schedule, including regular stops throughout Crofton, Odenton and Severna Park, on their Facebook page each Monday. Glazey Days' mini-donuts "take decadence to the next level," with flavors ranging from the always-popular French Toast and Cinnamon Roly Poly to their many Fall favorites. With flavor combos like Caramel Apple, Maple Bacon, and Pumpkin Spice (the latter topped with real pumpkin, a cream cheese glaze, and pecans), the hardest part will be deciding what to choose!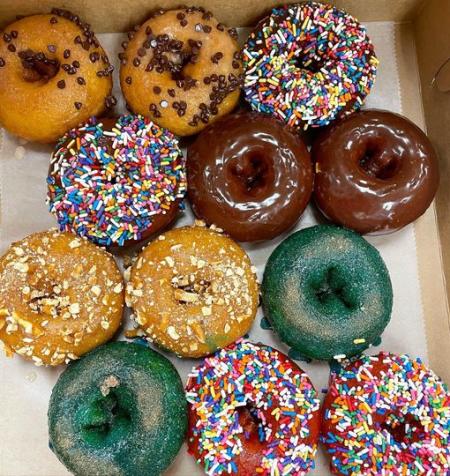 Sandy Pony makes each donut fresh, and dips it in their Granny Smith Apple Glaze right in front of you! Photo courtesy of Sandy Pony.
Last but not least, Annapolis's go-to donut shop added Apple Cider to its fall menu. Already well-known for their Pumpkin Pie and Pumpkin Spice, customers kept asking for an apple cider version and, as owner Brea Reeves says, "We had to give the people what they want!"
Reeves says that the highly-popular flavor, topped with a homemade Granny Smith Apple glaze and cinnamon sugar, is one of her personal favorites because "it tastes just like warm apple pie and puts you in a very Fall mood."
Pro-tip, Brea suggests enjoying them at home. Simply warm them up in the microwave and top with a scoop of vanilla ice cream! It's the perfect dessert to accompany an autumn evening with a couch, a movie, and a fire in the fireplace.