Happy holidays, everyone. For this month's drink of the month, we sat down with Jamaal Green, bar manager at Vivo and Grillfire restaurant in The Hotel at Arundel Preserve to try his mad scientist reinvention of the classic Christmas drink: The Stagger Lee.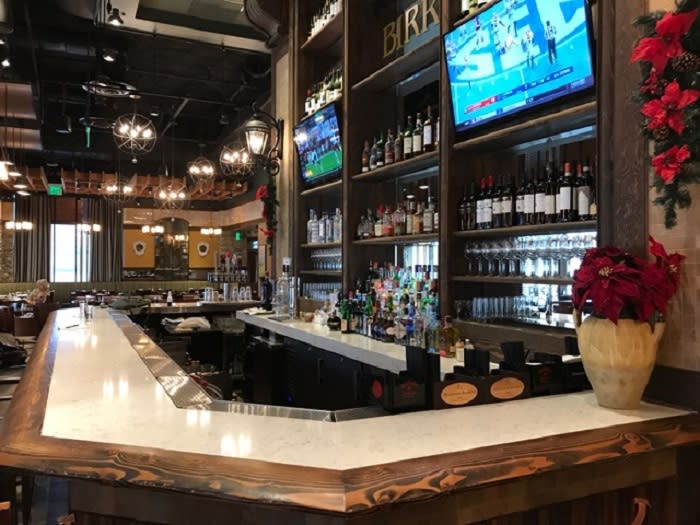 But first, how do we know that it's almost Christmas? There are the easy signs, the calendar for example, but if you were plucked up in June and dropped into Annapolis in December, there are certain signs and sensory cues that we associate, almost entirely, with Christmas: the smell of fur trees, the icy bite on the skin, and the ringing of Salvation army bells. How about taste? Consider for a moment that our spiced ciders, our mulled wines, and our hot toddies come out en masse around the holidays, and then hibernate for the rest of the year. For me, the true taste of Christmas is that gustatory explosion of spice and fruit comingled, of sweetness and tang together, and of full and fragrant aromas. Christmas drinks are a complete sensory overload.
Jamaal Green knows the gustatory essence of Christmas, and he knows how to innovate on it. The ingredient list of his cocktail, The Stagger Lee, spans geographies and culinary traditions the world over in completely surprising ways (at least to this writer): mezcal and gin, Dr. Pepper and bitters, garam masala and mole. How could these ingredients possibly taste well together? Look at this list! The man is mad, I'm telling you, and somehow The Stagger Lee tastes just like Christmas.
Stagger Lee
1 part Ransom Old Tom Gin
½ part Mezcal Machetazo
1 part lemon juice
1 part Dr. Pepper reduction
2 dashes mole bitters
2 dashes Angostura orange bitters
A few pinches of garam masala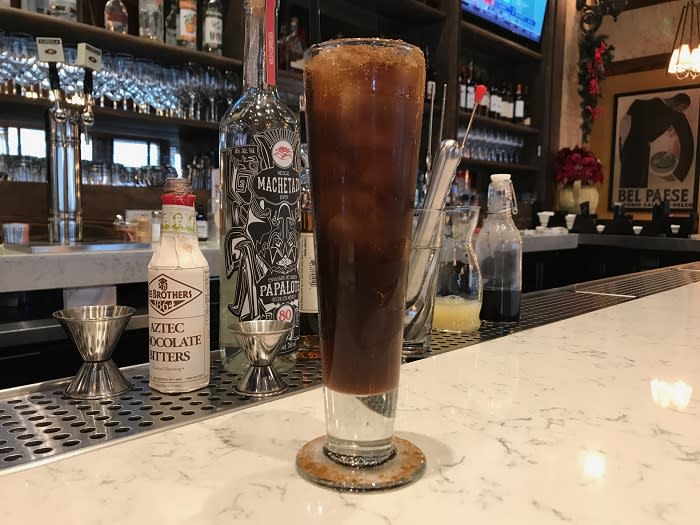 Here we get all the essential pieces of a great holiday drink. We get spice from the garam masala and mole bitters, we get fruit from the lemon juice and Dr. Pepper, and we get the aromaticity of the gin and citrus. But where Jamaal really adds something to the tradition is in his inclusion of Mezcal Machetazo. That little bit of smoke, alongside the mole and garam masala, makes this cocktail unique among Christmas drinks. Even so, the experience felt familiar, almost like sitting around a wood hearth, alternately catching whiffs of smoke and wine mulling over the fire while waiting for Santa to come.
I think that it's appropriate that on our holiday of peace on earth, we celebrate such varied and diverse flavors from all over the world in one glass. It sounds cheesy, but maybe that's why we drink what we do on Christmas.
The Hotel at Arundel Preserve is one of the area's top hotels, and it doesn't hurt that it's home to two great restaurants: Vivo Italian Kitchen & Wine Bar, and Grillfire. Check out the restaurants before spending the night, or drop in anytime for a great meal.
Merry Christmas, everyone!
Photos courtesy of Jeremy Olsen