Annapolis, meet your new favorite BBQ joint. The doors of Julep Southern Kitchen & Bar are now open and ready for all of your down-home cookin' cravings. As you walk in the delicious smell of the kitchen and the beautiful decor will captivate you. The first thing I noticed was the beautiful palm leaf accent wallpaper and open kitchen concept. The well-lit, high ceilings show off a beautifully renovated space with whitewashed brick ovens that were used to cook your favorite Bertuccis' pizzas. You'll also notice some unique ship-lap walls which are actually made from recycled pallets. I immediately felt comfortable in the space as I slid into a corner booth to try out some of the highlights of the brand-new menu.
Courtesy of Julep Southern Kitchen and Bar
I was lucky to sit down for dinner and be joined by the owner and pit-master, Bob. he and his partners, including his son, who are responsible for The Hideaway in Odenton have completely brought this place to life. With the first introduction, I could tell how passionate this man is about good food but most importantly, friendly service. I saw him go out of his way and personally welcome each table in the dining space.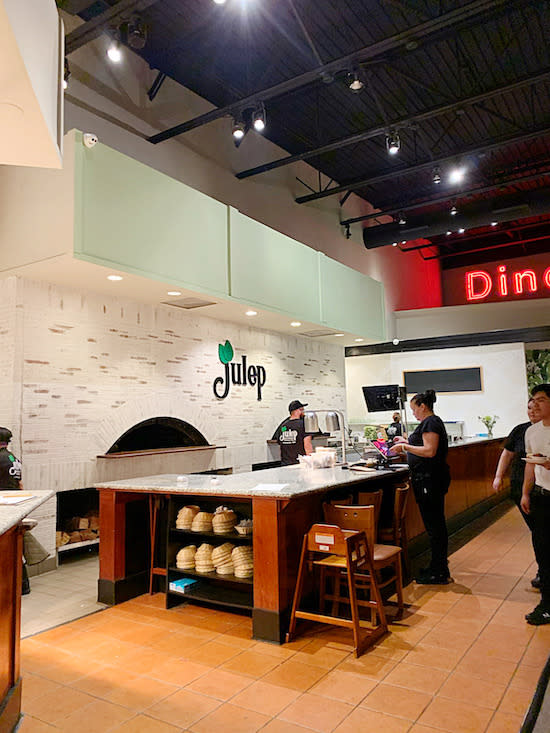 Image courtesy of the author
As I was looking over the menu, the server brought my first cocktail of choice. Can you guess what it was? A mint julep, of course! If you've never had a proper julep before, you must try the one here. It was done exactly as a julep is supposed to; served strong yet sweet and minty in a metal cup with overflowing crushed ice.
I let Bob choose his favorites on the menu and ended up with half a dozen plates in front of me at once. Each was so delicious I had to remind myself to save room for the next. We started with some appetizers including southern egg rolls with pulled pork, fried green tomatoes with shrimp and chipotle aioli, naked wings, and ribs.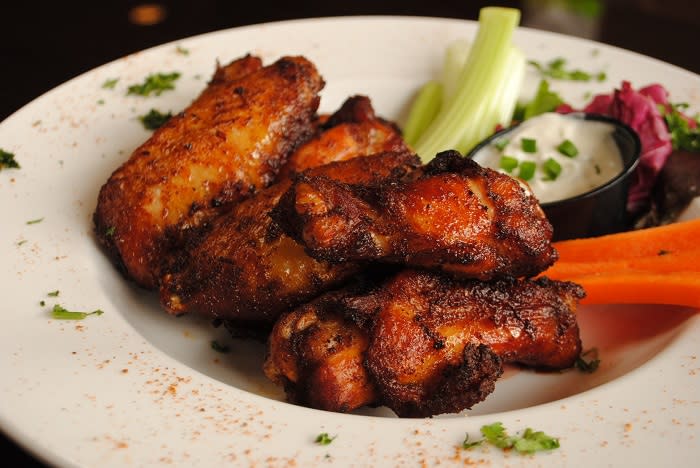 Courtesy of Julep Southern Kitchen and Bar
The wings were probably the best I've had in town. They are rubbed with dry seasoning and are left to sit for a day. Then, they are smoked over pecan wood then fried to order creating a caramelized crispy outer skin and juicy inside. I recommend ordering the naked wings and dipping in the BBQ sauces found at the table or simply enjoying them as they come.
The ribs here were probably the most impressive I've ever tasted. The fall-off-the-bone, melt in your mouth appetizer is similarly smoked for 6 hours, then flash-fried for three minutes at a time of order. My mouth is watering just thinking about them. The ribs are served with a signature house sweet blackberry chipotle sauce, which I found out happened as an accident during a wing competition. Pretty cool.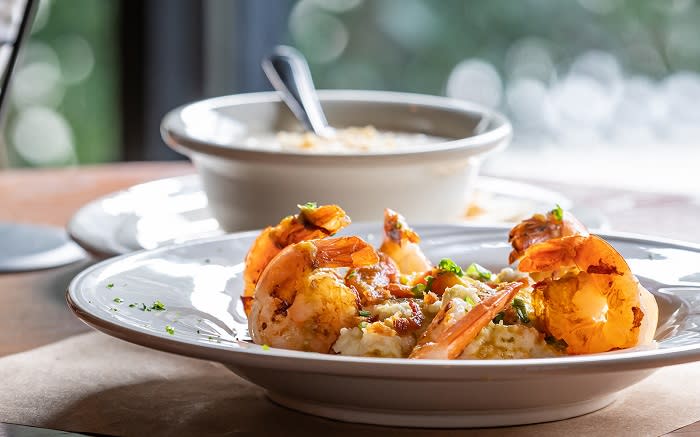 Courtesy of Julep Southern Kitchen and Bar
Next came the entrées. I felt like I had to try two of the most classic southern dishes; shrimp and grits and the chicken fried steak. Both were absolutely delicious. The crispy fried steak was served over perfectly whipped mashed potatoes and a side of collard greens. The perfect comfort food. The grits particularly impressed me because they had their own little twist. The chef did not want this dish to be like any other you can find in town. It was topped with a sweet and spicy homemade green tomatillo sauce. I had never tasted grits like this before. I have to say, I love what they did with this to make it unique.
I left Julep with a full belly and heart. On the menu, Julep describes themselves as a creative southern restaurant and gathering place. I couldn't agree more. You'll fall in love with this southern food joint with the class as I have...Guaranteed.
Julep Southern Kitchen & Bar 2207 Forest Drive Annapolis, MD 21401 (410)-571-3923
Images courtesy of the author and Julep Southern Kitchen & Bar