I recently had the pleasure of spending an afternoon with local plein air painter, David Diaz. Though it's a cloudy day, David brightens up the block with his contagious personality. We talk about when the best time of day is to capture lights and shadows, color theory, and his seriously impressive collection of oil paints! It's all about the "intensely pigmented" shades he tells me.
With his involvement in, and relationships to, the Maryland Federation of Art, Paint Annapolis, and the McBride Gallery, David has created a name for himself, his work, and his dedication to the arts. He is a delight to talk with and is a great representation of our bubbling Annapolis arts scene!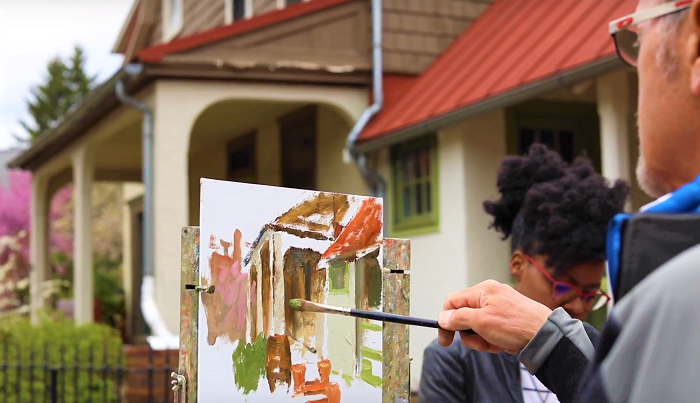 David is a member of the Mid-Atlantic Plein Air Painters Association (MAPAPA) with a focus on regional and international subjects. He actively participates in juried plein air painting events throughout the Mid-Atlantic area and Ireland and served as President of MAPAPA for two years. He is also active with the Maryland Federation of Art, serving as President & Co-Chair of the Exhibition Committee for the 50th Anniversary celebrations. David is the 2014 winner of the Visual Arts Award, the top award presented to artists in Anne Arundel County.
David is included in the historic book by Gary Pendleton "100 Plein Air Painters of the Mid-Atlantic" published by Schiffer in 2014. He competes and has won awards in a number of plein air painting competitions including Paint Annapolis, Mountain Plein Air, Easels of Frederick and Paint Easton.
Video courtesy of Patrick McNamara of Drawn to the Image