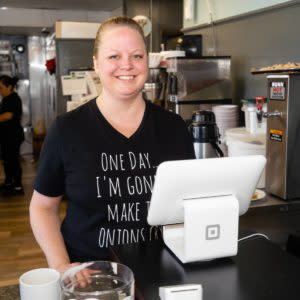 Monica Alvarado of Bread and Butter Kitchen and Feed Anne Arundel. Photo courtesy of author.
When the pandemic first hit Annapolis and Anne Arundel County, local businesses and employees felt the impact first. Many residents began staying home to protect one another and as more became known about the coronavirus, government officials began mandating closures. Local restaurants, lparticularly hard hit, were among the first to shutter. Individuals scrambled to buy gift certificates and takeout to support their favorite restaurants and shops. Monica Alvarado, owner of Bread and Butter Kitchen in Eastport, took things a step further. She teamed up with Rev. Ryan Sirmons, lead organizer of Anne Arundel Connecting Together (ACT) for a creative (and delicious!) solution called Feed Anne Arundel. Their mission was simple: Feed the community, support local restaurants, and keep people employed.
The Face Behind the Mask
Monica is no stranger to community outreach. In early 2019, she helped launch a "Feed It Forward" program. It is a way for restaurants to partner with their customers to provide meals for those in need. At Bread and Butter Kitchen, customers could purchase $15 gift cards to donate to a neighbor in need. Fast forward to March 2020, when almost overnight; our community was hit with an unprecedented food insecurity crisis. At the same time, restaurants were struggling to keep their kitchens open and staff employed. Feed Anne Arundel stepped up and set out to address both needs: the organization would raise money and pay restaurants to cook meals for people in need.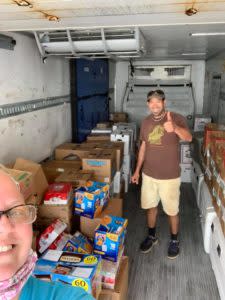 Groceries for Feed Anne Arundel. Photo courtesy of author.
In late March, they started with an ambitious goal to feed over 600 people. They crushed that goal almost immediately by raising over $100,000 within five weeks. They sent the proceeds directly back into the local economy. By mid-July, they marked another major milestone of serving over 30,000 meals!
Monica Alvarado
See Monica & Feed Anne Arundel in Action at a Distribution Site:
[embed]https://www.facebook.com/FeedAnneArundel/videos/572191930104769[/embed]
Helping Those in Need
Monica says, "It's been an emotional journey. There are highs when you see people smile and they're excited to get a meal from a restaurant that they love or one they always wanted to try. The lows come when you hear people crying because they haven't eaten in a day or two and how much that one meal means to them." Acknowledging Feed Anne Arundel can't keep up with the growing need, Monica continues to push forward with the mission of raising funds and serving the community. She shows no sign of slowing down.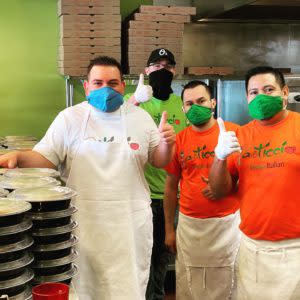 Restaurants come together to provide meals to food insecure families in the county. Pictured: Pasticchio Italian Kitchen making meals for Feed Anne Arundel. Photo courtesy of author.
What started as a simple concept during the COVID-19 outbreak, has morphed into a complex network of volunteers. The organization now has over 40 restaurant partners, mobile food pantries and distribution sites. They're also collaborating with like minded community organizations such as the Anne Arundel County Partnership for Children, Youth and Families. Even the Cal Ripken Sr. Foundation took note of their efforts and began providing logistical and administrative support to Feed Anne Arundel.
How You Can Help 'Feed Anne Arundel'
Feed Anne Arundel's work has expanded beyond prepared meals to include fresh groceries and necessities to those in need. Monica has even set her sights on creating food and vegetable stands (ala little free libraries) filled with produce from home gardeners who want to share their harvest.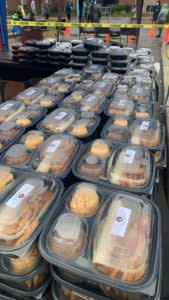 Feed Anne Arundel restaurant meals ready to be distributed. Photo courtesy of author.
Here's how you can help:
Make a donation to their GoFund Me or the Ripken Foundation
Spread the word about distribution sites. Updates are regularly posted to their facebook page.
Volunteer
Buy a Feed Anne Arundel tee shirt
Patronize local restaurants like Monica's Bread and Butter Kitchen (I recommend the Chicken Biscuit!).
Restaurants are the fabric of our communities. They are major employers, local gathering places and the work they do nourishes our bodies as well as our minds. We need them here during and long after this pandemic. Thank you to Monica Alvarado and Feed Anne Arundel for giving us a way to support them as they support our neighbors.
(The Face Behind the Mask: is a series of blogs dedicated to those making a difference in Annapolis and Anne Arundel County during the COVID-19 Pandemic. Click here, for more articles in this series)