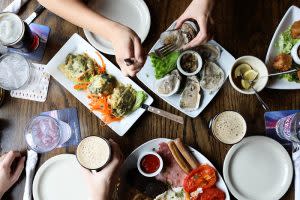 Annapolis celebrates the Foodie Days of August! Photo courtesy of Galway Bay.
Chances are the confinement created by the pandemic means you have trouble keeping track of the days of the week. Like Bill Murray in the movie Groundhog Day, many of us feel like every day is déjà vu, with little to distinguish a weekday from the weekend.
So, with tongue firmly in cheek, may we suggest a whimsical way to track the week? How about an August calendar of special food days, observances taken from lists created by professional gourmets Karen Hochman, founder of Nibbles; and John Bryan Hopkins of Foodimentary.
Here, from their websites, are the dates suggested for celebrating a broad range of culinary milestones that may or may not include your personal favorites. For your convenience, we are including information on where in Annapolis you may find the foods that made the list.  Bon Appetit, and all that.
August 1 – National Mustard Day
Tastings Gourmet Grocery Store stocks a remarkable selection of imported foodstuffs.  A savvy collection of mustards includes Amora, a staple in French kitchens,  "We have a hard time keeping it in stock," says a Tastings associate.  Another popular brand is Pommery, usually on the shelves of this culinary gem. 1410 Forest Dr., Clock Tower Plaza. 410-263-1324.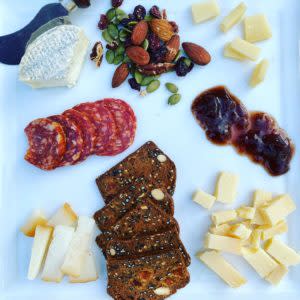 Cheese boards are perfect for snacking or packing on a picnic for National Picnic Day! Photo courtesy of Tastings Gourmet.
August 3 – National Picnic Day
Big Cheese is a wise choice for putting together a perfect picnic from a first-rate selection of meats, cheeses, and beverages.  These Foodies have been building a loyal following for more than 20 years at this location near Gate I of the United States Naval Academy.   47 Randall St.  410-263-6915.   Chick & Ruth's Deli is another prime choice.  165 Main St. 410-269-6737.
August 5 – National Oyster Day
Annapolis Seafood has earned its reputation as a prime source of fresh local shell and fin fish.  Restaurants specializing in oysters include Blackwall Hitch and Boatyard Bar & Grill in Eastport as well as McGarvey's Saloon & Oyster Bar and O'Brien's Oyster Bar in downtown Annapolis.  Sailor Oyster Bar, a newcomer to West Street, has been getting some good buzz for their fresh seafood and oysters.
Beer and Oysters can be sampled back to back this August as part of the National Foodie Days of the Month! Photo Courtesy of Market House
August 7 - International Beer Day
Ram Head Tavern 33 West St., 410-268-4545 is a downtown Annapolis favorite that offers a World Beer Club Membership featuring 150 beers from around the world! Old Stein Inn  at 1143 Central Ave. across the South River in Edgewater; serves an extensive list of Brews you would come to expect from a German restaurant. Give the Reissdorf Kolsch a try, it's a Biergarten favorite. 410-798-6807. And for those just outside of Annapolis stop by Crooked Crab Brewing Company  located at 8251 Telegraph Road, Odenton, MD, 443-569-9187. They have outdoor seating and a new beer dropping this week featuring New Zealand Motueka Hops, called Haze for Days.
August 13 – National Filet Mignon Day
Lewnes' Steakhouse (410-263-1617) and Ruth's Chris (410-990-0033), both on Fourth Street in Eastport, have their own die-hard fan clubs. Sample both first-rate restaurants, then choose your favorite! Nothing says 'Foodie' like a perfectly cooked Filet Mignon!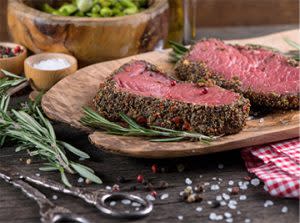 August 13th is National Filet Mignon Day. Photo Courtesy of Visit Annapolis.
August 15 – National Lemon Meringue Pie Day
Sweet Hearts Patisserie can no doubt fill your special order for this delicacy, listed as a food holiday in honor of Julia Child's 100th birthday. If you dream it they can make it!1410 Forest Dr, Annapolis 410-263-6513.
August 18 - National Fajita Day
El Toro Bravo celebrates Mexican cuisine in a convivial atmosphere that can accommodate diners outdoor during West Street's Dining Under the Stars initiative. 50 West St. 410-267-5949.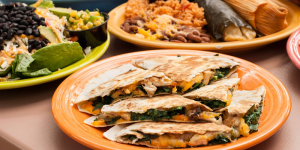 Any day is a good day for Mexican Food, especially on National Fajita Day! Photo courtesy of Visit Annapolis.
August 28 – Red Wine Day
Red Red Wine Bar, a unique establishment with an appealing off-beat vibe, is the logical honoree on this wine-centric holiday.  PS.  Lunch and dinner are a bonus.  189 B West St. 410-990-1144.
Don't forget to tag us in your foodie indulgences this month with the hashtag: #annapolisdiscovered