Founded in 1997 by then-home cake bakers Dena Tripp and Debbie Shwetz, Nothing Bundt Cakes was created to "fill a gap in the world for delicious cakes" – to, quite simply, offer customers cakes that were as close to perfect as possible.
They aimed to achieve this by following one simple rule: never compromising on ingredients. And now, 24 years later, nearly four hundred stores nationwide serve as proof that they've quite clearly hit the mark.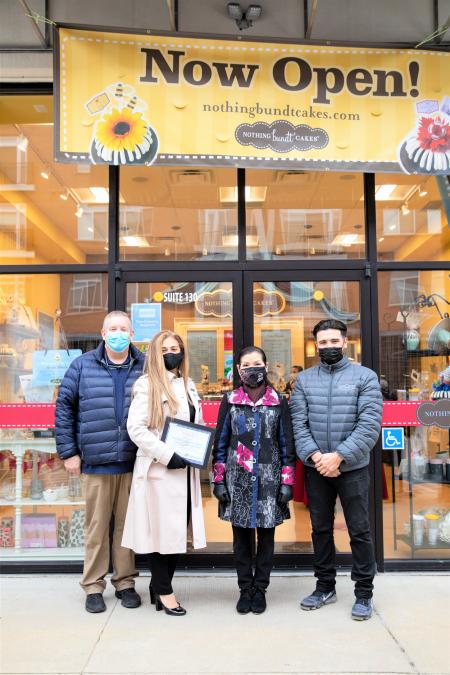 The Rogers Family with First Lady Yumi Hogan at the Grand Opening of Nothing Bundt Cakes. Image courtesy of Nothing Bundt Cakes.

 

Lucky for Annapolis, the 393rd Nothing Bundt Cakes opened at Annapolis Town Center on December 11, 2020, introducing a source of tasty, smile-inducing items at the end of an incredibly challenging year.

 

As I learned when visiting the bright and airy store on a frigid weekend in February, Nothing Bundt Cakes really does have a cake for every celebration – from a "just because" bundtini, its signature mini cake, to multi-tiered, fully-customized cakes for weddings.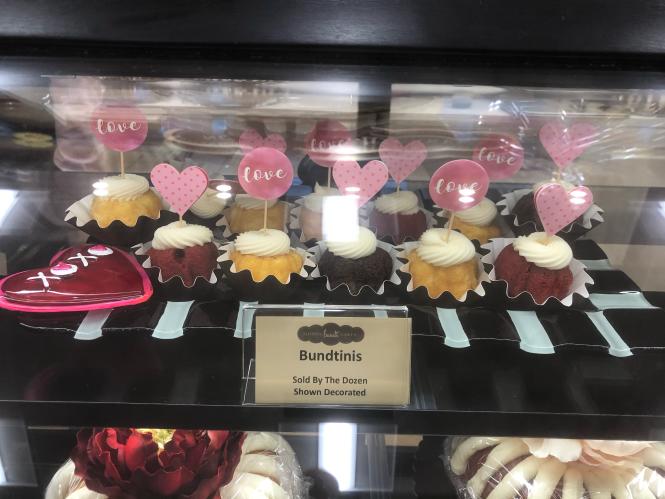 Delightful bundt cakes sit in the display case. Image courtesy of the author.

 

"I believe celebrations can come in all shapes and sizes," says Rhonda Rogers, who opened what she calls "our family's little bakery of joy" with her husband, Glenn, and their son after a girlfriend discovered the company and immediately told her 'this is for you.'

 

"Every day is a special day in some way – a birthday, an anniversary, a get well, a 'thank you' – and as soon as we opened it became clear that people really do see cakes as a great way to create smiles and bring joy."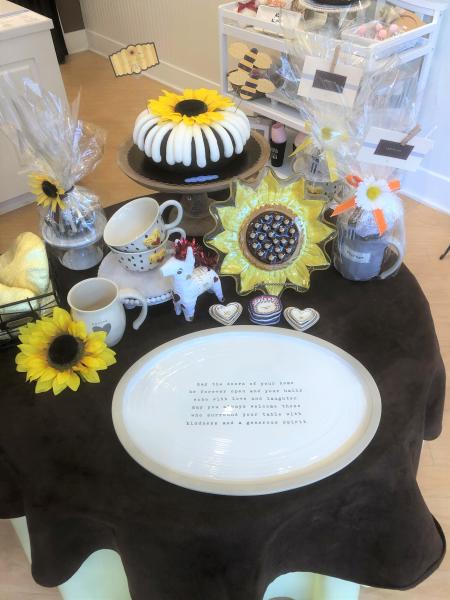 If you can dream it up, no doubt Rhonda and her team can create it! Image courtesy of the author.

 

While recent celebratory occasions included a signature Princess Cake and balloons for a twelve-year-old girl's birthday, a sampling of Bundtinis for an upcoming wedding, and a blue- and pink-iced cake filled with either a pink or blue rattle to be pulled out for a very creative gender reveal, your wish is Nothing Bundt Cake's command.  "Little is out of our reach," says Rogers.

 

For starters, 8-inch Bundts ($27), 10-inch Bundts ($37), Tiered Bundts ($76), Bundtlets ($5), and Bundtinis ($24/dozen) are available in nine flavors: Chocolate Chocolate Chip, Classic Vanilla, Red Velvet (Rogers' hands-down favorite), White Chocolate Raspberry, Confetti, Carrot, Lemon (the far-and-away best-seller), Marble, and Pecan Praline. There's also a seasonal flavor each month, with past months' including Peppermint Chocolate Chip and Snickerdoodle, Salted Caramel this month, and Strawberries and Cream coming in March.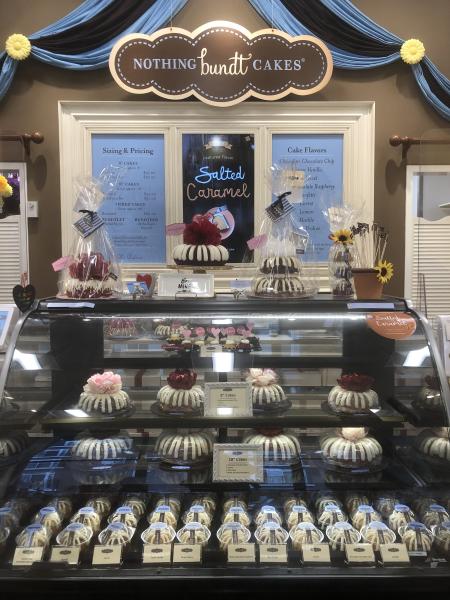 Mix and match for the perfect treat for your next event! Image courtesy of the author.

 

Those craving customization can create their own cake with the Build-a-Bundt option, which involves selecting:
One of 10 cake flavors.
One of 21 colors of handcrafted bows or one of 7 signature flower bows, from Sunflower to Pink Peony.
One of 10 quote cards, from the simple ("Happy Birthday" and "Warmest Sympathy") to the cheeky ("Nothing Bundt The Best" and "Today You're the 'Center of Attention'").
One of 6 photo cards, for example Applause and Candy Hearts.
One of 30 sentiment flags with a message to match the mood, from "happy anniversary!" to "it's a girl!," "aged to perfection!" to "just because!"  
Chocolate Chip and Red Velvet bundlets by the fire are perfect for cozy nights at home. Image courtesy of Nothing Bundt Cakes.

 

Nothing Bundt Cakes also offers a laundry list of pre-designed options to browse – from sports-themed, seasonal, and holiday-themed cakes to diploma-, American flag-, and blue or pink onesie-topped Bundtinis. Rogers is especially excited about the Bunny Bundt – a cake complete with plush bunny ears, velvet feet, and a little carrot – and bunny- and egg-topped Bundtinis coming this spring.

 

And finally, lest you arrive at or host a celebration with "just a cake," Nothing Bundt Cakes has you covered when it comes to decorations and gifts as well – from balloons and cake plates to all sorts of accessories and cards from the likes of Kate Spade, Prissy Plates, Mudpie, and Love Muchly.

 

Nothing Bundt Cakes is located at 1901 Towne Centre Blvd, Suite 130, Annapolis, MD 21401.

 

Visit their website to learn more, and become an e.Club member to stay up-to-date on promotions and receive a free Bundtlet on your birthday!