With the weather shaping up in Annapolis, the desire to be outside on the water and perhaps enjoy a daylight libation (or four) with friends gets so strong you can practically taste the painkillers. No, not the Advil or Ibuprofen you may coincidentally need tomorrow; but rather, the signature cocktail featured on the menu of well-known dock bar Pusser's Caribbean Grille. Located in downtown Annapolis right within the limits of Ego Alley, this restaurant has been voted best waterside dining in Annapolis with a whole host of happy hour specials that make this place a shoo-in to satisfy those outdoor-hang cravings.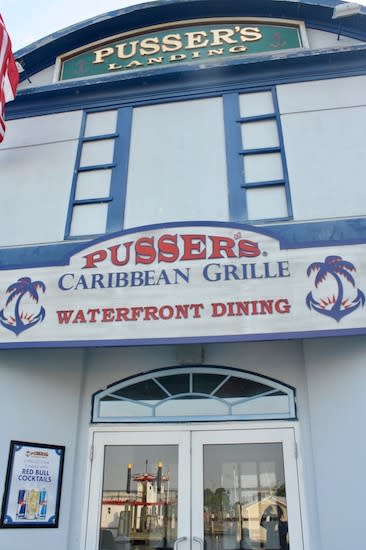 Image courtesy of author
Their happy hour takes place Monday through Friday 3-6 and features half-priced appetizers, well drinks, wines by the glass and by the bottle, draft domestic beers and bottles in the whole place. Their appetizers range from jerk chicken and pineapple quesadillas to grouper fingers, from shrimp and crab guacamole dip to good ole' local oysters. My personal favorite is the ahi poke crisp, which comes with traditional Hawaiian poke, marinated tuna, and crispy wonton chips. I have always been a fan of this light and simple dish, especially since you can add avocado to it as well. As you're sipping on your Corona or vodka soda, you'll be joined by boaters tying up to the dock bar and often can't help but look around you and take in all of the scenery on the water.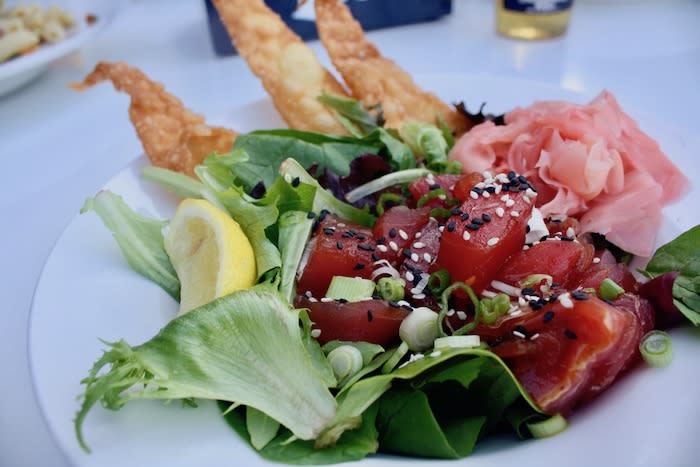 Image courtesy of author
While the infamous 'Painkiller' is not on the happy hour menu, I still ordered the crowd-favorite. You can choose the strength of your 'Painkiller' based on how much pain you gotta' kill that day or just your taste for rum. Levels go from number 2 to number 4 and indicate how much of, their namesake, Pusser's Rum is included in the tropical blend of pineapple and orange juice with cream of coconut and a lil-bit-o-nutmeg. Delicious! I grew up hearing stories from my family about their experiences with these drinks, so much so that as soon as the first summer that I was finally old enough to partake in the fun, the 'Painkiller' was one of the drinks I was dying to try. While these are definitely a catalyst for a good time, simply being with friends enjoying the weather on the water is sufficient to facilitate summer joy.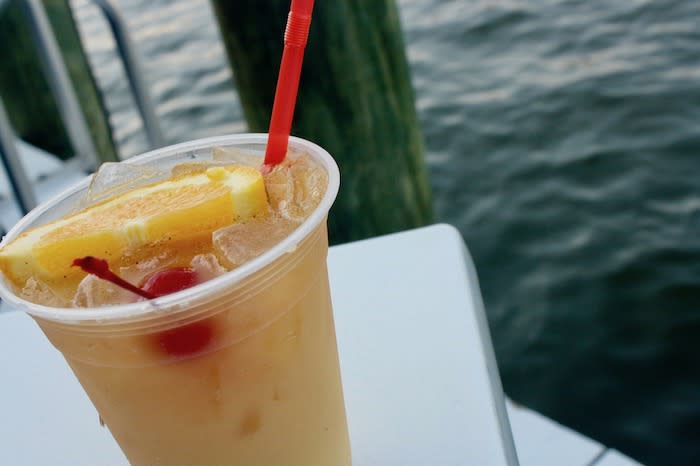 Image courtesy of author
In addition to the happy hour specials, Pussers offers its visitors a chance to get a taste of local live music. Their live music calendar, features local musicians such as Stefan Heuer, Sean Owens, Dana B, and Just Dave, to name a few. The acoustic performances from these musicians add the perfect ambiance to any day and get your feet tapping, singing along with your friends.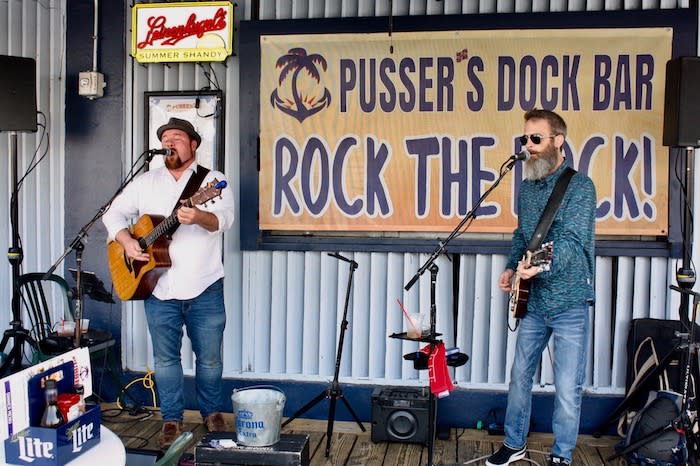 Image courtesy of author
While I was there we were serenaded by Tim Metz and Erich Wilderman of the Timmie Metz Band. This duo steps out of the main band to do smaller gigs together frequently, Wednesdays at Pussers being one of those. Offering a wide variety of covers from Bill Withers to 311 to Florida Georgia Line in conjunction with a handful of originals, these two kept the whole dock entertained from 5-9. They both grew up in Gaithersburg and have been playing music together since the late 80s. Over the years they've released two albums with another local band, the Worrystones, and played shows at places such as the Hamilton and 930 Club. While Pusser's is not as prestigious of a venue, Wilderman said "I think about all gigs the same. I enjoy stuff like this just as much as playing for a large crowd, no one's and jumping up and down here, but all of 'em are about making music".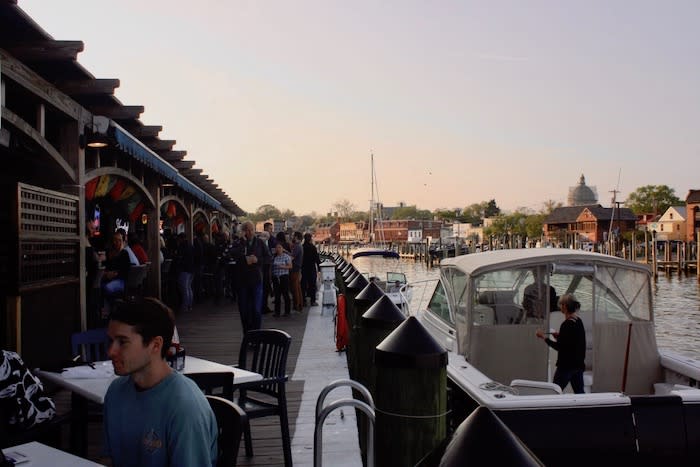 Image courtesy of author
With live music, great food and drink specials, and an unbeatable location, Pusser's Caribbean Grille is definitely on my list of must-hit-happy-hours this Summer! Boogie on down today...or tomorrow...or the next day - I know they'll love to have you.