Pinkies up and no crusts allowed ladies and gents, welcome to the charming world of Reynolds Tavern. Owners Wes and Marilyn Burge offer a traditional English tea service here in a colonial tavern setting, an intimate gathering place with roots deep in Annapolis as one of it's oldest establishments.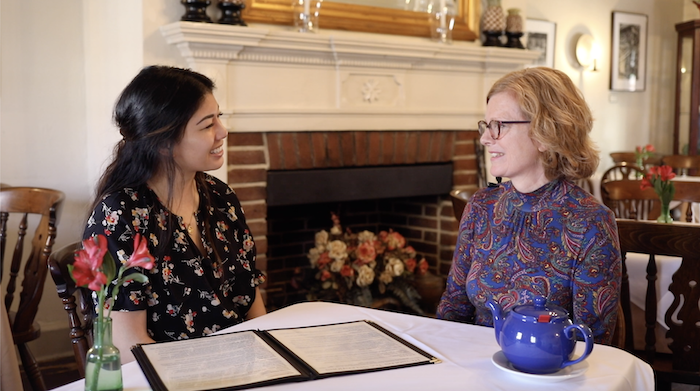 On a cold and blustery day I found myself with a most welcome challenge: choosing from the Tavern's 40+ flavors of liquid comfort to nourish me in my windblown state. As an avid lover of cured leaves steeped in hot water it was a bit like being a kid in a candy shop. 
l have always loved the steadfast dependability of Earl Grey and the boost of energy he brings. And who could resist the ever classic green tea with his promise to look after your health? Choosing the right tea has all the fun of choosing a companion without any of the strings attached– it's not Mr. Right it's Mr. Right Now.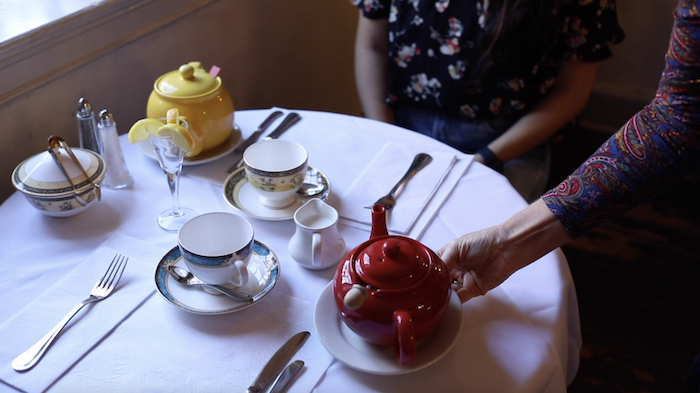 The Buckingham Palace Garden Party was exactly the mood I was in; a "flavoury blend with medium body. Delicate Earl Grey with Jasmine notes". The best of both worlds. My tea mate chose Cupid's Arrow, "a glorious ambrosia of cherry almond and vanilla". I see you Valentine's Day.
They came in adorable multicolored teapots that promised to make their way into our hearts, slowly but surely, and were served with a dainty spot of whole milk and lemon wedges. Cubed sugar in the raw was at the ready in a little china container on the table, complete with a sugar tong. The whole presentation was just darling and we hadn't even gotten to the food yet.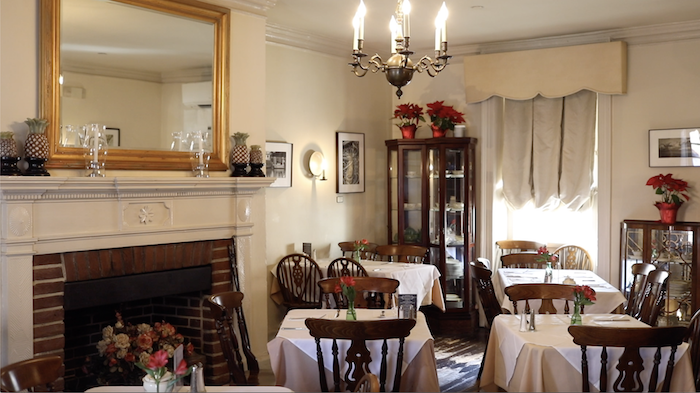 That afternoon Marilyn spoiled us with the Tavern's Queen Anne Tea service, which includes a pot of tea, an artisanal cheese plate, Afternoon Tea Service (an assortment of savory finger sandwiches, tarts, and homemade scones), and oh yes– a glass of sparkling rosè.
The cheese plate was the perfect nibble before our tower of snacks. It featured three kinds of cheese: a cranberry and pistachio goat, a merlot infused cheddar, and a double cream brie complete with a cranberry compote, crackers, and Granny Smith apple slices.
Now for the main affair. It came in the heavenly form of three plates stacked high with every kind of finger food a girl could want. Every bit of it was made in-house starting with your choice of scones–plain, cranberry orange, golden raisin, and dark chocolate and cherry–served warm with cream and jam.
As we worked our way up we reached the savory plate. There were spinach and ricotta, and butternut squash mini tarts (who knew a tart could be so petite?), and finger sandwiches in the form of cucumber and cream cheese, turkey and cranberry, egg salad– sans crust, of course.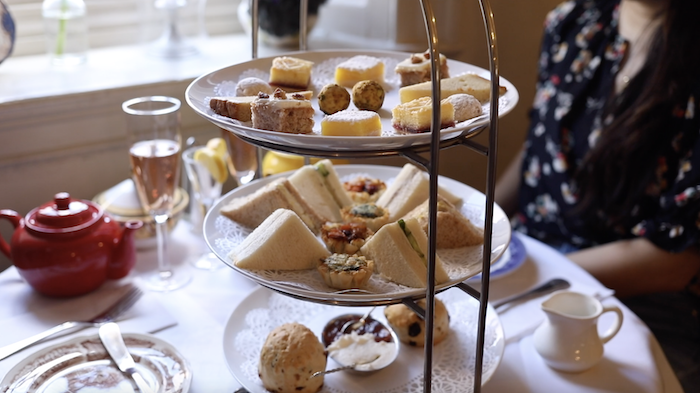 Last, but not least was the top plate, the sweets we waited for till the end and not without some difficulty. Among the treats were lemon bars and vanilla caramel pound cake. There was a little pecan shortbread cutie rolled in powdered sugar that went by Russian tea cake or Mexican wedding cake. There was hummingbird cake, which at one point was in competition with Smith Island Cake for the Maryland state cake. There was bakewell cake: an almond and raspberry confection baked for a town in England where it originated. And my absolute personal favorite: the citrus-infused white chocolate truffles rolled in pistachio.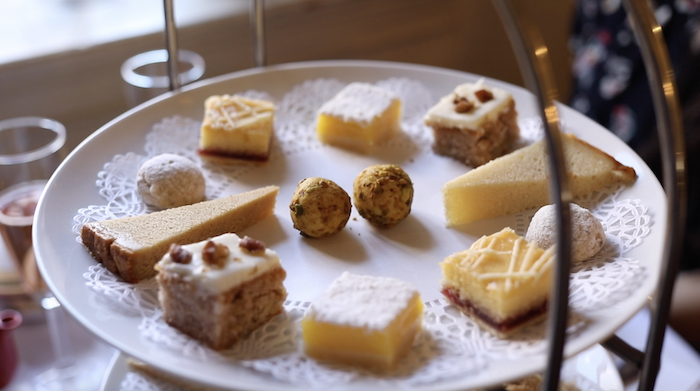 It all went down too easily with the glass of rosè, who knew?
The whole experience amounted to the perfect way to graze the day away and a surprisingly filling amount of food. (I was stuffed.) There's so much to fall in love with at Reynolds Tavern, chief among them being the history exuding from the very walls, the magnanimous views of Church Circle, and the adorable mix-and-match china. Each piece is more charming than the last and you can even buy a set if you find one you can't part with. I already have my eye on a saucer and cup set that I might just have to take home with me next time I stop in.