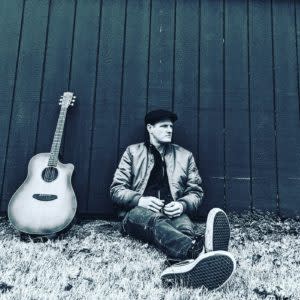 Sean Hetrick. Photo courtesy of Sean Hetrick.
On a small floating raft, nestled along the marsh on Back Creek, local musician Sean Hetrick stands, singing and playing his guitar, as paddleboarders and kayakers raft up around him.  Some listeners just bob up and down on the creek, letting the music flow over them. Others flow in their movements, following the yoga instructor nearby. It's a beautiful summer evening and Hetrick is one of the first of several musicians to perform as part of Capital SUP's Live Music on the Water series, which kicked off this past August and September.
The Music on the Water Series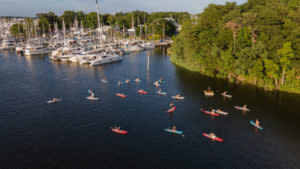 Kayakers and paddle boarders surround Sean Hetrick as he plays to them during Capital SUP's 'Music on the Water' series. Photo courtesy of Capital SUP.
This music series was the brainchild of Kevin Haigis, founder and CEO of Capital SUP. With Covid restrictions, both musicians and group paddling events were greatly impacted this summer, along with everything else.  That night on Back Creek, Hetrick and Haigis, two old friends from Broadneck High School, helped bring these activities together in a safe and unique environment, providing one of the coolest music venues around. Perhaps a silver lining of Covid, as it is an example of how people are getting creative and thinking outside the box.
Setting the Stage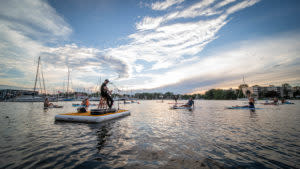 Sean Hetrick performs all over Annapolis, but had the best gig in town when he played to yoga enthusiasts during Capital SUP's 'Music on the Water' series. Photo courtesy of Capital SUP.
He even looks like a rock star.  Hetrick is a tall presence, with tattoos, wearing black vans, black jeans, a black zip-up sweater, and black sunglasses.  He's also wearing a black Rise Up hat, which is kind of perfect, because I found him already standing in front of their new coffee bar in the Market House. It is a beautiful fall day in Annapolis and we grab our warm drinks and a table outside as a boy, maybe 12 years old, sets up a microphone and starts singing and playing guitar to the people at city dock. Hetrick applauds enthusiastically after the boy's first song and laments how the first song is always so tough, even for him, even now.
Sean: the Face Behind the Mask
Sean Hetrick is a singer/song writer that plays music all around Annapolis and the surrounding areas. He performs both solo performances and shows with his band, Sean Hetrick and the Leftovers, an alternative rock band. "They are some of the best musicians that I've ever worked with…I am so lucky," says Hetrick admiringly of his band. Keep an eye out for their new single, The Sun and the Moon, soon to be released off of their new album which is starting to take form.
The band has also toured nationally.  "We went into it saying this was more of an experience, not about making money.  Just to feel it. I wanted to travel nationally and say 'I did the country with the band'...and it felt sooo good. That feeling of dreaming of something, and building it, and executing it…it was really, really cool. I worked extremely hard on that and I dreamed about that my whole life. Making dreams come true is, really, something that I'm a junkie over."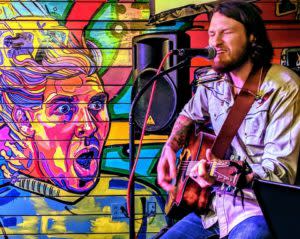 Sean Hetrick is a true artist and has used the time during Covid to grow as musician. Photo courtesy of Sean Hetrick.
Sean: the Family Man
Hetrick seems to be pretty good at making dreams come true. When asked how family fits in, with his day job helping local businesses with handyman projects, and his night job as a musician, he brings up the importance of balance. The key is not overdoing it; he makes sure he is putting energy into the things that are most important.  Balance is something that his wife, Ally, a yoga instructor at her studio True Moon Yoga, makes sure he keeps. Hetrick lights up when he speaks of his family. "I really love my family. I love my wife and kids so much. And I love my extended family… if you asked me what is the one most important thing to me, it would definitely be my family." Hetrick is a big believer in manifesting what you want, if you put the right energy and work into it. "I wrote a song a while back about having a wife and a house and kids, and, that dream came true," Hetrick says with a knowing smile.
With the restrictions due to Covid, Hetrick said he hadn't been putting too much energy into music, not knowing what would happen next with so much uncertainty but, he says, music has been coming to him, finding him. In fact, he has been as busy as any other year, playing mainly outside. "To me, that means the universe is saying you need to stick with this, this is important, people rely on hearing your music, and it makes them happy," says Hetrick.  As he sees it, "they [the fans] have showed up and hung out and showed me support, so it is hard to call them fans, they might as well be friends." Hetrick has been overwhelmed by the kindness and support of others over these challenging times.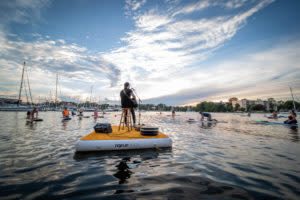 "I try and target happy thoughts and keep some of the good in this life.  I like to sing about being peaceful, being kind. Kindness and LOVE. Holy cow, I love to write about love. Love is everything." Photo courtesy of Capital SUP.
"AMFM, Annapolis Musicians Fund for Musicians, has saved a lot of musicians during Covid. There's a fund, that with missed shows, we were receiving monthly checks from this organization to help us get through, and my wife and I were blown away by how much they showed up." In discussing the music scene in Annapolis, Hetrick thinks it is just one of the best. This was exemplified over Covid. Hetrick recalls, the awe apparent in his voice, how AMFM helped out and how numerous venues reached out to book musicians during Covid. "I have gotten so many generous tips, I almost want to cry tears of joy," states Hetrick.
Sean's Inspiration
When asked about inspiration for his songs, Hetrick talks about how things are so chaotic right now, that he wants to steer away from conflict. "I try and target happy thoughts and keep some of the good in this life.  I like to sing about being peaceful, being kind. Kindness and LOVE. Holy cow, I love to write about love. Love is everything." Whether it is about his adopted son, Kaiden, in his song Hand Me Down Son, or his wife Ally in Unless it's you, or a song for his daughter Coco, the love in these songs is tangible.
Sean Hetrick's latest album, Human Condition is out now. Photo courtesy of Sean Hetrick.
He has had some tough times too, such as losing his father, and his own past battles with addiction. Hetrick says that is an important part of his story and has also been a driving force in his song writing. In his latest solo album, Human Condition, the premise for many songs was that he is only human. He is going to make mistakes. He often writes metaphoric lyrics that might mean one thing to him, but he hopes the listener will find their own meaning, and connect on their own level.
Now Hetrick finds the greatest highs in spending time with his family, traveling, and seeking adventure. He finds them in playing his music, "those climaxes, at the height of a song and everybody's up and there's smiles on faces, there's a moment of silence in my brain and I'm thanking God and the universe for where I am right now, moments of clarity of why I do the things I do."
You can find out more about Sean Hetrick, his music, and upcoming shows at seanhetricklive.com.
Sean Hetrick and the Leftovers will be performing a show at Ram's Head On Stage on Saturday, October 17th and tickets are on sale now.