As I wrap up week three of quarantine, I'm starting to day dream of the first places I'll visit when our little town and world returns to normalcy. And, I'll also admit, I'm longing for some retail therapy. With that, I'm happy to present a guide to shopping online from one of my favorite places...Maryland Avenue. Here's how you can support them by treating yourself or a friend: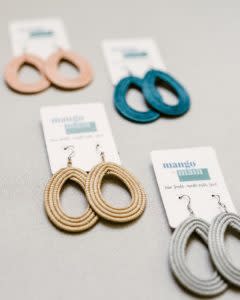 Mango + Main. Photo courtesy of the author.
Mango + Main is a global boutique featuring fair trade artisan-made apparel, accessories and home decor. For their online orders, they're offering free shipping on everything on their website. They also offer gift cards online, to be redeemed after they reopen. They have a gorgeous selection of goods on their website!
Makeup by Judee Jo
Part makeup studio, part day spa, Makeup by Judee Jo is helping people continue their self-care routines. Skincare orders can be placed through email for free shipping and a special gift. They specialize in Pevonia products. To order or learn more, email judeejo@makeupbyjudeejo.com.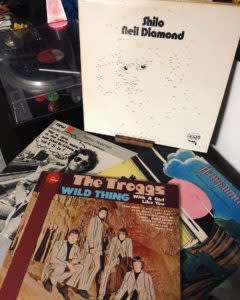 Ka-Chunk Records. Photo courtesy of the author.
Ka-Chunk!! Records
Specializing almost exclusively in vinyl, Ka-Chunk has moved their entire inventory online. Records are available for mail-order for $5 flat rate domestic shipping. Record lovers should browse their entire catalog online and then email their order to kachunkrecords@gmail.com for pricing and payment. Even more can be discovered in their eBay store.
Maryland's Way Cookbook was developed in 1963 by two trustees of the historic Hammond-Harwood House Museum, Frances Kelly and Hope Andrews as a fundraiser. Maryland's Way is more than just a cookbook. It is a history of old Maryland homes, a photographic essay of a way of life that was already fading in the mid-20th century, and a captured moment of the Old Bay State's culinary traditions. To order a copy of Maryland's Way, email info@hammondharwoodhouse.org. All proceeds from the cookbook support the non-profit organization's mission.
Natalie Silitch Antiques
Natalie Silitch offers a charming array of antiquities and curiosities. Natalie offers a selection of her handmade fabric angels and folk art figures in her Etsy shop.
MFA Circle Gallery
Located just a little bit off Maryland Avenue, the Circle Gallery is the oldest continually run non-profit gallery in the State. Their current exhibitions are available online in digital galleries, with many pieces for sale online!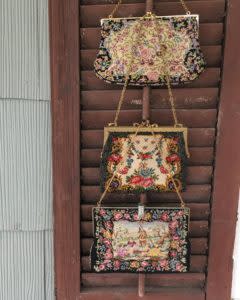 Evergreen Vintage and Antiques. Photo courtesy of the author.
Evergreen is the oldest antique shop in historic Annapolis. With a change in ownership a few years ago, they began offering true vintage clothing in addition to the wide selection of fun finds. Without a traditional online store, you can still browse their selection on social media. Follow them on facebook and instagram where items for sale will be posted regularly. All you have to do to make them yours is comment "SOLD" and Joanna of Evergreen will message you for payment and shipment/delivery options. Plus, if you have a piece in mind from the shop you can't stop thinking about, Joanna can help make it yours if you shoot her an email to joanna.evergreenantiques@gmail.com. 
Barefoot Dwelling
Barefoot Dwelling is a full-service interior design firm and vintage shop. Since they opened in 2010, they've been a retail shop, online dealer, and interior designer. They're currently working on shifting their business to meet their clients online with virtual design services, online purchases for those working on home projects, and re-establishing their online store to showcase their great vintage and repurposed home goods. Stay tuned!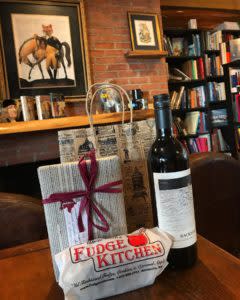 Old Fox Books. Photo courtesy of the author.
Old Fox Books offers a curated selection of titles, old, new and always remarkable books for all ages plus other goodies needed during these times...like emergency puzzles! They are open daily from 12-3 pm, taking phone orders and prepping deliveries for local book buyers. They've even launched a "date night" package that includes a wrapped book, fudge and a bottle of wine. 
Special thanks to fellow blogger Susan Moynihan for contributing to this guide.