Although the kids are heading back to school, there are still two beautiful months to extend that carefree summer feel on the water in South County. With all the waterfront restaurants in and around Annapolis, many choose to stay with the familiar and close to home. However, a ride into South County to Skipper's Pier Restaurant and Dock Bar (6158 Drum Point Road, Deale, Maryland )is well worth the thirty-minute drive. The view is truly breathtaking.  Next to Skipper's lies Rockhold Creek where you can watch a variety of work and pleasure boats pass by to one of the many marinas. Shift your gaze and there lies an expansive vista of the Chesapeake Bay.
Skipper's is no secret to the South County and northern Calvert County crowd. A huge second parking lot is often packed, so you may want to go early.  On a recent Tuesday evening, I wasn't expecting a crowd, but I didn't realize it was Crab Night.  From 3:00 p.m. until close (or until the crabs run out) every Tuesday, crabs are $3.00 each. This popular night also offers nightly drink specials, so ask your server for more details.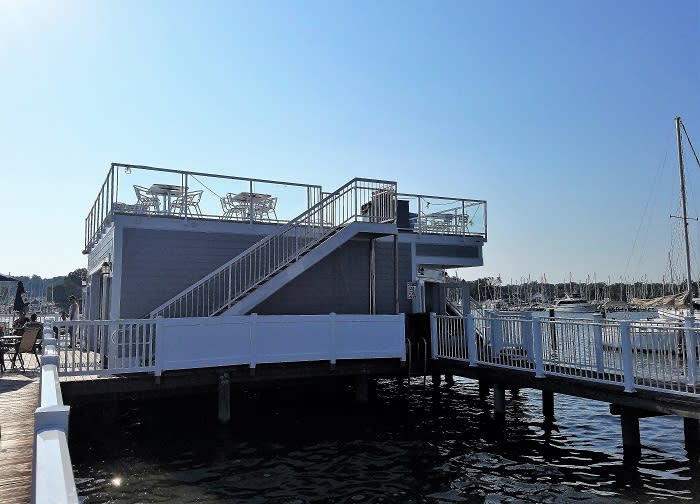 Upper Deck
Skipper's has several different sections, including an inside bar with tables and a large inside restaurant that opens in good weather onto a huge deck perfect for crab picking. My favorite area, however, is at the end of a long pier where there is another very open bar, a few tables on the end dock, and always a wonderful breeze off both the creek and Bay. If you really want a bird's eye view of the surrounding waters, you can eat and drink on the deck above the pier bar. Blisssssss.
[gallery columns="2" size="medium" ids="4147,4150" orderby="rand"]
We found a high-top table at the pier bar and took a moment to savor the view. It always feels as if I am on vacation when I am here. Skipper's has an extensive drink menu, and there were a number I wanted to try. The Crush menu even includes a "Skinny Crush" for those watching their waistlines, along with the more traditional orange and grapefruit crushes, as well as a coconut pineapple crush to try another time or attempt at home.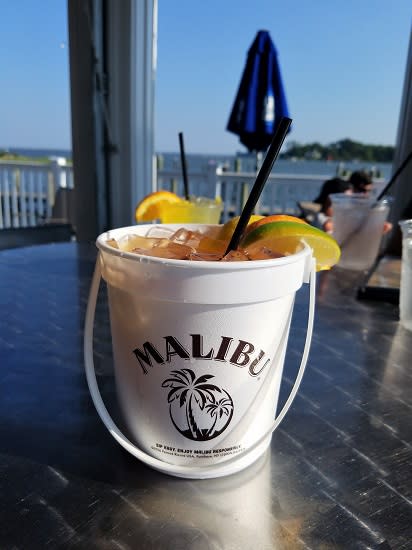 Bay Breeze Bucket
From the Blended Concoctions drink section, I was quite tempted to order the Chocolate Covered Dirty Banana made from dark rum, Kahlua coffee liquor, and banana mix. – served in a chocolate-swirled cup with whipped cream and chocolate toppings...Wow...dessert!  However, I knew that would ruin my appetite (and undo the benefits of my earlier workout), so I resisted. However, I always like to try specialties, so I selected a "Bay Breeze Bucket" from the Signature Cocktails section. This generously-sized plastic bucket is filled with a combination of Coconut, Banana, Passion Fruit, and Mango Malibu rums which are blended with fruit juices. Sweet, summery, and priced at $12.00, this reminded me of past vacations in the Caribbean Islands. Due to its size, I could not order another drink, but I made note of one for a return visit, perhaps in the winter. How about this description from the Bloody Mary selections for "The Black Pearl"? "Tito's gluten-free vodka blended with George's Bloody Mary Mix topped with pearly Chesapeake Bay oysters, smoky bacon, jumbo olives, and celery in a Chesapeake rimmed cup."  They had me at bacon. Ummmm….that almost sounds like a meal in a glass.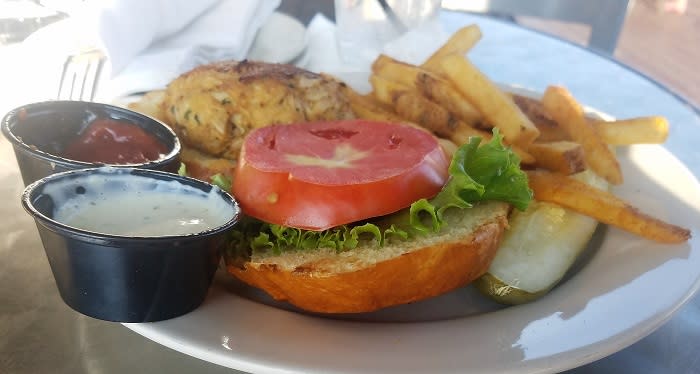 Crab Cake
While tray after tray piled high with delicious-smelling crabs passed us en route to other happy hour guests, we decided that time was not on our side for picking crabs this evening. My friend instead ordered a broiled crab cake sandwich, where all the work was done for her. This was a thick, crab-heavy sandwich served with what I call "Boardwalk fries". I have been on a fresh tomato kick this summer, so I selected the tomato pie. This was very different from any tomato pie I have had. Instead of a crust, it is served in a cast iron skillet.  This signature dish composed of sliced tomatoes, stewed tomatoes, and melted cheese is topped with three huge, herbed, buttermilk biscuits.  I think my mistake was ordering this dish now instead of in the winter.  The biscuits were killer; however, while this hot dish would be great comfort food in cold weather, for me, it was a bit too hot and heavy for such a warm summer day. What was I thinking? I should have fed my tomato craving with the Farmer's Tomato and Avocado Stack, which looked divine.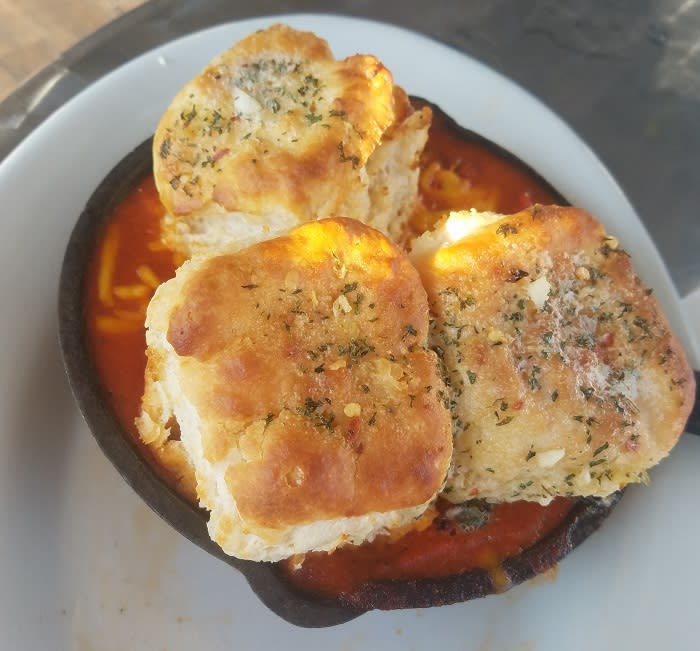 Tomato Pie
Most of the bar and appetizer choices are offered in The "For the Table" section of the menu.  Here, you'll find a number of seafood selections, including many favorite crab offerings: crab balls, crab-crusted oysters, crab bruschetta, and both Maryland and Cream of Crab soups. Clams and oysters on the half-shell are also available.
Although Skippers doesn't have a traditional Happy Hour, each weekday (except Mondays when it is closed), there is a special. As noted, Tuesdays are for $3.00 crabs and drink specials. Check their website for additional food specials and weekly happenings.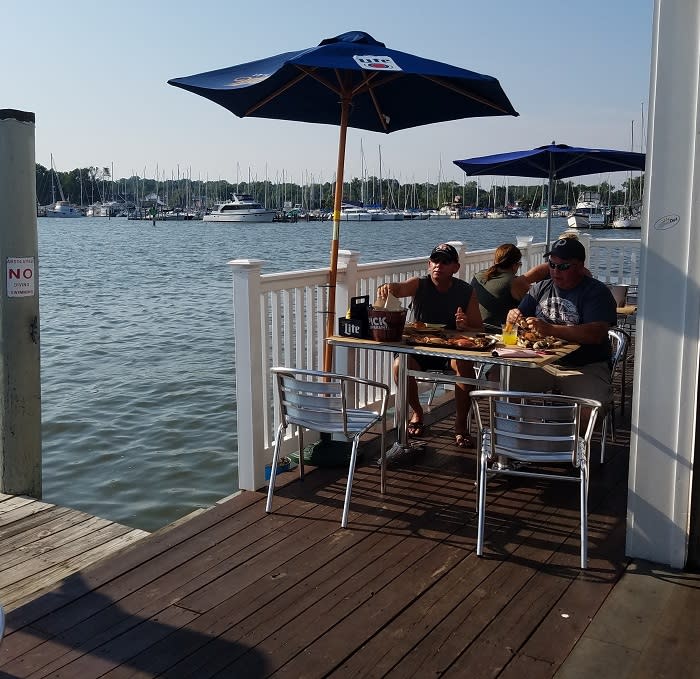 On Saturdays and Sundays, there is live music from 3:00 to 7:00 pm on the deck. So, don't lament that summer is coming to a close. Keep those shorts and flip flops handy and head down to Skipper's to enjoy fabulous views, a summer drink, local seafood, and beach tunes, or to catch a football game on one of the televisions at the inside or outside bars. You deserve it!