A delightful blend of southern charm and local flavor comes together at Soul (509 S. Cherry Grove, Annapolis, MD 21403), a discreet Annapolis favorite that invites you in with their hospitality and welcomes you to explore their expertly curated menus. Quietly tucked away, and a few minutes from Downtown Annapolis, Soul is a destination that not many will just stumble upon. Soul brings in those who have heard of their enviable menu, their fantastic cocktail selections, and their comforting service. With a contemporary farmhouse vibe, the space is crisp with clean décor and rustic accents. Surrounded by windows, the dining room opens to a large patio with ample seating that is a popular choice for many on warm weather days.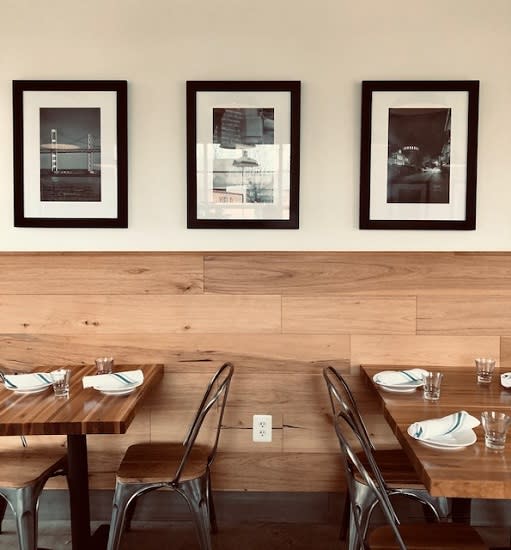 We had the pleasure of checking out Soul for brunch. With fluffed pillows lining the benches, perfectly set tables, and an upbeat playlist of old school classics, I knew this was going to be a fantastic experience. We walked past a wide and spacious bar on the way into the dining room that is home to a lively and popular Happy Hour. We'll have to come back for that.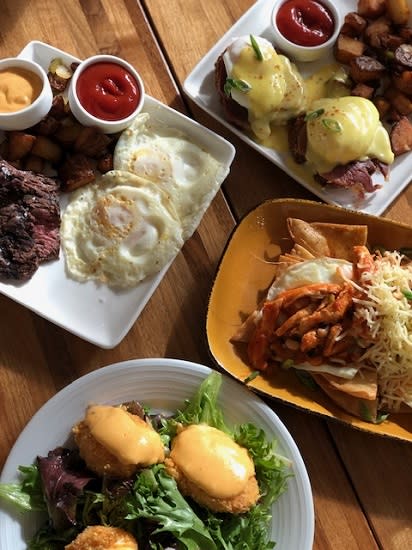 First impressions indeed count, and in this case, Soul is off on the right foot. Our server was knowledgeable, attentive (but not hovering), and seemingly as excited for our meal as we were. You don't often get that type of feeling from a server, so I was thrilled to have him guide us through the menu.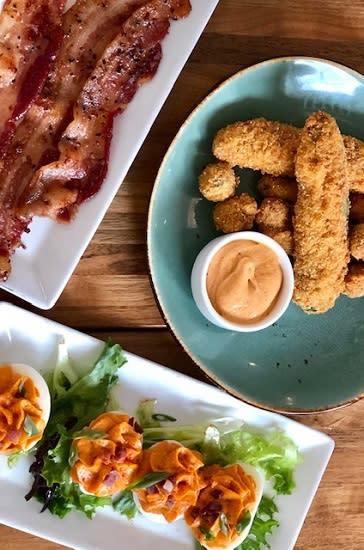 We started off with Deviled Eggs (which had a kick and is always a crowd favorite), Candied Bacon, and Fried Pickles. Let me go ahead and say that if you fry a salty, juicy pickle and pair it with a tangy sauce, it's usually a win in my book. This was different. The plate was a variety of dill pickles, cornichons, and olives, all fried up to deliver a fine crunch.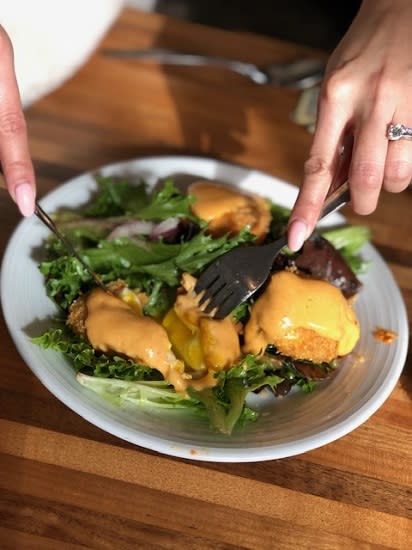 For our entrees, we dove into beautifully-plated portions of steak and eggs, eggs benny, huevos rancheros, and deep fried eggs. Let me just take a moment to showcase those fabulous deep fried eggs: These are perfectly poached eggs that are immediately battered and delicately deep-fried. Served with a spicy hollandaise sauce over a dressed bed of greens, this dish is unlike anything I've ever had.
There's a depth and richness to a meal that is handled with love from start to finish. At Soul, their carefully selected partnerships with farmers, brewers, and bakers serve up a local flavor that elevates all of their selections to a memorable level. It's apparent that the culinary minds behind Soul's menu take pride in a Southern-rooted menu with Annapolis flair.
Soul does not take reservations, but their cocktail menu will keep you busy while you wait. Check out their website for events, seasonal menu changes, and hours.
Images courtesy of Nina Vidal