Okay – ready for a little adventure?  Once you have discovered Annapolis and enjoyed its restaurants, bars, architecture, art galleries, and the Naval Academy Visitors Center, we suggest you get out of town!
We invite you to discover the picturesque towns south of Annapolis (Southern Anne Arundel County, or South County to locals), a bucolic area threaded with small restaurants accessible via winding county roads or scenic river routes.  Towns on the opposite side of South River include Riva, Edgewater, Davidsonville, Mayo, Galesville and Deale.  Simply get on Route 2/Solomons Island Road just outside Annapolis and follow signs to your chosen destination or point your watercraft in the right direction and choose a restaurant that welcomes boaters with complimentary docking privileges.
Off we go!
Not long after you get on Route 2, and just before you arrive at the South River Bridge, look to the right for a dramatic sign designed by local architect Catherine Purple Cherry announcing Yellowfin Steak & Fish House.  Owned and operated by seasoned restaurateur Harvey Blonder, this is an attractive destination overlooking the water that serves seafood of every stripe – from sushi to salmon.  Its "Fish List" changes weekly. Dining options include a "Nibbles, Small Plates & Sharing" menu, service by a cadre of well-trained young people is smooth and its happy hour and Sunday brunch are popular with locals. Docking available. 2840 Solomons Rd, Edgewater, MD. 410-573-1333.
Crab Bashing Allowed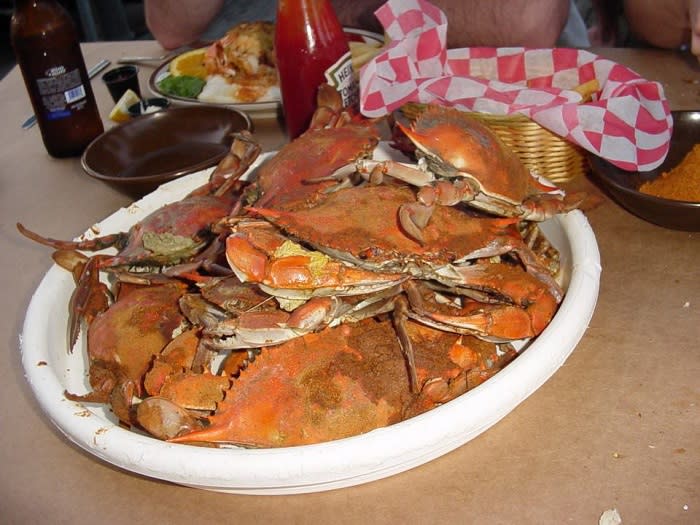 Waterfront dining is the appeal of the venerable Mike's Crab House, hugging the shores of the South River since 1958.  Family owned and operated, this super-casual site is ideal for cracking crabs, drinking beer and enjoying the view with friends and family.  Live music on weekends. Caveat: Weekend wait times can be long, especially for prime seating at outdoor deck tables -- and it's a good idea to phone ahead to check on hard shell crab availability. Complimentary boat docking available. 3030 Riva Rd. Riva, MD. 410-956-2784.
Galesville Beckons
The tiny town of Galesville ends on the shoreline of the scenic West River, site of two restaurants that deserve your attention.  Pirate's Cove is the fancier one – with outdoor seating on a pretty deck or sheltered dining in one of several nautically decorated windowed rooms and drinks in its congenial Dock Bar where the bartender greets regulars by name. The crab melt is a fave.  Lunch or weekend brunch on the dock is a delight; dinner at an air-conditioned window table inside is a cooler option in steamy weather.  Boat docking as available. 4817 Riverside Dr., Galesville , MD 410-867-2300.
Take a short walk on the long pier leading to Thursday's Steak & Crabhouse, a friendly destination where the young servers are apt to bring a water bowl for your well-behaved dog while at the same time taking your order.  Chef-owner David Hyson attracts patrons who appreciate the manageable size of his establishment as well as the variety on his menu.  Some of his bestsellers are the Seafood Skins, featuring a filling that includes scallops, shrimp and claw crabmeat; cream of crab soup served with a soupcon of sherry, fried oysters and (of course) hard shell crabs from Maryland waters only. Come casual.  Docking as available. 4851 Riverside Dr., Galesville, MD 410-867-7200.
Destination Deale
Check the GPS for directions to Skipper's Pier Restaurant and Dock Bar, 6158 Drum Point Rd, Deale MD 20751 410-867-7110.  You and your family (there's an outdoor play area for kids and leashed dogs are welcome in a restricted area) will discover an old-fashioned crab restaurant with an updated second story deck bar and a millennial couple who own this happy place.  Occupying a prime place on Rockhold Creek about a half-hour away from Annapolis, its reputation has been transformed since Jessica Rosage (an alum of Johnson & Wales's culinary arts program) and her husband Dave (an MBA grad of Loyola in Baltimore) assumed the helm. In addition to blue crabs (also available for take-out) the kitchen does an excellent job with grilled rockfish over fried green tomatoes with a roasted red pepper aioli, crab cakes, a regional take on bruschetta that features Maryland crabmeat and Jessica's own version of Smith Island cake. 6158 Drum Point Rd, Deale, MD 20751. 410-867-7110.
Photos courtesy of the restaurants mentioned