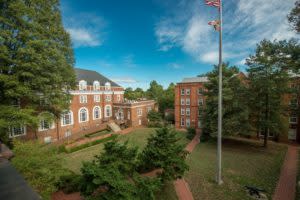 An aerial shot of St. John's College, the 3rd oldest college in the country. The College of William & Mary was established in 1693 while Harvard was charted in 1650. Photo courtesy of St. John's College.
Step onto the St. John's College (SJC) campus during fall in a normal year, and the grounds would be abuzz with activity. With frisbee-throwing on the green to post-lecture discussions and debates overlooking College Creek, the school would resemble any other higher learning institution this time of year. However, 2020 has been anything but normal.
In spite of this, the campus is far from dead. In fact, it's still open to the public and ready as ever for visitors to experience the college's storied history and culture. While it may be devoid of its own students as they turn to a virtual program this year, the college is housing some students nonetheless.
To learn more, I had the pleasure of speaking with Michael O'Connor, Director of Strategic Communications and Marketing. We sat down to discuss the past, present, and future of Annapolis' almost 325-year-old gem.
Past
St. John's College was founded as King William's School in 1696. Photo courtesy of Visit Annapolis.
Founded as King William's School, the Maryland colony's "free" school, in 1696, St. John's is not only Annapolis' and Maryland's oldest college – it predates the U.S. Naval Academy (USNA) by a whopping 149 years. It's also the third oldest college in the United States. As such, it's no surprise that the 36-acre campus and many of the colonial brick buildings on it have been witness to quite a bit of history. Most notably, McDowell Hall, the former governor's mansion built by Thomas Bladen and now one of the oldest academic buildings in continuous use in the country.
"The College has witnessed America's founding and growth, embraced early ideals of religious tolerance and pluralism, served as a field hospital during the Civil War, and even had a period of compulsory military service for students, ending only in 1923," says O'Connor.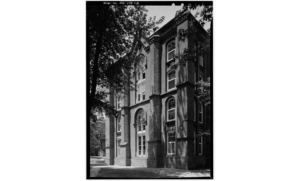 St. John's College, Pinkney Hall, College Avenue, Annapolis, Anne Arundel County, MD- circa 1933.  Retrieved from the Library of Congress.
Some specific highlights include: a visit by George Washington, who expressed "much satisfaction at the appearance of this rising seminary," in 1791; the penning of "The Star Spangled Banner," by alumnus Francis Scott Key, in 1814; the establishment of "The New Program," a rigorous liberal arts curriculum focused on the most important books and ideas of Western civilization (and notably without majors!) in 1937; and of course the first Annapolis Cup, a croquet match between students from St. John's, or "Johnnies," and USNA, or "Midshipmen," in 1983.
While O'Connor names The New Program and St. John's 30-7 record in the Annapolis Cup as his favorites, he also looks forward to the College's next historical moment, its 325th anniversary, in 2021.
Present
Of course an anniversary celebration is far from a priority for St. John's at the moment.
"In 2020 it's very hard to look beyond the current pandemic, but I have been heartened and inspired by how everyone in the College community has risen to the challenge of our present moment," says O'Connor. "The situation is obviously far from ideal, as we believe that the entire campus is our classroom for never-ending conversations about books and ideas. But our students, tutors, and staff all continue to work with tremendous effort and enthusiasm toward the same goal; making this education possible, even under the most challenging of circumstances."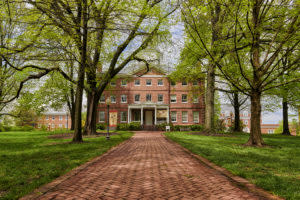 McDowell Hall as it looks today. Photo courtesy of Visit Annapolis.
Meeting this goal involves a great deal of adaptation. New initiatives include: migrating St. John's discussion-based education to the online environment, implementing community-building extracurricular activities that help make college life engaging, as well as Friday night lectures and movie watch parties. One of O'Connor's favorites include virtual play readings hosted by SJC's well-known student drama group, the King William Players.
St. John's College: Face Behind the Mask
St. John's is also helping USNA students continue their education this year by housing roughly 375 'Midshipmen' on campus. To pivot and bring the USNA students to their historic campus in spite of current challenges, is truly inspiring!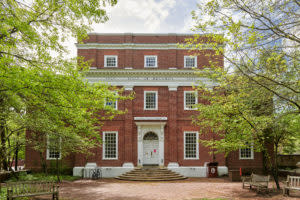 Housing USNA students while SJC students are virtual, was a perfect partnership born out of the pandemic. Photo courtesy of St. John's College.
"The conversation began after we decided to make the difficult decision to move to a fully online fall semester. Leadership of both institutions realized there was an opportunity to assist each other during these unprecedented times," explains O'Connor. He notes that Midshipmen are adhering to the same health, safety, and security protocols as they would at the Naval Academy, and that this is just one example of the strong relationship between the two institutions. Other collaborations between the two institutions include employment opportunity partnerships, the Graduate Education Plus Teaching Program, and the Erik S. Kristensen Memorial Lecture Series, which honors the memory of an alumnus of both institutions who was killed in the line of duty in Afghanistan.
While O'Connor reminds visitors to heed posted rules about the wearing of masks and social distancing, and that all buildings are closed for the time being, he encourages the public to enjoy the lovely and verdant grounds that have been kept so by the hard-working maintenance and ground-keeping staff.
"On a lovely morning with fantastic weather, one is hard-pressed to think of a more beautiful campus in Maryland," says O'Connor.
Future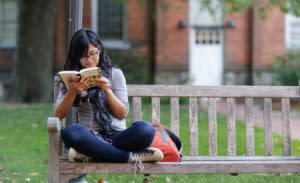 While currently virtual, SJC students look forward to returning to their campus and classes. Photo courtesy of St. John's College.
Looking ahead, O'Connor anticipates both students and the public enjoying the steady stream of lectures, concerts, performances, and other diverse events that St. John's hosts each year.  His personal favorite is the annual Fannie Lou Hamer Awards celebration. This event honors the great civil rights icon and those who work to carry on her legacy.
Turning to one of my personal favorites and one of Annapolis's true hidden artistic gems, is the Mitchell Gallery. This art destination is currently offering a wide array of virtual exhibitions and programming and is scheduled to reopen in 2022 following renovations.
"Our guiding concern is the health and safety of both our St. John's community and the wider community in and around Annapolis," says O'Connor. "So while we're happy to be able to welcome visitors to our grounds in some capacity, we all yearn for a return to a sense of normalcy and the sense of community one derives from being together."