Many times we get asked, 'What's the best brunch in Annapolis?' Well, we pretty much have it all, and since taste is subjective, it's just too hard to name favorites. From stunning breakfast buffets with bottomless mimosas to long-standing institutions like Chick n Ruth's. Peruse our list and taste-test them all, and let us know in the comments which one you think should be named the best!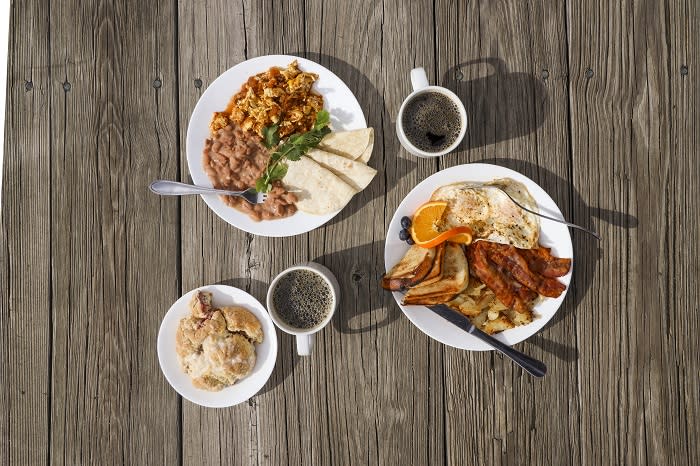 When "on the road," Sunday mornings can mean many things to the traveler. A quick post-church pick-up with kids in tow leads to a different venue than a leisurely repast bracketed with multiple mimosas for millennials or a family gathering meant as a thank-you treat for local hosts.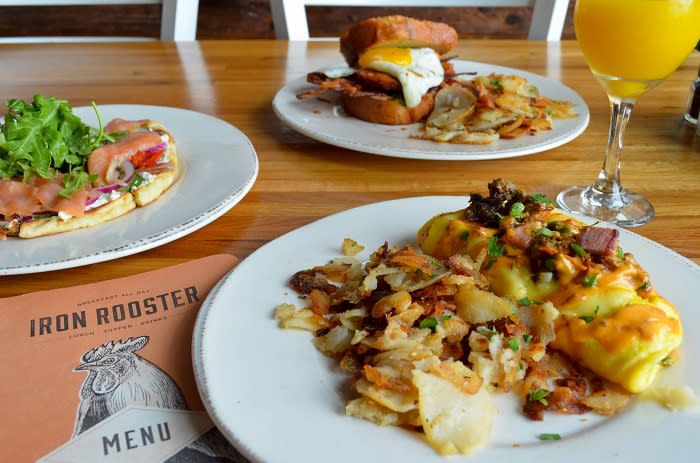 Courtesy of Iron Rooster.
Annapolis is a brunch destination, with multiple choices in the downtown area that includes the City Dock and Main Street. One high-visibility option is Iron Rooster, located at 12 Market Space, which is wildly popular as a breakfast-all-day destination where the welcome from local owners is genuine and the fare is good and plentiful at breakfast, lunch, and dinner!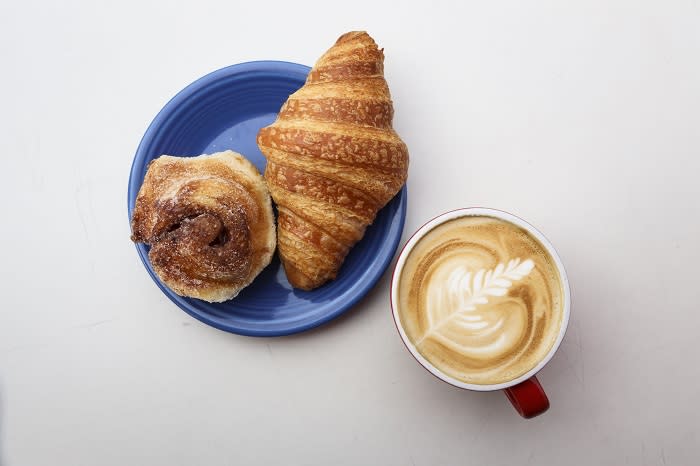 Middleton Tavern, at 2 Market Space, has been serving its famous steak, eggs, and Bloody Mary weekend brunch for 40 years. Enjoy the restaurant's oyster shooter in the bar or bask in the light of a blazing fireplace while enjoying brunch or lunch at this historic landmark. Fairweather finds the awninged outdoor patio perfect for people-watching and family dining. Next door is McGarvey's Saloon, internationally famous among sailors and USNA grads, is a quieter venue noted for its oyster bar and eggs benedict.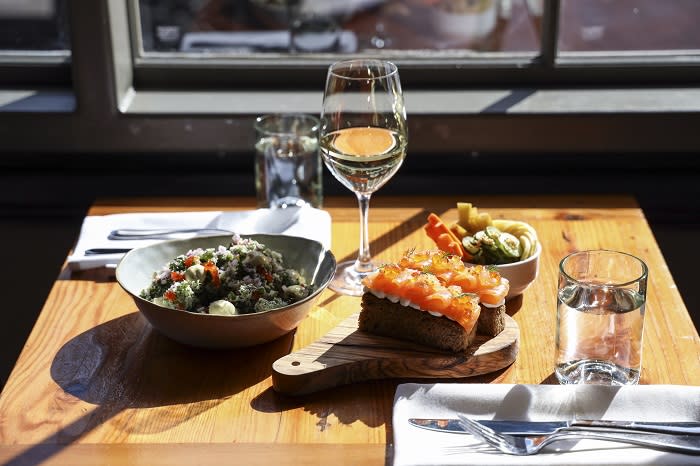 Main Street has a number of brunch options: Chick & Ruth's Delly at 165 Main is nationally known for its patriotic personality (a group recital of the Pledge of Allegiance is a daily ritual) and huge all-American breakfasts. Parlez vous Francais? So does Café Normandie at 185 Main, where chef-owner Chef Jean-Louis Evennou pleases all nationalities with savory and sweet customized crepes served in a charming fireplace-centered dining room. Strict farm-to-table practices rule at Preserve, 164 Main, arguably the healthiest eatery in town and certainly the trendiest. Brunch is served Sunday only. Owners, both CIA graduates, are also alums of Eve's in Alexandria.
Courtesy of Galway Bay.
Red Red Wine Bar, 189 Main Street, is an Annapolis original. For some Sunday fun, join the crowd at the popular New Orleans-style jazz brunch. For a more sedate experience and an appealing Sunday brunch buffet, walk around State Circle to Rusty Romo's elegant Harry Browne's, 66 State Circle. Around the corner, at 63 Maryland Ave, find Galway Bay, owned and operated by native sons of the Emerald Isle. The whiskied tomato soup, the house-made soda bread, fish and chips, thick-sliced corned beef, and lamb stew (when available) help burnish the restaurant's sterling reputation. Still downtown, Pusser's Caribbean Grill in the Annapolis Waterfront Hotel at 80 Compromise Street is the best place to catch the colorful activities on Ego Alley while sipping an eye-opening rum cocktail and enjoying Sunday breakfast and a voew.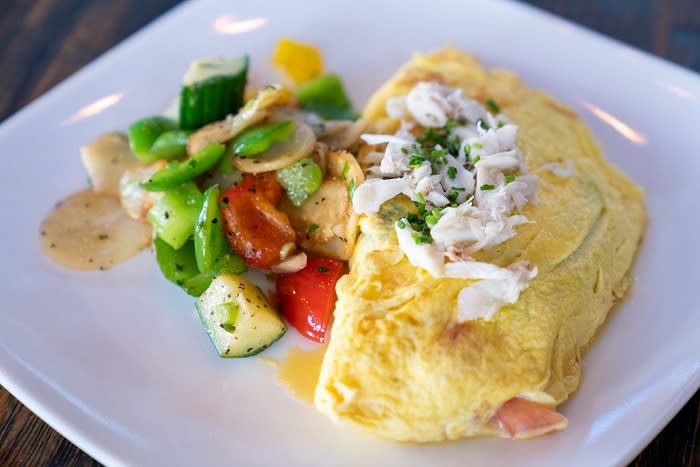 Courtesy of Blackwall Hitch.
A stroll over the Eastport Bridge leads to what some call Restaurant Row, headed by Blackwall Hitch at the corner of Sixth Street. As bright and shiny as its copper-topped oyster bar, this sophisticated eatery has a super Sunday brunch and an upper outdoor deck with a 3-D view of the harbor. Eastport is a gourmet gold mine with an impressive number of good places to dine anytime. Brunch-cum-waterfront view is yours at the venerable Carrol's Creek Café (410 Severn Ave), Chart House (300 Second Ave), where $27 buys a choice of entrees and the restaurant's sumptuous salad bar; mimosas are .99 centers, and the view of the USNA on the opposite shore is complimentary.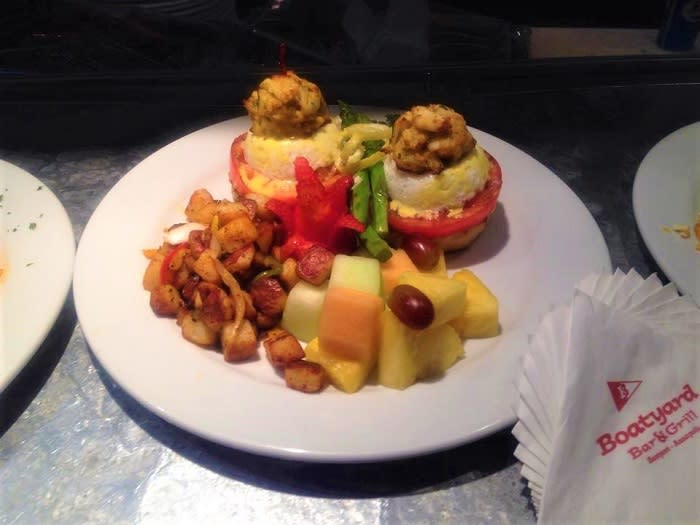 Courtesy of Boatyard Bar & Grill.
Still in Eastport, but away from the high-priced real estate, are the locally-loved Boatyard Bar and Grill (400 Fourth St), catering to sailors with seafood specials as well as families who prefer pizza; and Davis' Pub (400 Chester Ave), a super-casual and dog-friendly institution in a walkable neighborhood.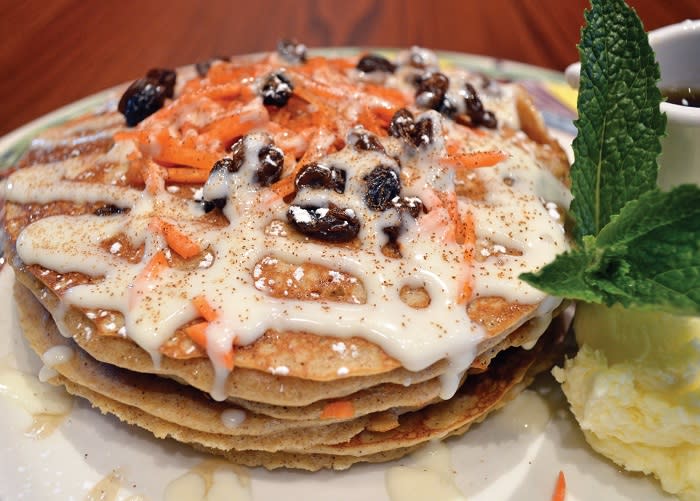 Courtesy of Miss Shirley's.
Notable brunch options in other Annapolis neighborhoods are Evelyn's, an instant hit in West Annapolis at 26 Annapolis St., named after the owner's young daughter. Serving breakfast and brunch daily from 7 am to 3 pm, Evelyn's is ideal for singles or families looking for classics as well as some surprises and sweet service. Outdoor tables; well-behaved dogs welcome. Miss Shirley's Café (1 Park Place) is the reigning queen of over-the-top brunches, notable for their size as well as substance. Reservations are not accepted, so prepare to wait for weekend brunches. Eggscellence, oddly located in a strip mall (2625 Housely Rd), is a decorous destination that describes itself as a "brunchery." Jars of house-made jams decorate the tables, and breakfast mains include a choice of house-made biscuits or muffins, and service is A+.
Try these new and notable brunches on the scene in Annapolis!
Leo Annapolis - New restaurant on West Street.
Choptank Annapolis - Waterfront restaurant with rooftop views and outdoor seating.
Parley Room - Located on State Circle with speakeasy vibes and a gorgeous patio with views of the iconic Maryland State House.
Severn Inn - Water views with a brunch buffet, perfect for large groups and special occasions.
See you out and about for brunch in Annapolis!
Images courtesy of VisitAnnapolis.org, Iron Rooster, Galway Bay, Blackwall Hitch, Boatyard Bar & Grill, Miss Shirley's Café