The time-honored summer tradition of feasting on Maryland blue crabs comes alive in Annapolis and Anne Arundel County, with a plethora of fantastic crab houses scattered along the coast of the Chesapeake Bay. From small family-owned restaurants to bustling establishments, these ten crab houses guarantee the quintessential Maryland tradition of indulging in fresh blue crabs under the warmth of the summer sun. 
100 Main Street, Annapolis, MD 21401 
In the heart of City Dock, Buddy's Crabs & Ribs is a family-owned and operated restaurant serving a gigantic menu starring their famous steamed blue crabs. Sit inside their air-conditioned dining room overlooking the Chesapeake Bay, or embrace the summer weather by sitting outdoors.
458 Forest Beach Road, Annapolis, MD 21409
Cantler's Riverside Inn is situated along the shore of Mill Creek and has been serving fresh seafood for nearly four decades. Open for lunch and dinner, Cantler's proudly serves Maryland blue crabs, crab cakes, crab imperial, clams, oysters, fish, scallops, shrimp, lobsters, and other delicious platters.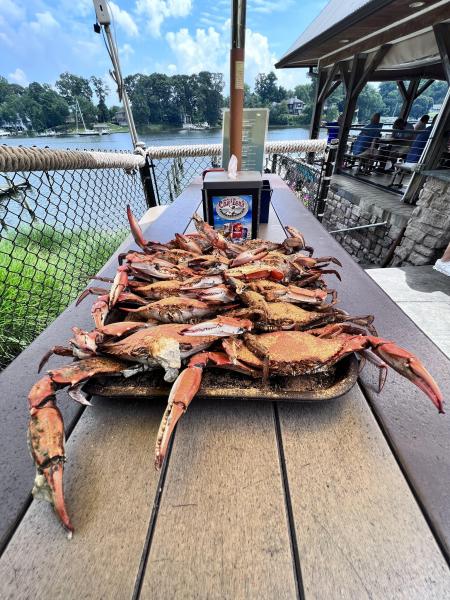 Stack up your tray at Cantler's. Photo courtesy of Cantler's Riverside on Facebook.

 

1500 Crain Highway South, Glen Burnie, MD 21061

Go from feasting on crabs to playing old-school arcade games all in one place! At Crabtowne USA, they pride themselves on providing excellent seafood, drinks, and arcade games such as Galaga, Pac-Man, Super Mario Bros, and more. Specializing in steamed crabs and shrimp, the seafood is steamed fresh for each customer.

 

3030 Riva Road, Riva, MD 21140, and 1402 Colony Road, Pasadena, MD 21122

Whichever Mike's location you choose, you will be met with an impressive array of top-notch seafood and waterside views from the South River. Perfect for summertime crab cracking, outdoor seating is also available with live music on select dates.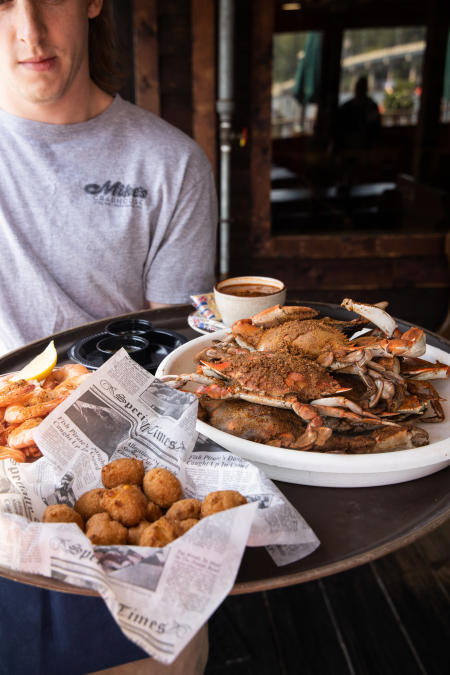 Crabs, crab soup, hush puppies, and shrimp at Mike's Crab House. Image courtesy of Visit Annapolis and Anne Arundel County. 

 

1515 Forest Drive, Annapolis, MD 21403

While Pit Boys is known for their huge portions of bbq and pit beef, the restaurant now serves Maryland blue crabs. Steamed to order or live, visitors can indulge in this Maryland tradition by dining in or carry-out. Pit Boys also offers steamed shrimp, rockfish, salmon, clams, oysters, and crab cakes to fulfill all seafood needs.

 

6158 Drum Point Road, Deale, MD 20751

Relax with waterside views and choose your pick from Skipper's carefully crafted menu of seafood, salads, sandwiches, and surf 'n' turf favorites. Check out their weekly specials on their website to learn more about what they offer.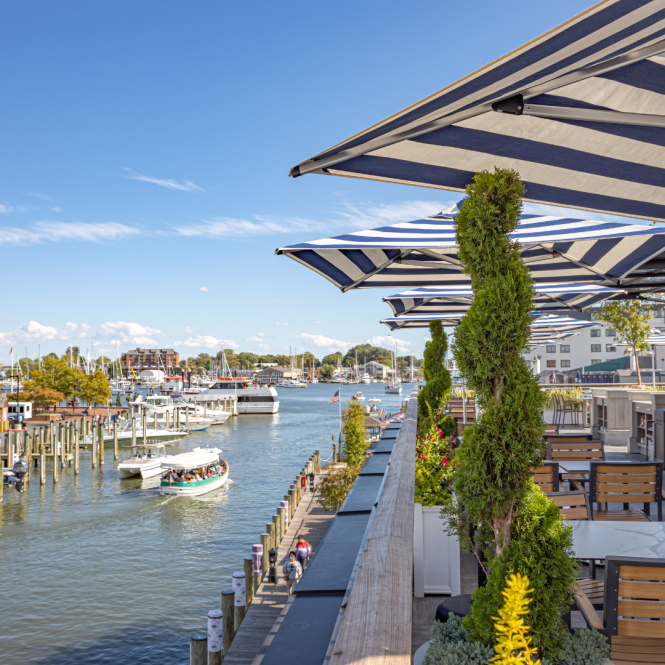 Dinner with a view at The Choptank. Image courtesy of Visit Annapolis and Anne Arundel County. 

 

110 Compromise Street, Annapolis, MD 21401

Along Ego Alley is a new, classic fish and crab house that features local seafood freshly caught in the Chesapeake Bay. Steamed blue crabs and crab cakes seasoned with Choptank's special recipe are a specialty here. Enjoy watching boats go in and out while savoring Maryland blue crab on a summer's day. 

 

3111 Solomons Island Road, Edgewater, MD 21037

With more than 30 years of experience, The Crab Shack's family-owned and operated restaurant shares its treasured family recipes with customers through its extensive menu. The Crab Shack specializes in crab but offers a variety of plates from the sea and land. Uniquely, they also serve Cajun boils with red potatoes, corn, and your choice of seafood and seasonings.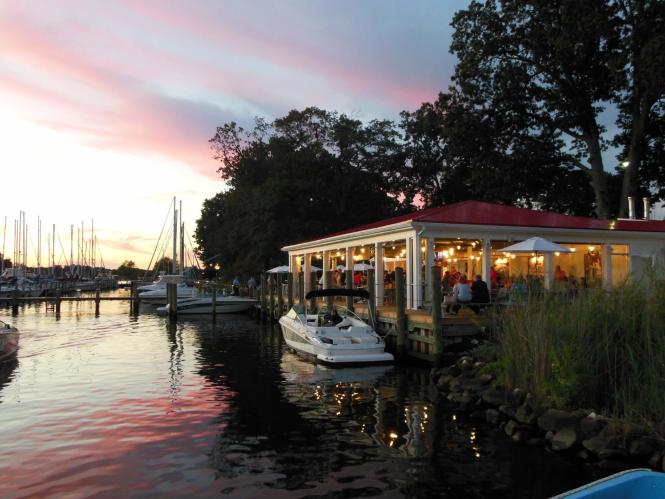 Waterfront views at The Point. Image courtesy of Visit Annapolis and Anne Arundel County. 

 

700 Mill Creek Road, Arnold, MD 21012

An award-winning restaurant with beautiful waterfront views, The Point Crab House & Grill serves fresh crabs cooked live to order. Steamed seafood, soups, salads, tacos, and burgers are just several of what The Point has to offer. From small to large plates, visitors can indulge in Chesapeake Bay crabs as they please. 
124 Bay Shore Avenue, Annapolis, MD 21403
Although small, this crab shack carries only the freshest Maryland seafood from the bay. Being a waterman is in this family-owned business's DNA. Owner Pat Mahoney aims to bring back that old crab shack feel to the area and provide crabs, oysters, rockfish, and perch to customers fresh from the bay. 
Did we miss your favorite seafood house? Stay tuned for future blogs for additional options in our next roundup.