The Annapolis Pottery sits at the corner of State Circle & Francis Street in the heart of Historic Annapolis. With views of the State House from the floor of the shop, this whimsical haven has been creating and selling pottery from artists across the U.S. and North America for 52 years!
Originally started by a British ex-pat on Cornhill Street, the pottery and studio were purchased by Pat & Melanie Murphy in 2008. It is truly a family affair, Melanie Murphy and her daughter Hannah both work at the studio.  Melanie was not a potter at first, but she has truly found her calling. Her unique glazes in rich hues of blue and green recall the colors of the Chesapeake Bay and are a hallmark of Annapolis Pottery.
Along with potter Danny Stainton and Hannah Murphy, they can produce hundreds of pieces in a day. When we were on-site at the studio Danny was 'throwing' Old Bay Shakers on the potters wheel while Hannah was busy glazing bowls with their 'Atlantic' glaze. Watch the full video to be inspired and mesmerized!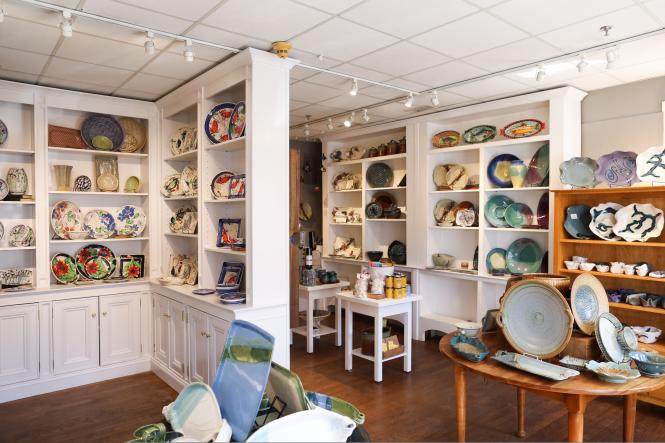 The Annapolis Pottery carries their own pieces from the on-site studio as well as artists from across North America.

 

Their inspiration comes from the world around them. Nature, the Bay, a setting sun or a stunning landscape. The connection to their pieces shines through! The Mug Wall is a sight to behold with an array of shapes, sizes, colors and textures. Most of their pieces are thrown on the potters wheel or cast from molds, many from nature itself. The ever popular crab imperial dishes were cast from an actual Maryland Blue Crab! Melanie touts them as a best-seller, and we did see them on our visit but call the store to secure one of your very own.

 

The store is open every day and offers a wide variety of pottery. Many pieces are utilitarian like their casserole dishes, mugs and chip and dip bowls. You will also find many artistic pieces to spruce up your kitchen or mantle. Of course, any piece would make for a perfect gift, their selection is hard to resist!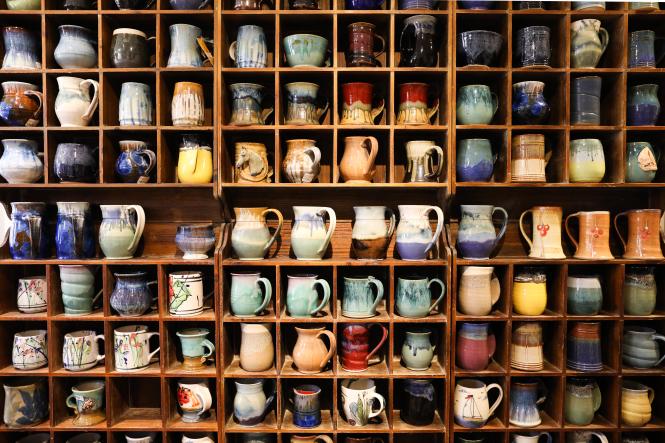 The mug wall is mesmerizing and a highlight of The Annapolis Pottery. Customers sometimes spend a good hour trying to pick the perfect mug. Our advice? Buy several, it's too hard to pick just one!

 

To visit the store or see the artistic team in action, head to 40 State Circle in Annapolis, MD. Many of their items can be purchased online as well. They do take custom orders so if you have something in mind, call to see how they can make your vision a reality. And if you time your visit just right, you may just see them taking some fresh pottery out of the kiln. We call dibs!