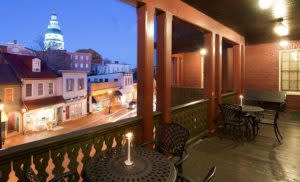 A view down Main Street and of the State Capitol building from the Maryland Inn. Image courtesy of Historic Inns of Annapolis.
There are few things that pair as well with fall as caramel apples. Sure, one might say what about crisp air? Or falling leaves? Or what about Halloween, pumpkins, and candy corn? Ok. All of those things too. But for me, it's caramel apples. The combination of tart granny smith apples, rich, buttery caramel and salted peanut pieces is one I could never tire of. And while this indulgence is mostly a seasonal treat in stores, the best caramel apples can be found year-round at Kilwin's in Downtown Annapolis.
Historic Inns of Annapolis
The Lobby of the Maryland Inn, the hotel sits at the top of Main Street on Church Circle. Image courtesy of Historic Inns of Annapolis.
Now I'm not saying you should plan a trip to Annapolis just to get your hands on the caramel apples. But I'm not saying you shouldn't. When you do make the (wise) decision to visit the nation's first peacetime capital where the Treaty of Paris was ratified, you'll need a place to stay, and it makes perfect sense to hang your hat at one of the three Historic Inns of Annapolis.
Dating back to various points in the 1700s, the Governor Calvert House, Robert Johnson House and Maryland Inn brim with history of time gone by. If their colonial themed walls could talk, oh the stories they would tell.
Michelle Vellon, Director of Sales & Marketing
I spent some time recently with Michelle Vellon, Director of Sales & Marketing at the Historic Inns of Annapolis. Sitting in the lobby of the Maryland Inn, it struck me how spacious and cozy it was, as the wedge shape of the building gives the illusion of a small interior. I almost wished it was a cold day as it would have been perfect to sip a mug of tea while chatting on the oversized couches.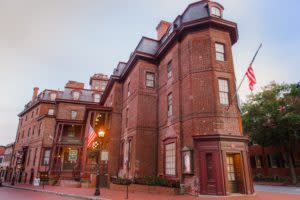 Historic Inns of Annapolis is comprised of three hotels: The Maryland Inn (pictured), The Governor Calvert House, and the Robert Johnson House.
Ms. Vellon has spent the better part of her career with the Inns, first as Director of Catering for 15 years, followed by her current role of two years, with a brief stint at a Washington, DC hotel before coming to her senses and returning to Annapolis. I say that tongue-in-cheek, but it was clear Washington was missing that small-town charm that Annapolis radiated and Vellon missed.
"When coming to Annapolis there is no better place to be more emerged in the history of Annapolis than with the Historic Inns of Annapolis," she told me.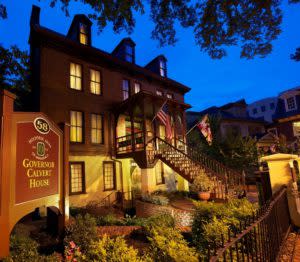 Governor Calvert House sits on State Circle in historic, downtown Annapolis. Image courtesy of Historic Inns of Annapolis.
Of the three Inns, Governor Calvert House and Robert Johnson House are dotted along State Circle. Perfectly situated along Church Circle, shoehorned in between Main and Duke of Gloucester, The Maryland House is positioned such that she can almost keep an eye on most of the town, no matter from which direction a visitor comes.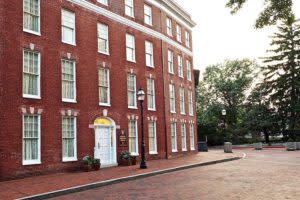 The Robert Johnson House sits just across from the Governor's Mansion. Image courtesy of Historic Inns of Annapolis.
With the Maryland Governor's Mansion steps from all three locations and the Maryland legislative session lasting the first 90 days of each year, it is nothing to see Governor Hogan or various Members of the State Assembly hurrying by to meetings or grabbing lunch at Chick and Ruth's along Main Street, where many a sandwich is named for politicians. If you book a room at one of the Inns during session, there's a very good chance you'll run into a few politicos in the halls, as several take up residence for the entire session, traveling back to their districts on the weekends.
Naturally, in a town as old as Annapolis is, there's a spookiness that tends to fill the air, more so it seems in the fall. Is the town haunted? Are the Historic Inns haunted? That's not for me to say. But there are many accounts of visions and activities that are enough to make the walking ghost tours so popular. And it just so happens that these tours start on the steps of Maryland Inn.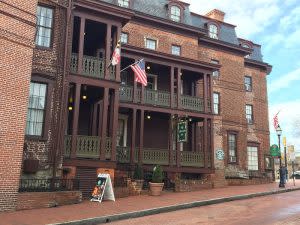 Annapolis Tours and Crawls meets in from of the Maryland Inn to kick off their nightly ghost tours. Haunted or not? You be the judge. Image courtesy of Visit Annapolis.
Why? Most likely because of one of the more famous stories to come out of our town. As the story goes, a bride witnessed her husband trampled by a horse and rig on their wedding day, and threw herself from the fourth floor to die alongside of him. Some say the couple never left and the bride has haunted the ladies room in the Maryland Inn for years. Think this is just a bunch of hocus pocus? Request room #405 and see for yourself, you may spot her pacing the room in her wedding gown.
Are ghost stories not your thing? I bet good food might be! So as your concierge, you must make a reservation at one of the many restaurants Annapolis has to offer. I recommend Harry Browne's just next door to the Governor Calvert House. Is afternoon tea appealing? Just across the street from Maryland Inn is Reynold's Tavern – a historic location in its own right. There you can settle in for high tea with a view of beautiful St. Anne's Church on the circle.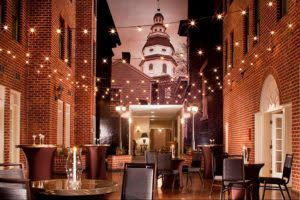 Many a bride and groom have danced the night away in this banquet room at Governor Calvert House. Image courtesy of Historic Inns of Annapolis.
The Historic Inns of Annapolis can cater to any event, big or small. With a combined 124 rooms spread between the three inns, there is more than enough lodging for out of town guests. Governor Calvert House hosts many weddings each year, and several couples opt to have a "Towne Cryer" announce them following a ceremony. This harkens back to the days when the Annapolis Towne Cryer would stand at the top of Main Street and announce particular news of interest.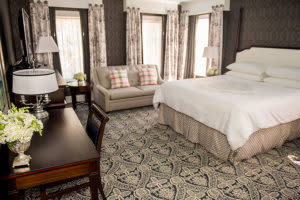 A King guest suite at the Robert Johnson House. Image courtesy of Historic Inns of Annapolis.
"We combine the modern conveniences expected at a hotel with the classic historic touches that make it more of an experience than just a hotel stay," Vellon added. The leaves are ripe for peeping, the town is bustling and the caramel apples at Kilwin's are calling your name. Now is the perfect time to book your getaway to Annapolis.