Nestled in the heart of the Annapolis Arts District, halfway down West Street, inside the front doors of The Graduate Annapolis hotel, and behind the wall of the lobby lies a six-story hotel atrium so spectacular, that I audibly gasped upon crossing the door's threshold into the room.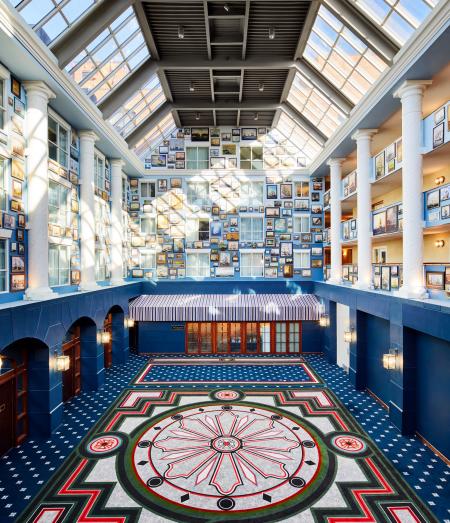 The Graduate Hotel's two story atrium is a sight to behold.  Image courtesy of  The Graduate Hotel.

 
'Come with me, and you'll be, in a world of pure imagination.'
Does this lyric ring a bell? It's what Gene Wilder, aka Willy Wonka sang as the winners of the golden tickets entered the chocolate factory for the first time, jaws nearly on the floor. It's the song I've had in my head ever since touring the Graduate Annapolis and meeting with General Manager John Esainko in mid-January. The only way the experience of seeing this atrium for the first time could have been made better would be if I entered blindfolded and then removed it seconds later.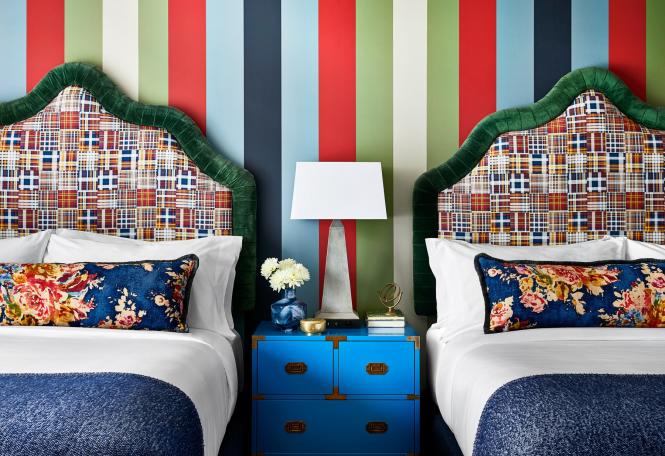 The guest rooms of each Graduate property are uniquely appointed to reflect the style and vibe of their locale, so think bright bold hues with nautical touches for The Graduate Annapolis. Image courtesy of The Graduate Hotel.

 
'We'll begin with a spin.'
The Graduate Annapolis opened its doors in November 2019 after completely revamping the space previously held by the Loews Hotel. Esainko, with big ideas, big plans and a 20-year career in the hospitality industry joined in June 2020.
Taking a spin around the lobby, I couldn't help but notice a strong homage to local and state 'things'; Navy décor, Maryland flags and a life-size image of famous Navy grad and former NBA star, David Robinson as a young Mid with braces, gracing the cover of Sports Illustrated.
The Lobby pays homage to Maryland style with the iconic Maryland Flag and Naval Academy memorabilia. Image courtesy of The Graduate Hotel.

 

Each Graduate Hotel property uniquely celebrates and commemorates the destination the hotel is positioned within through thought provoking design, distinctly local partnerships and guest experiences along with welcoming communal spaces. Graduate Annapolis gives both locals and visitors alike a unique taste of the Annapolis community through the narratives incorporated into hotel decor and the nostalgic imagery and nods throughout both common spaces and guest rooms.

 
'If you want to view paradise, simply look around and view it.'
No detail is spared, and guests will find spirited hues and textures that symbolize the seaside culture everywhere. The atrium I've already gushed about has hundreds of multi-sized framed images of Navy ships on its walls; the six meeting rooms all have different carpet with naval knots throughout (such as a surgeon's and stevedore). Even the wallpaper in the ladies' room off the main lobby at first glance looks like alphabet soup. But once your eyes adjust you'll see the letters come together dozens of times to read "Don't Give Up the Ship," the celebrated Navy phrase commonly heard and seen in Annapolis.
The Graduate Annapolis can host weddings up to 350 people, and the expectation is that it would be the setting for at least 52 weddings a year in normal times. But even with the COVID capacity restrictions, they can host 100 guests. That's no small event. Local wedding and events planner Devon Clouse with Annapolis Events notes the Graduate as one of her preferred locations for engaged couples, citing benefits such as the atrium (of course), it's accessibility to downtown, outstanding décor, service and how wonderful it is to work with onsite wedding coordinator, Shannon Draley.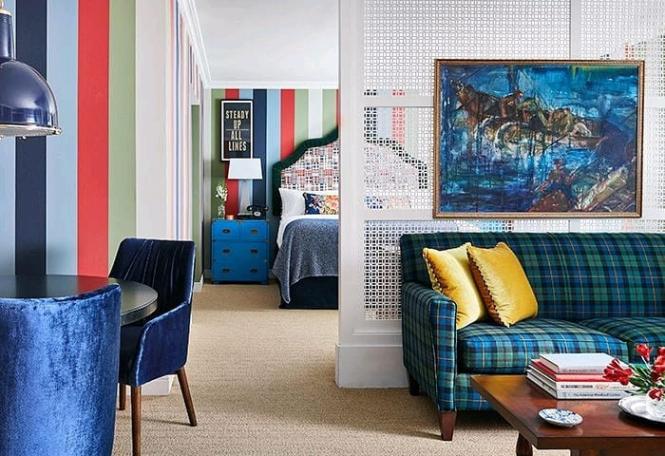 Book the Presidential Suite or the Family Suite and spread out in style! Image courtesy of Mint Group USA.

 

Know a family coming to town? Tell them to book into room #249 which is the family suite. There you'll have two adjoining rooms, one designed especially for kids with two single boat beds. Watching over the kids is a painting of famous USNA graduate, Sunita Williams, who held the record of cumulative spacewalking time by a female astronaut until 2017. I wonder if Sunita would like the Malin + Goetz toiletries found in each room or the fact that she could bring her pooch for a stay. Good news - this perk isn't limited to just super cool astronauts!

 

If you're hungry, you don't have to go far. Just off the lobby is the nautically themed Camp Severn Shore serving comfort food favorites such as crab cakes, frito pie and burgers. Temporarily closed due to COVID-19, once it's back in action, expect various theme nights and tastings. Feel like you need to work all that off? Check out their spacious 24-hour workout facility that includes two peloton bikes.

 
'Traveling in the world of my creation.'
It didn't take much for me to see that Esainko is an ideas guy. His speech sped up with excitement as he described some of the plans he has for promoting the Graduate as "tailgate central" for Navy's home football games. The idea is to block off the main drive and bring in food trucks, smokers, guest bartenders and general fun for anyone interested. For home games when Houston, Memphis and Cincinnati come to town he'd like to fly in those cities' hometown foods such as BBQ and Skyline Chili.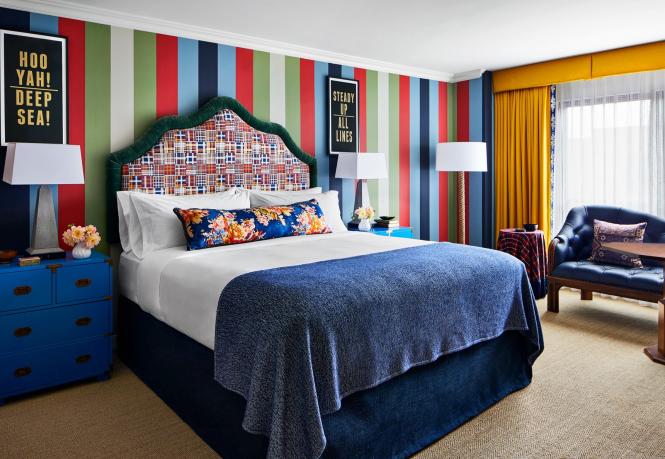 Naval flair and sayings are just a few of the hallmarks at this unique Graduate property. Image courtesy of The Graduate Hotel.

 

If you like live music, wait until his idea of turning the three-story Powerhouse Building connected to the hotel into a live music venue with different themes of music on each floor.

 

Guests at the Graduate Hotel are well positioned to not only explore downtown Annapolis and the waterfront, but more closely, the Annapolis Art District stretching from Annapolis' historic Church Circle all the way to the Bates Legacy Center. Take a stroll through many of the galleries or if your stay is timed right, along West Street during First Sunday Arts Festival, the first Sunday of each month starting in May. Book afternoon tea at Reynolds Tavern on Church Circle, grab a slice of pie from newly opened Dangerously Delicious Pies, maybe some oysters from Sailor Oyster Bar, breakfast from the Metropolitan Kitchen & Lounge or Miss Shirley's, and my very favorite, mussels from Tsunami.  Want some entertainment before you call it an evening? Catch live music or comedy at Ram's Head, a show at Maryland Hall or an opera at Annapolis Opera.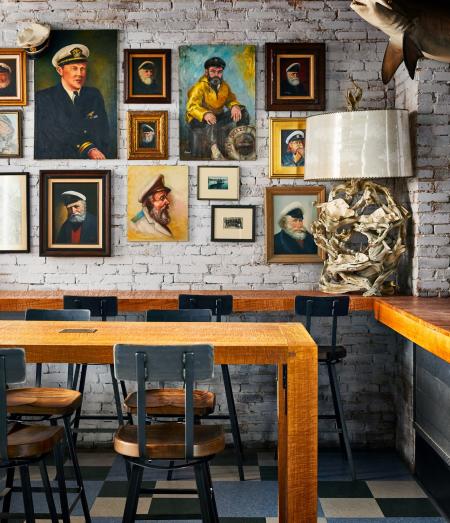 Camp Severn Shore is the graduate's on-site restaurant. Image courtesy of The Graduate Hotel.

 
'What we'll see will defy explanation.'
Something I found fascinating and unlike any special touch I've experienced elsewhere is the Graduate's augmented reality experience for guests. The AR will allow them to interact with and discover the stories behind artwork throughout the hotel and on guest key cards. Esainko showed me how this works through his app that all guests can download and the artwork truly comes to life in 3D. Hold the app up to the Roger Staubach art work and see him (and his facts) practically jump out at you!
You don't have to be a Navy fan to appreciate the Graduate Annapolis. You just need to appreciate top notch accommodations and service. Even Army fans can get on board with that, right?