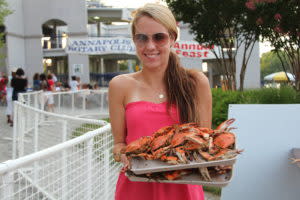 Photo courtesy of VAAAC
While there's no shortage of events that the COVID-19 pandemic has erased from Annapolis' spring and summer social calendars this year, perhaps the most Annapolitan and Maryland of them all is the Annual Rotary Crab Feast.
Held rain or shine, since 1946, "the largest crab feast in the world" draws 2,000 to 2,200 locals and tourists to Navy-Marine Corps Memorial Stadium each year. The event offers an evening of shoulder-to-shoulder socializing over all-you-can-eat crabs, plus all-you-can-drink soda and beer. One hundred percent of the proceeds from the Crab Feast go back to the community in the form of grants of up to $4,000 to local non-profits.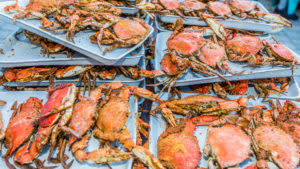 Crab Platters ready to be served. Photo courtesy of the Rotary Club of Annapolis.
Last year, the Rotary Club of Annapolis distributed $38,800 in proceeds to 23 nonprofits and even benefited an environmental organization through its waste. Annapolis Green, a local non-profit dedicated to making Annapolis and the world a cleaner and more environmentally friendly place; turned the 14.5 tons of shells, cobs, plates, cups, cutlery, and napkins into "Christmas Crab Compost" that it sold back in December.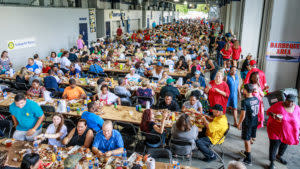 Diners enjoying last year's Crab Feast at Navy-Marine Corps Memorial Stadium. Photo courtesy of the Rotary Club of Annapolis.
But, all is not lost in 2020. While restrictions on large gatherings and the protection of those in high-risk categories made canceling the Feast an inevitability, the Club decided to uphold tradition and host a modified version instead. This year's event, dubbed "Rotary Crabs to Go," will take place on Friday, August 7th from 4:30-7:00 PM. The Rotary Club of Annapolis will expedite the granting of proceeds to early fall given the far-reaching impacts of the pandemic.
This year's event will allow the public to preorder, pay via PayPal, and select a half-hour window for pick up. The following menu items, steamed onsite and packaged for travel from the Navy-Marine Corps Memorial Stadium, will include:
· Bushel of "Best #1" Crabs with 12 Ears of Corn: $290
· Half Bushel with 6 Corn: $150
· Two Dozen with 6 Corn: $125
· One Dozen with 3 Corn: $65
Supporters can make a donation or purchase raffle tickets online at a price of one for $5, five for $20, or 10 for $40 for a chance to win one of the following prizes:
· 1st Prize: $500
· 2nd Prize: $250
· 3rd Prize: $100
· 4th Prize: One Bushel Crabs
· 5th Prize: Four One-Way Southwest Flight E-Pass(es)℠ (Good Through 12/29/2021)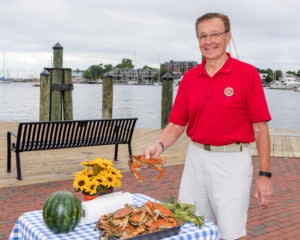 Frank Andracchi, Rotary Club President. Photo from Rotary Club of Annapolis.
"We hope that our local supporters will take advantage of the opportunity to pick up some crabs and corn and enjoy them with family and friends, whether at their own homes or at their favorite park or picnic area. We would also like to see them share images of their personal feasts on social media to recreate the traditional Feast's community feel," said Andracchi.
"For those who can't make it, because they want something more than just crabs and corn or if they're from out of town; we hope they will show their support by purchasing raffle tickets or making a donation online. In short, we obviously can't offer the traditional Feast experience they've grown to love, but the mission of the Feast and the need for their support is more important than ever before."
(Click here to learn how to pick a Blue Crab like a Native Marylander!)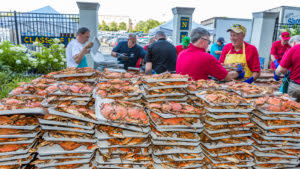 Volunteers organize crab platters from the 'Largest Crab Feast in the World', from last year's Feast. Photo from the Rotary Club of Annapolis.
Andracchi confirmed that the Rotary Club will indeed be holding the Feast next year. It will include a celebration of not only the 75th anniversary of the Feast but, they will also celebrate the Rotary Club's 100th anniversary. So mark your calendars for Friday, August 6, 2021, from 5:00 – 8:00 PM!
"We're hoping that it will be bigger and better than ever," said Andracchi.
To learn more about Rotary Crabs to Go, purchase crabs or raffle tickets, or donate, visit http://www.annapolisrotary.org/crabfeast.