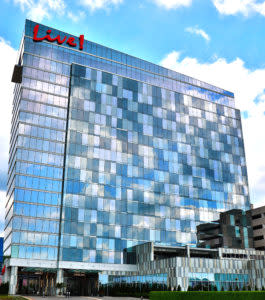 Live! Casino & Hotel in Arundel Mills, MD. Photo courtesy of Visit Annapolis.
Just a little over eight years after it first opened its doors in 2012, Live! Casino & Hotel reopened to invited guests on June 19th and to the general public on June 29th. They were eager and excited to reopen after the government mandated 105-day closure to help slow the spread of COVID-19.
Play It Safe Plan
As is currently the case inside all Maryland destinations, visitors can expect things to look quite a bit different than they used to thanks to the enhanced health and safety measures implemented under the Casino's "Play It Safe" Plan.  Their plan combines guidelines from the CDC, State of Maryland, and Johns Hopkins University of Public Health along with best practices for the gaming and hospitality industries from Maryland Lottery and the Gaming Control Agency.
New Protocols
For starters, guests will undergo a non-contact temperature check at the door and will only be permitted to enter if they come in at or below 100.4 degrees Fahrenheit. All guests must agree to wear a mask (which the casino will provide for free to those who don't have one) securely covering their mouth and nose at all times other than when drinking or eating.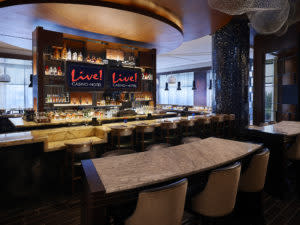 Hotel Bar. Photo courtesy of Live! Casino & Hotel.
Once inside, guests will see distance markers and ample hand sanitizing stations installed throughout the casino. Some of the facility's 3,853 slot machines and 193 table game locations have been disabled in order to reduce the number of guests on the casino floor. In addition, plexi-glass barriers have been installed between those in operation to ensure proper physical distancing and to reduce the transmission of germs.
Guests will also see Live! staff cleaning high-contact areas throughout the facility, regularly. Management has also mandated temperature checks and electronic health screenings for each of their 2,000+ staff  currently working at the Casino/Hotel. Each employee has also successfully completed an enhanced COVID-19 training program as part of their return-to-work orientation.
New best practices for beverage service and food service at five of the casino's restaurants (The Prime Rib, Luk Fu, Orchid Kitchen, The Cheesecake Factory, and Bobby's Burger Palace) have also been implemented. Additionally, food and beverage orders can be made through the Live! Rewards mobile app or in-person at the casino's R-Bar and Orchid Bar. Enhanced guest room sanitization protocols were also added July 1st at Live's! AAA Four Diamond Rated, Live! Hotel. The Spa and Salon, however; will remain closed for the time being.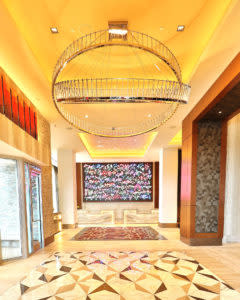 Hotel Lobby and Front Desk. Photo courtesy of Visit Annapolis.
The New Normal
According to Carmen Gonzalez, Live! Executive Director of Communications; all of the additional safeguards, procedures and training are well worth the investment. Keeping  guests safe is their number one priority. Even though casino revenue in Maryland fell 27.3% (from $1.8 billion to $1.3 billion) from fiscal 2019 to fiscal 2020, Live! has spared no expense to make a safe reopening possible.
"At Live! Casino & Hotel, we are dedicated to providing a safe and healthy entertainment experience for everyone involved – and we feel that we can't put a price tag on that," said Gonzalez. "Since the beginning of the pandemic, the Live! team has been diligently working to bring back our Team Members along with much needed jobs and taxes to Maryland as soon as government authorities allowed us to do so."
"Our Team Members and guests are family, and nothing is more important to us than their health and safety," she continued. "Every great experience at Live! starts with peace of mind, and we know that is exactly what guests will find when they visit."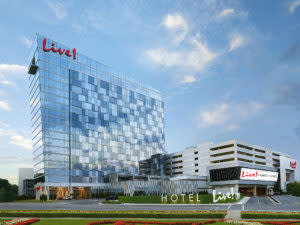 Live! Casino & Hotel.
So with that, head back to the newly reopen Live! Casino & Hotel and let the gaming begin!