He was a good and generous man, and when he died in 1807, he was buried honorably in a family cemetery near his home and church in Annapolis. He rested quietly there for more than 150 years until his peace was interrupted by a backhoe.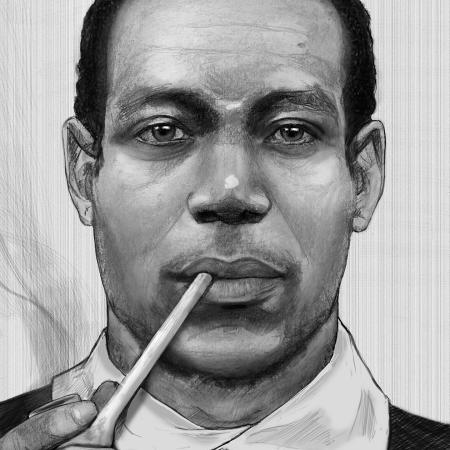 An artist rendering of Smith Price. Image courtesy of Janice Hayes Williams.

 

Smith Price was a formerly enslaved freed black, released from bondage in 1790 upon the death of his owner, Daniel of St. Thomas Jenifer, Maryland's First Senate President. Smith Price became a prosperous family man whose life as an Annapolis business owner around 1800 was relatively comfortable and successful.

 
An Early Annapolis Community of Color
In those days, almost half the residents of Annapolis were black, and many of the businesses and plots of land in town were owned by freed blacks. A blacksmith and artisan, Smith Price, acquired a great deal of land just outside the Annapolis City Gate in an area then called the "Plains of Annapolis." The Annapolis City Gates were located on West Street in a rural setting near what is now Calvert Street. From 1698 to 1790 or later, a wooden fence and gatehouse existed there to keep out wandering cattle and "men of ill fame," as a local historical marker suggests.
This area along West Street was home to one of the earliest black communities in Annapolis. Smith Price provided a portion of his land in 1803 for the construction of the first black church in Anne Arundel County. Originally called the "First African Methodist Episcopal Church," the new church was erected in 1804 and stands today as a pillar of the community, the Asbury United Methodist Church at 87 West Street. Smith Price's son, Henry Price, was the Asbury church leader for 25 years from 1838 until he died in 1863, and Henry Price's grandson was Dr. Daniel Hale Williams, the first surgeon to perform open-heart surgery in 1893.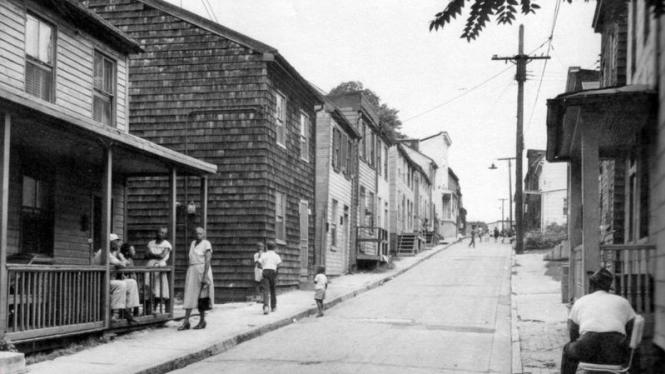 A view of Clay Street. Image courtesy of Janice Hayes Williams and the Annapolis 1864 FB Page.

 
The Smith Price Cemetery is Disturbed
Time went by, and the City of Annapolis grew, extending outward beyond the City Gates to slowly encompass the adjoining farmland and pastures. The Annapolis black community grew with the town through the early 1800s and into the post-Civil War period of black migration and later expanded through the segregation years of the early and mid-1900s. Housing conditions were not ideal in some urban communities. From the 1960s through the early 1980s, in urban areas throughout the country, the land was cleared and redeveloped to remove blight and create new housing and economic opportunities. In Annapolis, this urban renewal brought us many of the State and County office buildings and parking garages of today.
During the time of urban renewal projects, residents of the affected neighborhoods were often forced to move to other places in their cities. Sometimes, a community's culture, heritage, and connections were bulldozed and lost. And sometimes care was not taken to avoid family gravesites in the process.
As a byproduct of redevelopment in Annapolis, Smith Price's peaceful slumber was interrupted in 1980 when the land behind Asbury United Methodist Church was dug up to build today's City Gate townhouses. Years had passed, and the burying ground had been forgotten by many. (The Smith Price cemetery is noted on a local 1869 map, but not mentioned on an 1897 map or thereafter.)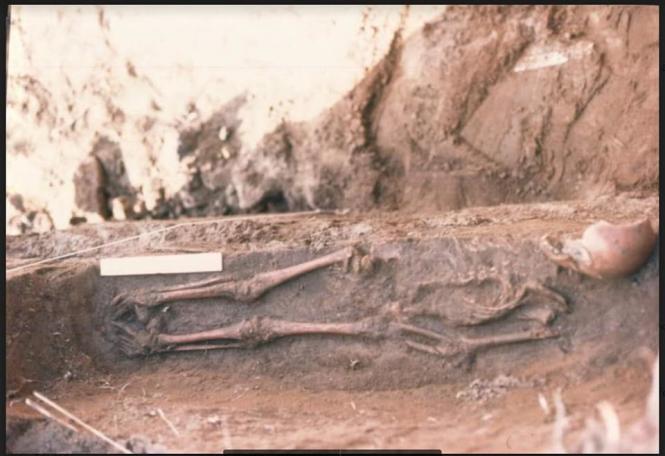 Exhumed human remains were found during the building of the City Gate townhomes behind Asbury United Methodist Church. Image courtesy of Janice Hayes Williams and the Annapolis 1864 FB Page.

 

Thus, the remains of two humans, a man, and a child were dug up in 1980 in the vicinity of today's City Gate Lane and Larkin Lane. Those remains were eventually taken by Maryland State officials to the Maryland Archaeological Conservation Laboratory at Jefferson Patterson Park & Museum in southern Maryland. There the remains languished for decades, shelved in a box labeled Smith Price. It is possible that other human remains around the City Gate project were simply dug up in 1980 and carted off to a landfill.

 
A Successful Historical Research Quest
Annapolis historian Janice Hayes Williams, a lifelong Annapolis resident and graduate of Annapolis High School has been researching the history of the local black community for many years. She has acquired great knowledge, understanding, and enthusiasm for Asbury United Methodist Church and the lives and histories of African American families.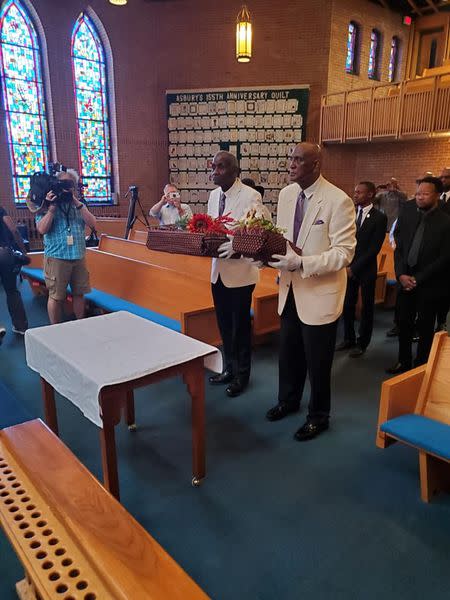 Carrying the remains into Asbury United Methodist Church for the reburial service. Image courtesy of Janice Hayes Williams.

 

On a serendipitous visit to the Maryland Archaeological Conservation Laboratory a few years ago, she was astonished to learn of the existence of the exhumed remains labeled as those of Smith Price and his child. Ms. Hayes Williams embarked on a years-long mission to repatriate, reunify, and rebury Smith Price in a proper grave.

 

Part of that mission included seeking out the descendants of Smith Price to obtain DNA samples to be compared with the boxed exhumed remains. Unfortunately, the skeletal remains in those boxes were too degraded to make a positive connection. However, the remains are accepted by many to be those of Smith Price. Interestingly, the forensic experts were able to reconstruct an image of Smith Price's face and determined that he smoked his pipe on the right side.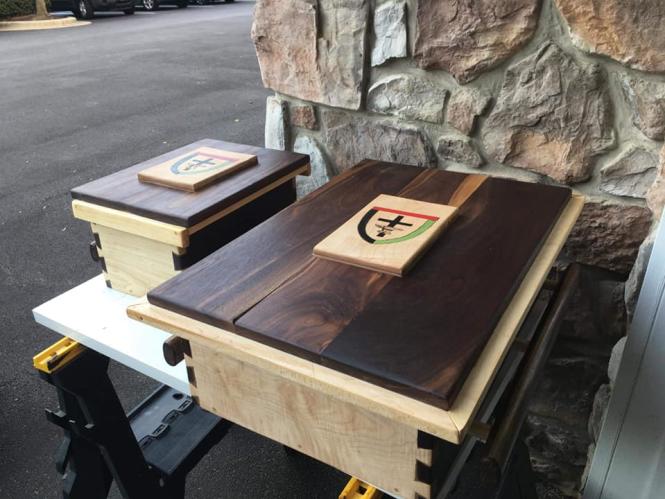 The burial boxes of Smith Price's remains 
Smith Price is Welcomed Home
As a result of the tireless efforts of Ms. Hayes Williams and others, the remains of Smith Price were welcomed back to Annapolis in a July 2019 ceremony at Asbury United Methodist Church. Later, on November 1, 2019, a reburial service was held at Asbury, culminating in a ceremonial procession with a horse-drawn carriage to Smith Price's final resting place. The pallbearers in the procession were a group of African American community members who came to be known as the "Posse."
Smith Price is now buried beside his son, Henry Price, who had been laid to rest in 1863 in the St. Anne's Episcopal Church cemetery. The St. Anne's parish leaders cooperated extensively in the project. The Smith Price burial ceremony commemorated not only Smith Price but the black community that thrived in this locality for so many years.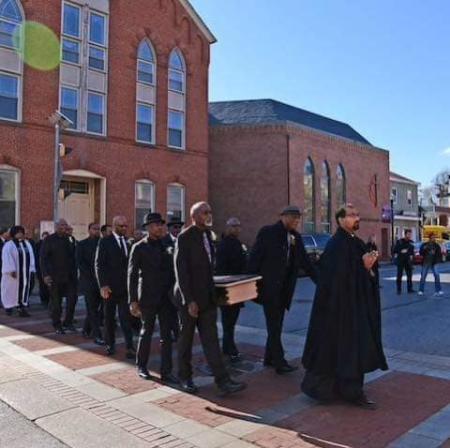 The procession leaves Asbury United Methodist Church. Image courtesy of Janice Hayes Williams.

 

The burial event took place on the 155th anniversary of the ratification of Maryland's Third Constitution, which abolished slavery and indentured servitude in the State. Because Maryland did not secede from the Union, Maryland's enslaved persons were not emancipated by Abraham Lincoln's Emancipation Proclamation but were in fact emancipated by the State's Third Constitution adopted on November 1, 1864. State and local officials now recognize November 1st as Maryland Emancipation Day, and a commemorative anniversary wreath was laid at the Smith Price grave on this day in 2020.

 

Janice Hayes Williams' quest to preserve and disseminate the history of the Annapolis African American community began as an effort to uncover family history. Her mother was born in her great-grandfather's house, its site now lost to urban renewal and replaced by the recently renamed People's Park on Calvert Street. Her great-uncle Wiley H. Bates represented the Fourth Ward and founded the Wiley H. Bates High School, once the only area high school for African American students.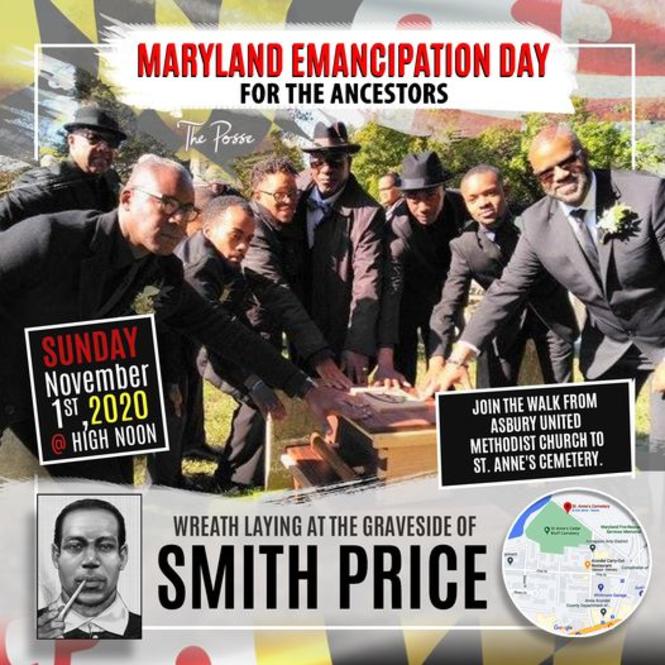 November 1, 2020, marked the 1st anniversary of Smith Price's reburial. Image courtesy of Janice Hayes Williams.

 

The hope of many is that widespread sharing of this knowledge--the history and legacy of Smith Price and the human side of urban renewal--will work to bring awareness and sensitivity to blacks and whites alike so that missteps in history will not be repeated. In the words of Ms. Hayes Williams, "We need to know where we've been in order to know where we are going."

 

To learn more about African American History in Annapolis and Anne Arundel County, visit:

African American Voices, Memories and Places: A Chesapeake Crossroads Heritage Trail (arcgis.com)

African_American_Heritage_Guide.pdf (aacounty.org)

For a history of Asbury United Methodist Church, visit: aumcannapolis.org/History.aspx

Read more about efforts to document African American heritage sites in Anne Arundel County here: African American Heritage.