When it comes to dining options beyond downtown Annapolis proper, you can go North, to the eclectic restaurants scattered throughout West Annapolis, or you can go South, to the white tablecloth and high-end seafood restaurants in the Maritime Republic of Eastport.
But if you really want to experience as many different cuisines as possible, you can follow the advice of newspaperman Horace Greeley (or whoever actually first said "Go West, young man") and go West – that is, go to West Street.
Yes, the 2.5-mile stretch from Church Circle, at the top of Main Street, to Solomons Island Road includes plenty of national fast food franchises, but it also offers over a dozen unique local restaurants to discover. And, for both their employees' sake and yours, the majority of them are offering their eats (and in many cases, their drinks!) through some combination of carryout, curbside pickup, and delivery.
Working our way out from downtown, here's a heaping helping of highlights: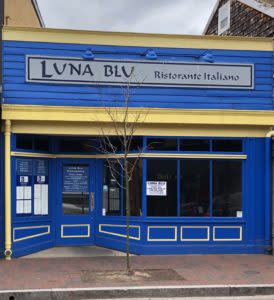 Photo courtesy of the author.
Now in its 20th year, Luna Blu is my go-to for sit-down Italian in Annapolis, whether in its cozy dining room or right on West Street during Dinner Under the Stars, thanks to its extensive menu of made-from-scratch foods. A true seafood-lover, I order Calamari Rustici, a hard-to-find fresh non-fried calamari option, and Zuppa di Pesce, a Sicilian fisherman's stew, every time I visit, but the menu is chocked full of every pasta dish you can imagine. The $38 four-course dinner special and carry-out pizza are great options as well, and the entire menu is now available for carryout, curbside pickup, and delivery during regular business hours.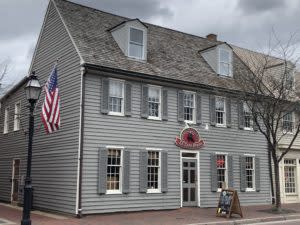 Photo courtesy of the author.
Two doors down from Luna Blu and equally popular for indoor and outdoor dining, El Toro Bravo has a huge menu of fresh, made-to-order Mexican favorites and family specials – from big burritos and enchiladas to Molcajete, a mix of marinated chicken, steak, shrimp, and sausage served in a hot stone dish. El Toro also offers eight seafood entrees, including the only crab enchiladas I've ever enjoyed (or seen on a menu!), and extremely popular margaritas that, according to multiple Facebook commenters who've been ordering the half-gallon to-go versions, are "just as potent as always."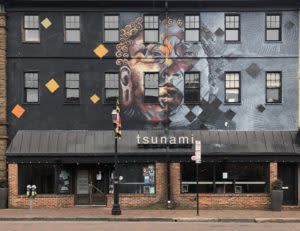 Photo courtesy of the author.
Whether enjoying its very attractively-priced happy hour and a half menu in the evening (served from 4:30-6:00 p.m. Monday-Friday) or one of its fifteen handcrafted cocktails and extensive sushi offerings late-night (the restaurant is open until 1:30 a.m. 7 days a week), you don't want to miss the awesome ambiance and eats inside Tsunami. Until life returns to normal, however, it's great to know that the restaurant's entire sushi and kitchen menu – plus gift cards and a pretty great-looking #StrongerTogether t-shirt – is available for takeaway from 5-9 p.m. each night.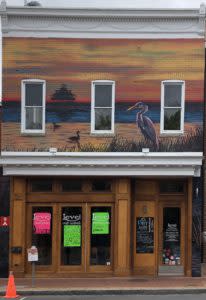 Photo courtesy of the author.
A "small plates lounge," Level features a Chesapeake-inspired mural on its second floor (depicting a blue heron and Thomas Point Light) and an eclectic menu of shareable dishes, from charcuterie boards to crab and corn gnocchi, made with locally-sourced ingredients on its website. Fortunately, the full menu – including beer, wine, and a wide array of handcrafted cocktails made with fresh juices, mixes, and garnishes – can be ordered online or by phone for pickup or delivery via DoorDash or GrubHub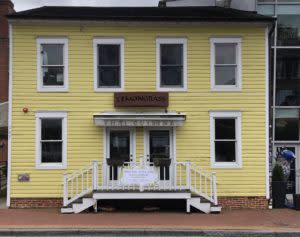 Photo courtesy of the author.
Lemongrass began offering modern Thai cuisine from its yellow building at the corner of West Street and Colonial Ave. in 2005, and has since opened Lemongrass Too, at Gateway Village, and Lemongrass Arnold. Having dined at the first and second locations many times, I can attest that the Shrimp Martini, Seafood Salad, and Chicken Ginger Perfect are consistently-prepared and delicious wherever you're eating them – a good sign that whatever you order for pickup or delivery will be too!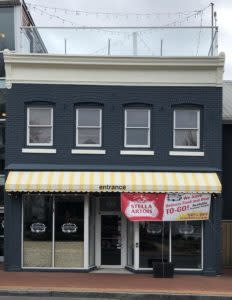 Photo courtesy of the author.
Roughly 100 feet from Lemongrass, Metropolitan is a casual, farm-to-table restaurant that serves up local produce and meats, over 40 craft beers, and 16 custom cocktails from its menu – and in normal times, plenty of live music from its lounge. While the music might be temporarily on hold, Metropolitan is not only offering its full menu for carryout but also full catering-style meals, which allow you to mix-and-match two entrees and three sides, and 50% off all beer and wine, from 4:00-9:00 p.m. Tuesday-Sunday.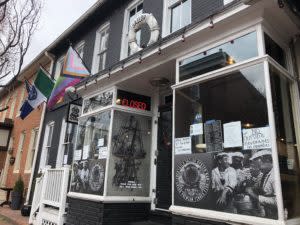 Photo courtesy of the author.
Just three years old, "SOB" was founded after owner Scott Herbst asked himself what a seafood restaurant without ovens, stoves, or microwaves would look like. To that end, it serves oysters, simple appetizers, and plenty of canned fish – something that would've been extremely common in Annapolis a few hundred years ago – in its Chesapeake-inspired, industrial-styled space. Sailor also has a hefty list of wines, craft beers, and cocktails, available for takeaway along with select menu items, daily specials, and discounted gift cards to benefit employees.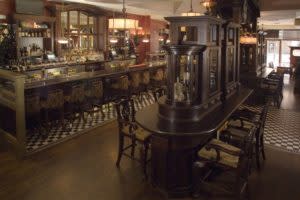 Photo courtesy of the author.
Gaelic for "long ago," "Fado" (pronounced f'doe) aims to tell the story of Ireland's pub culture and bring the best of Dublin pubs to the U.S. In normal times it does so by, among other things, showing every early-morning weekend English Premier League football (that's soccer for us Americans) match, hosting plenty of live music, and serving up roughly 50 types of Irish and Scotch whiskey from its impressive and imposing Victorian-style back bar. However it's still offering its staples, from cheese- and bacon-topped skillet chips to bangers and mash, for carryout or delivery from 4-8 p.m. daily, along with gifts cards that will directly benefit the restaurant's hourly staff.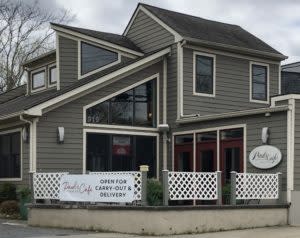 Photo courtesy of the author.
An Annapolis mainstay since 1949, when it opened as Paul's Lunch, Paul's Homewood Café (Homewood refers to the neighborhood next to the restaurant) is both somewhat under-the-radar and my go-to spot for Annapolis Restaurant Week. My top picks on its creative Greek-American menu are homemade hummus and chicken souvlaki, so I was happy to see that both, along with all sorts of other Greek specialties and family meals, are on its carryout and delivery menu.
Photo courtesy of the author.
Speaking of under-the-radar spots, you'd be forgiven for driving past Carlson's Thai Kitchen and not realizing that the unassuming building offers what's surely the most unique combination of cuisines in Annapolis. But you would definitely be missing out – the light, fluffy donuts are made fresh each morning, when they often sell out within a few hours, and the Thai food is as authentic as it comes, from Tom Yum soup to Pad Ka Prow, both of which have made me sweat on multiple occasions. Both menus are available for carryout.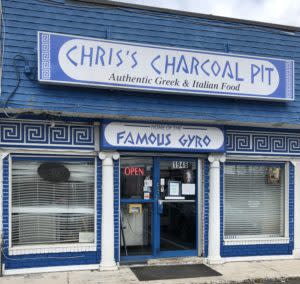 Photo courtesy of the author.
Just about halfway between Chinquapin Round Road and Gibralter Ave, nestled among the many fast food joints and car repair shops of "upper West Street" is Chris's, the self-proclaimed "home of the famous gyro" and, indeed, Annapolis's go-to spot for the sandwich. It's been around for roughly 40 years, however, because it offers everything else that a good Greek menu should have as well, from souvlaki and spanakopita to dolmades and moussaka, plus a laundry list of subs, sandwiches, and platters. The entire menu is available for carryout – and don't forget the baklava!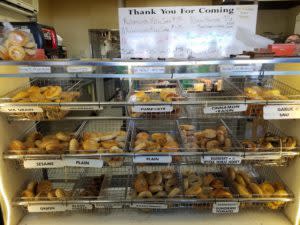 Photo courtesy of the author.
Similar to Chris's in both age and location, Bagel's And… has been serving fresh, homemade bagels from its spot in the last strip mall before Solomons Island Road for 38 years – including on holidays! It offers 21 traditional flavors, my favorite being six-grain everything; 14 cream cheeses, the most eye-catching being horseradish and bacon; and a wide array of breakfast sandwiches, lunch sandwiches, and platters. And it might be the earliest carryout option around, with the full menu available starting at 6:00 a.m. on weekdays, 6:30 a.m. on Saturday, and 7:00 a.m. on Sunday.
With so many different cuisines available for carryout or delivery within such a centralized stretch, you could be getting takeout from West Street for years and still never eat the same thing twice!
Note: Because restaurants' hours of operation and delivery services change on a regular basis, please visit their website or call to confirm.
 

Address

 

 

Website

 

 

Phone

 

 

Luna Blu

 

 

36 West Street

 

 

 

410-267-9950

 

El Toro Bravo

 

 

50 West Street

 

 

www.facebook.com/ElToroBravoAnnapolis

 

 

410-267-5949

 

 

Tsunami

 

51 West Steet

 

 

 

41-990-9868

 

Level

 

 

69 West Street

 
 

410-268-0003

 

Lemongrass

 

 

167 West Street

 
 

410-280-0086

 

Metropolitan Kitchen & Lounge

 

 

175 West Street

 
 

410-280-5160

 

Sailor Oyster Bar

 

 

196 West Street

 
 

410-571-5449

 

Fado

 

 
 
 

410-626-0069

 

 

Paul's Homewood Café

 

 

 

919 West Street

 

 

 

 

410-267-7891

 

Carlson's Thai Kitchen

 

 

1022 West Street

 
 

410-263-2454

 

Chris's Charcoal Pit

 

 

1946 West Street

 

 

 

410-266-5200

 

Bagel's And…

 

 

2019 West Street

 

 

 

410-224-8686