Just south of Annapolis, near the mouth of South River, sits the last remaining screw-pile lighthouse still in its original location on the Chesapeake Bay. The Thomas Point Shoal Lighthouse has been designated as a National Historical Landmark, only one of twelve lighthouses to be given this distinct honor. The 1 ½ story hexagonal cottage structure you see today atop the screw-pile foundation was completed in 1875 and adorns paintings, notecards, coffee cups, and more. It is an iconic landmark in the Chesapeake region. The lighthouse is the third building designed to protect boats from the Thomas Point Shoal. The other two were shore-based towers. The first was built in 1825, and the second in 1838. When it became apparent that a land-based tower was inadequate, plans were made to build a screw-pile lighthouse right on top of the shoal itself.
This particular building method, developed by Alexander Mitchell, an Irish lighthouse designer, is extremely important in allowing the lighthouse to remain stable and fixed to the sandy bottom of the Chesapeake Bay. The Coast Guard maintains the light for navigational purposes, but the structure has not operated since 1986. The three remaining screw-pile lighthouses have been moved from their original locations and are now museums.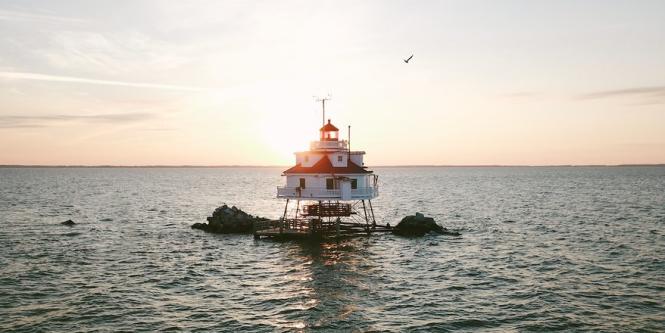 Current Owners
Through a public-private partnership in 2004, the lighthouse is maintained and cared for by The United States Lighthouse Society and its Chesapeake Chapter, the Annapolis Maritime Museum, the City of Annapolis, and Anne Arundel County. This partnership is dedicated to maintaining and preserving the lighthouse, restoring it for historical interpretation, and operating it for public tours. Aside from the partnership, many community businesses and volunteers have a special heart for the Thomas Point Shoal Lighthouse.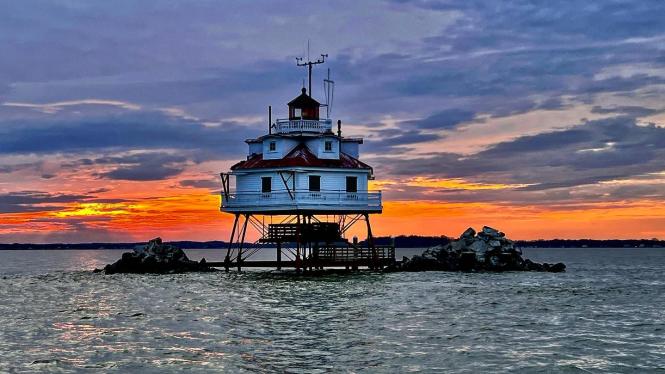 For some, the love of lighthouses, boating on the Chesapeake, or preserving historical landmarks drives them to give of their time, talents, and treasures. For others, it is a close and personal tie to this particular lighthouse, like having a past family member that served as a keeper of the light. Regardless of why they are involved, it is apparent that many people hold the Thomas Point Shoal Lighthouse in exceptional regard and are dedicated to preserving it for future generations.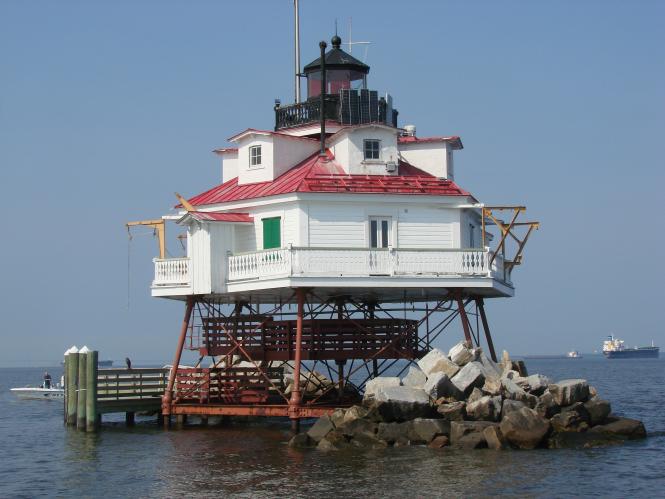 Tours
Public tours are available from the dock behind the Annapolis Maritime Museum at 723 2nd St., Annapolis, MD 21403. Available cruise times are at 9:30 am and 12:00 pm. The duration of the tour is two hours and includes a 30-minute boat ride to the lighthouse, a docent-led tour, and a 30-minute return boat ride, and tickets are $90/person.
The historic tour features how lighthouse keepers lived, how the U.S. Lighthouse Society is restoring and preserving this lighthouse, and about other lighthouses on the Bay and how they met their demise. Tours run on select Saturdays throughout the summer. More information can be found at https://amaritime.org/museum/thomas-point-lighthouse/ and www.uslhs.org.
UPDATE: 2023 Tour Dates are SOLD OUT