It's that time of year again. With a new year and a new decade upon us, it's time to hit the reset button and get back to good habits. If you're anything like me, you more than likely over-indulged over the holiday season. Besides some incredible fitness studios and gyms in the area, we're also very lucky to have some amazingly delicious options here in Annapolis. Eating healthy shouldn't be boring. It should be fun to go out and experience new and flavorful healthy foods! Here are my three absolute favorites for a quick and guilt free meal in Annapolis.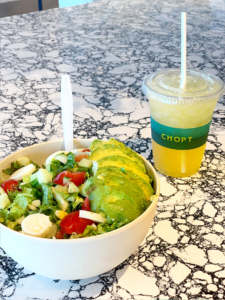 Photo courtesy of the author
Chopt Creative Salad Co. Chopt is now open in Festival at Riva shopping center and I couldn't be more excited about having this healthy option around town. With delicious options from warm cauliflower rice bowls to hearty salads, you could literally eat lunch here for a year and never get bored. The best thing is you can even craft your own fun creation from their list of over 50 options. The possibilities are endless. My top two choices are the Chinese Chicken and the Palm Beach salad with hearts of palm and avocado. The portions are big enough here, you will not be leaving unsatisfied.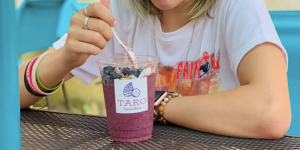 Image courtesy of Taro Smoothies
Taro Smoothies N Tea Taro is a recently added lovely corner smoothie shop in the heart of downtown Annapolis. I immediately fell in love with when I walked in. A few steps from the U.S. Naval Academy and Ego Ally, I enjoyed popping in to grab a healthy immunity boosting apple cider drink for a walk around main street with friends. The friendly staff made selecting the perfect drink a breeze. I particularly love the menu here because they add NO fillers to the smoothies. You can select your drink based on what kind of health benefits you are looking for, such as anti-inflammatory or detox. Find me on their cute patio on a warm day this spring sipping on all of the healthful drinks at Taro.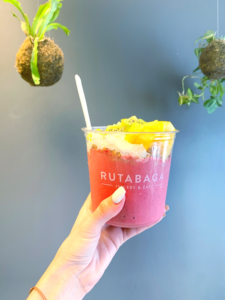 Photo courtesy of the author
Rutabaga One of my favorite little places to drop in and grab a quick bite with friends is Rutagaba. They are known for their super colorful and health conscious smoothie bowls that are 100% "Instagramable" but also have a variety of other yummy options. If you're looking for something sweet for cravings, try the nut butter banana on vegan toast. Delicious! This cute little shop always has fun kombucha flavors on tap with flavors like elderberry and fresh pressed juice to grab and go. I absolutely love enjoying a pitaya bowl topped with granola and fresh tropical fruit on the front patio.