In a world where microbreweries and spirit-filled concoctions are the norm, do you ever find yourself wishing you could take a step back in American history to a time when speakeasies and cocktails were king? Wish no more…The Loews Hotels "Traveller Bar" has popped up at the Loews Annapolis Hotel (126 West Street Annapolis, MD). This traveling speakeasy is built around the first ever "pop-up" traveling bar of its kind and will remain in Annapolis for a brief visit, now through Memorial Day, May 29.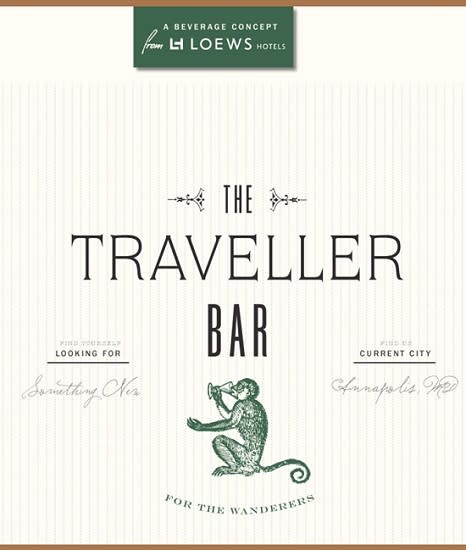 Constructed from an old elevator car, the Traveller Bar's metal-framed structure is re-assembled on site at each Loews property. The contemporary concept features a zinc-topped bar, four bar stools and a back metal mesh wall lined with shelves of bottles and an impressive library of nearly 50 vintage cocktail books, including a first-edition of the oldest cocktail recipe book ever written, the Bar-Tender's Guide by Jeremiah (Jerry) P. Thomas.
The Traveller Project offers eight classic cocktails on their menu and a bartender eager to share the stories behind the drinks. With recipes dating from 1862 to 1937, the cocktails, such as the Fedora, Gin Fix and Revolving Door, all have a rich history. While original versions of vintage cocktail books are locked away in the display cases of the tiny pop-up bar, electronic versions are available for browsing pleasure on a tablet at the bar.
"We are very excited to bring this unique pop-up bar to Loews Annapolis," said George Cronk, general manager of the hotel. "Taking us back to the golden age of cocktails, the Traveller Bar is a fun way for our guests to be a part of something special, and we encourage our local Annapolis community to come and visit. We are certain everyone will enjoy the feeling of going back in time at our little speakeasy."
The Traveller Bar will be open on the BAROAK Cookhouse & Taproom patio at the Loews Annapolis Hotel from 5 p.m. to 11 p.m. Wednesday through Saturday, and 1 p.m. to 7 p.m. on Sundays through Memorial Day, May 29.
Get over to the Loews to experience the "golden age of the cocktail" before The Traveller Bar heads out to their next stop in Philadelphia!