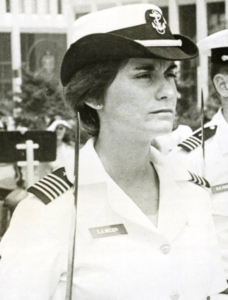 Elizabeth Anne (Belzer) Rowe, was the first female to graduate from the United States Naval Academy. Photo courtesy of THEFEMALESOLDIER.COM
There's a well-known and oft-altered saying about the famed dancing duo of Fred Astaire and Ginger Rogers. It goes something like this: 'Sure he was great, but don't forget that Ginger Rogers did everything he did, but backwards and in high heels.' This phrase is generally interpreted as how women can do anything men can do even with added layers of complication or effort. This certainly holds true for the women of the United States Naval Academy.
Women Admitted to the Naval Academy
How that extra effort is defined is different for each woman. As I was researching women to note in this article, I kept coming back to this quote. I tried to imagine what it must be like now, let alone 40 plus years ago to be a female Midshipman at the United States Naval Academy. While I can't imagine what it's like to have the mental and physical fortitude to be accepted, attend and graduate from USNA, there have been thousands of women who have. Here is a snapshot of some of those remarkable women.
The Trailblazers
In 1976, following the 1975 law establishing that females could attend service academies, 80 women entered the United States Naval Academy as plebes. In 1980, Elizabeth Anne (Belzer) Rowe was the first of 55 of those women to graduate from the Naval Academy.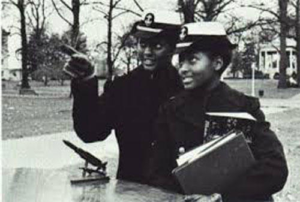 Janie Mines and her sister Gwyn. Janie was the first African American Graduate of the USNA. Photo courtesy of Janie Mines via WFAE.ORG
Janie Mines was not only a member of the class of 1980, but blazed a trail as both the first and only African American woman to graduate in her class. Her younger sister Gwyn followed suit a year later. When asked about her experience years later, she was quoted as saying, "It was challenging and lonely at times. I had to deal with difficult situations. It made me a better person, and I am hoping I helped make the Naval Academy a better place."
There are so many other firsts for these amazing graduates: Tabitha Strebel ('10) was the first of 24 female Naval Officers selected to serve aboard submarines.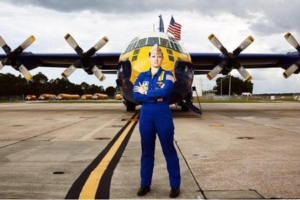 Katie Higgins Cook. Photo courtesy of HERCAMPUS.COM
Michelle J. Howard ('82) is the first African-American woman to command a United States Navy ship, USS Rushmore; and the first female to graduate and promote to a four-star admiral.
In 1984, Kristine Holderied became the first woman to graduate as valedictorian not only at the Naval Academy, but from any of the service academies.
Katie Higgins Cook ('08) is the First Lady Blue Angel and piloted the United States Marine Corps Lockheed C-130T Hercules, nicknamed "Fat Albert". Lt. J.G., Madeline Swegle ('17) is a United States Naval Aviator and the first African American female tactical jet pilot.
Virginia Brodie ('15) is the first woman in the Marine Corps to graduate at the top of her class from Artillery School.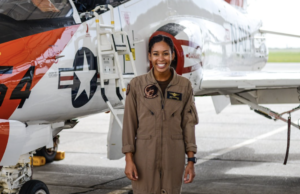 Madeline Swegle. Photo courtesy of AFROTECH.COM
Politicians
Some of the USNA female graduates have found their way into politics. Elaine Luria ('97) was the first woman in the nuclear power program and served at sea on six ships as a nuclear-trained Surface Warfare Officer. She continues to serve the 2nd District of Virginia as a Congresswoman. Congresswoman Mikie Sherrill (D-NJ) ('94) was a Navy helicopter pilot and an Asst. U.S. Attorney for the District of New Jersey before she found her way into politics. Amy McGrath ('97) was the 2018 Democratic nominee for Kentucky's 6th congressional district. She's also a former Marine fighter pilot.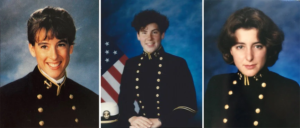 From left, Mikie Sherrill, Amy McGrath and Elaine Luria during their time at the United States Naval Academy. Photo courtesy of NEW YORK TIMES
Astronauts
As the saying goes 'The sky's the limit!', but not for these astronauts. Wendy Lawrence ('80) was the first female grad to fly into space and even visited the Russian Space Station Mir. Kayla Barron ('10) has not only been to space but she has also surfed the depths as a submarine warfare officer. Kay Hire ('81) flew aboard two Space Shuttle missions. Sunita Williams ('87) held the record of cumulative spacewalking time by a female astronaut until 2017. Nicole Mann ('99) is a test pilot and astronaut who currently works for NASA where she is training for the crew flight test of Boeing's Starliner spacecraft.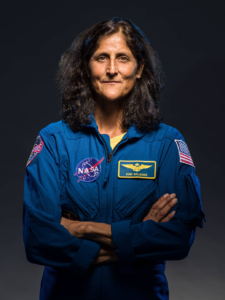 Sunita Williams (Photo courtesy of NASA)
Fallen Heroes
Of course, we cannot forget those who gave the ultimate sacrifice for their country. Megan McClung ('95), was a public affairs officer and the first female Marine Corps Officer to be killed in combat during the Iraq war. (KIA December 6, 2006).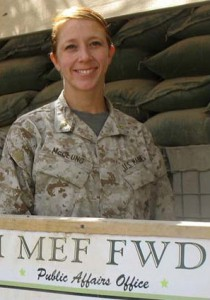 Megan McClung (Photo courtesy of SEMPERFIFUND.ORG)
Marine Capt. Jennifer J. Harris ('00) (KIA February 7, 2007) died when the helicopter she was flying in crashed while supporting combat operations in Anbar province, Iraq.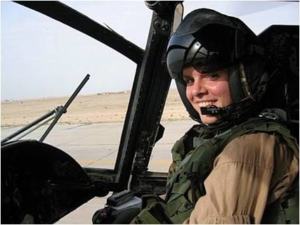 Marine Capt. Jennifer Harris. Photo courtesy of VALLEYPATRIOT.COM
Valerie Cappelaere Delaney ('09) was KIA on March 11, 2013 when the Navy jet she was piloting crashed. She was posthumously promoted to Lieutenant.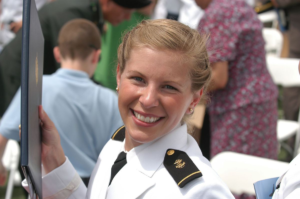 Navy Lt. Valerie Cappelaere Delaney (Photo courtesy of BALTIMORE SUN)
Since 1980, more than 5,500 women have graduated from the United States Naval Academy. To properly capture all of the distinguished female graduates in a short article such as this, is impossible. However, I encourage our Annapolis Discovered readers to learn about many of the other notable women of the USNA by listening to the 'Sisterhood of Mother B' podcast, hosted by female graduates of the U.S. Naval Academy.
For a video tour of the United States Naval Academy, click here.