Vida Taco Bar (200 Main Street, Annapolis, MD) has a discreetly hip vibe that invites you to explore its well-curated menu that is rich in flavor and surprisingly simple in its composition. Not your average taqueria, this Main Street gem is a favorite amongst many. On a mission to bring you a "farm to taco" experience, the components of each dish are sustainable and locally sourced. A winner on all counts, Vida Taco Bar keeps its cocktail menu fresh, its food meticulously plated, and its churro donuts hot. Yes. Churro. Donuts.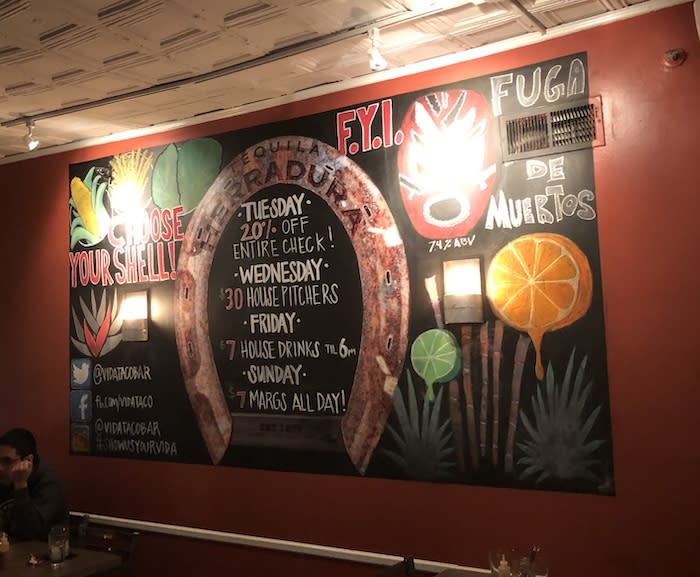 Image courtesy of author
On Main Street, there isn't a shortage of restaurants and eateries, but none with a distinct vibe like Vida Taco Bar. Nothing is a secret at this establishment – the bar is front and center and the kitchen pick up window is out in the open. Maybe this is an unintentional aspect of a small downtown restaurant, but it isn't left unnoticed. Dimly lit and finished with aluminum and steel, the table settings are uncomplicated and it's clear that the focus is on the food.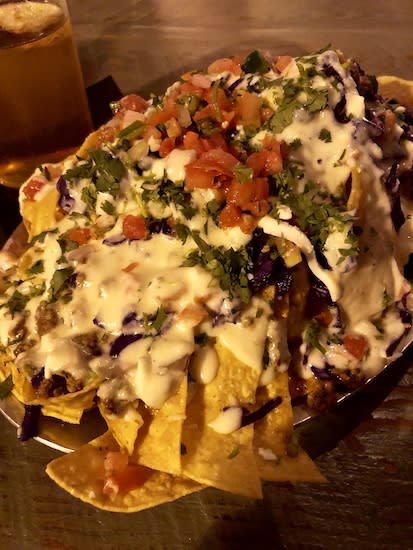 Image courtesy of author
There is one thing that I need to mention now. This is not your standard taco restaurant that welcomes you with a basket of chips and salsa. It is just not that type of place. After some thought, I've come to my own personal conclusion that they do this on purpose to keep your appetite on deck for all of the delicious menu options.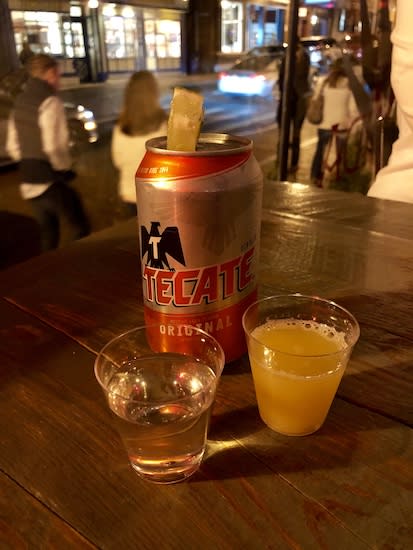 Image courtesy of author
From chicharrones to the queso fundido, to a towering plate of nachos, the starters are perfect for sharing and will give you the opportunity to sip on one (or more) of Vida's signature margaritas. The margaritas are made with freshly squeezed juice (lime or pineapple) and there is a wide selection of craft tequilas to choose from. If a margarita isn't what you are looking for, there are other cocktails (with tequila) and beers to choose from. And if you're wondering what the soup of the day is, it's tequila.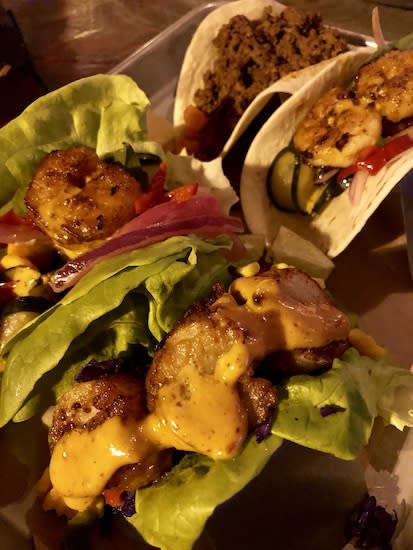 Image courtesy of author
There are 11 types of tacos that can be served in 3 different ways. Each taco is served a-la-carte and you have a choice of whether you would like your taco resting on a flour tortilla, corn tortilla, or lettuce wrap. The flavor combinations are unexpected and delightfully satisfying. I'm always a fan of the Gringo Taco on a flour tortilla (a classic) and the Thai Shrimp taco on a lettuce wrap (it's got a kick). Also worth mentioning is the Sweet Potato taco on a flour tortilla (totally fulfilling veggie option). There are also a few torta and salad options. There's only one dessert on the menu (the aforementioned churro donuts) but get them while you can because they've been known to sell out. If that's the case, don't be discouraged. There are a number of ice cream shops on Main Street to satiate that sweet tooth.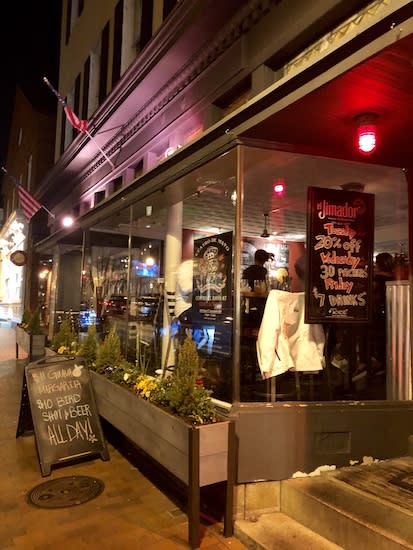 Image courtesy of author
Vida Taco Bar has a number of specials at each of their 3 locations, but visit the Annapolis spot to enjoy:
Sunday Funday – $7 house margaritas and $4 tecates
Taco Tuesday – 20% off your entire check
Pitcher Wednesday – $30 for a pitcher of house margarita, sangria, or purple drank
Throw it Back Thursday – 20% off all tequila
Friday – $7 house margaritas, sangria, and purple drank until 6 pm
Bird Shot Saturday – a shot of silver tequila with a pineapple chaser and a beer for $10
I'll see you there.
Images courtesy of Nina Vidal