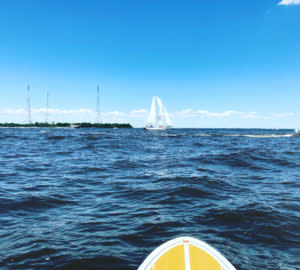 View of Greenbury Point. Photo courtesy of the author.
You could spend a month in Anne Arundel County and visit a different attraction, enjoy a different activity, and eat at three different restaurants every day.
But, if you're on a lengthy road trip up or down the coast, or perhaps headed East to the ocean (and short on time) just a day in the city is enough to give you a taste of its 370-year-old history – as long as you spend your time wisely.
With that in mind, here's a twelve-hours-or-less itinerary that provides a healthy dose of history, culture, sights, and of course; great food.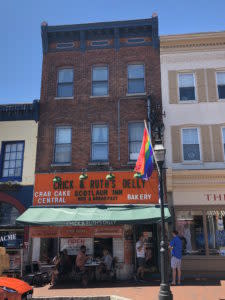 Chick & Ruth's Delly. Photo courtesy of the author.
Starting with the most important meal of the day, breakfast! C & R's is known as a greasy spoon by some, the home of the Colossal Shake, Sandwich, and Burger Challenge by others, but known as an Annapolis institution by all. 
Be sure to arrive for the daily Pledge of Allegiance, a tradition since 1989; that begins promptly at 8:30 AM M-F, or 9:30 AM on weekends. You will also soak up plenty of patriotism and history by perusing the hundreds of pictures of former politicians, Navy alums, and celebrities on its walls. They are also known for naming their menu items after local politicians (for example, current Maryland Governor Larry Hogan's cheesesteak and "Bipartisan Soup," a Maryland crab-cream of crab soup hybrid).
Whatever you select from the massive menu you'll leave with a full belly and plans to come back for more.
There's no better way to walk off breakfast than with a lesson in Annapolis' four-century history, along with a look at some of the beautiful brick buildings in which much of it took place. The tour normally runs 90 minutes.
Leaving from the Market House at 10:30 a.m. (offered April 1 – October 31), you and your colonially-clad, expert guide will visit many landmarks. Some of them include the Maryland State House, where the Treaty of Paris was ratified in 1784 during Annapolis's short stint as the nation's capital; the William Paca House, where Maryland's third governor and signer of the Declaration of Independence lived; Middleton Tavern and Reynolds Tavern where men such as Paca, in a stark juxtaposition, discussed the nation's independence and bought slaves such as Kunta Kinte. The tour also includes a visit to Kunta Kinte's memorial at City Dock.
You'll learn a lot by noon, but you can discover more with a Ghost Tour or Candlelight Stroll on your next visit. (Click here for more Annapolis history.)
If you weren't already aware, your walk will make it abundantly clear that Annapolis, and for that matter Maryland as a whole; is all about boating on the Bay. But, for those short on time, the best way to get on the water is by taking a fun yet practical trip from City Dock to the Annapolis Maritime Museum on a water taxi.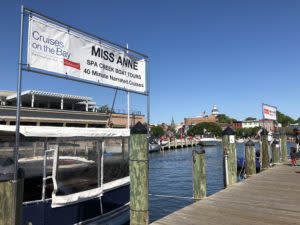 Annapolis Water Taxi. Photo courtesy of author.
Doing so will give you a great view of the United States Naval Academy, landmarks such as the Spa Creek Drawbridge, the WWII-era radio towers at Greenbury Point, and the Chesapeake Bay Bridge. When you have more time, you can take a captained cruise on the Schooner Woodwind or the Harbor Queen or helm your own sailboat at Annapolis Sailing School. Annapolis is also home to several kayaking and paddle board outfitters as well. Plus, your Water Taxi driver will be able to answer any questions that you might have during your quick trip across the harbor.
At the Annapolis Maritime Museum, located in the former home of the McNasby Seafood and Oyster Company, you'll get a quick yet thorough education on Annapolis' maritime heritage and ecology of the Chesapeake Bay – without even having to go inside!  
Reading the panels along the boardwalk around the building offer fun facts about how important seafood has been to both the local economy and the health of the Bay. For example, did you know just one oyster filters a whopping 50 gallons of water every day? And with all that talk about seafood, let's grab lunch.
Just a few hundred feet from the Museum you'll see Wild Country, a no-frills seafood store where Patrick Mahoney, "Annapolis' Last Waterman," sells the freshest, most local seafood in the area. The crabs, rockfish and perch are caught locally, and he offers his own oysters on the menu that he grows and harvests from the river bottom, daily.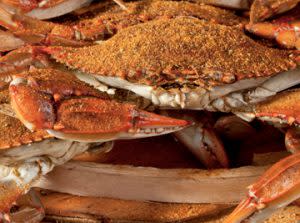 Photo courtesy of VAAAC.
"We're the best place to get a true taste of the Bay's seafood because the majority of our products are caught by us on the same day you're buying them," says Mahoney. And many locals would agree.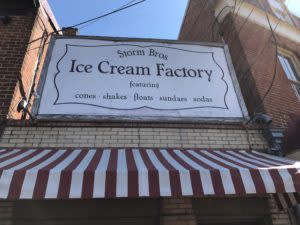 Storm Brothers Ice Cream. Photo courtesy of the author.
On the way back to Annapolis, you'll get a great panoramic view of downtown landmarks including the steeples of St. Mary's and St. Anne's Churches, the State House, and the Naval Academy Chapel Dome before capping off your late seafood lunch with a sweet treat.
You could of course visit Kilwins, whose intoxicating odors of fresh-made waffle cones waft up and down Main Street all day, or A.L. Goodies, where you can not only sample fudge from Uncle Bob's Fudge Kitchen but also watch it being made, but your first dessert in Annapolis should be from its oldest ice cream shop, 44-year-old Storm Brothers.
Whatever flavor you pick, from the traditional to the not-so-traditional (I'm looking at you, Blue Panda!), you'll love ending your day with a walk up Main Street with ice cream in hand.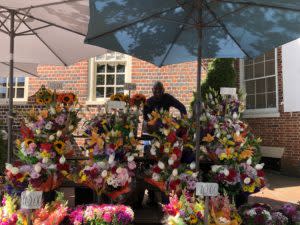 Darim Traore selling his flowers in front of Reynold's Tavern. Photo courtesy of the author.
But, before you leave...
If time permits, I highly recommend fitting in three last stops before leaving our fair city: buy a beautiful bouquet of flowers to-go from Darim Traore, the friendliest flower vendor in Annapolis who sets up daily outside of Reynolds Tavern; pick up a few uniquely Maryland souvenirs & treasures along with some road trip snacks from Annabeth's, on Maryland Avenue; and finally, take in one last view of Annapolis from the Maryland World War II Memorial on Ritchie Highway- just across the Naval Academy Bridge.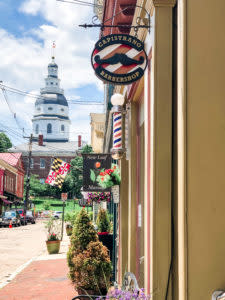 View to the Capitol down Maryland Avenue.