July can be steamy or dreamy – hot on land but much cooler on the water.  Watermark Cruises and the Schooner Woodwind offers a range of options for getting out on the scenic Severn River or the majestic Chesapeake Bay. These well- established local companies provide unique adventures of varying durations – from on-demand water taxis to foodie-favorite wine and dinner cruises.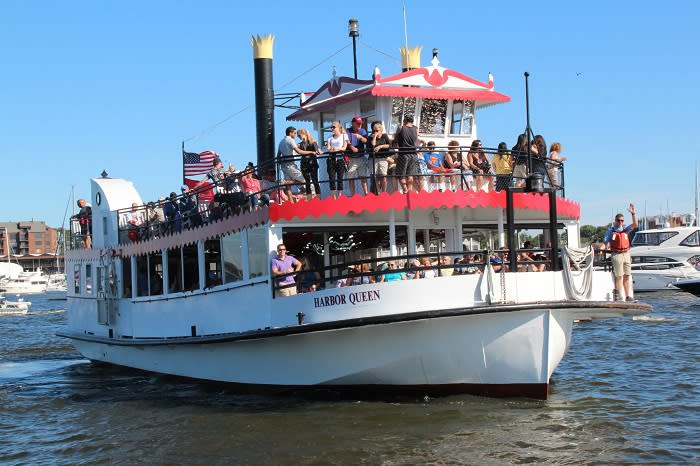 The Harbor Queen
Watermark has a fleet of boats, ranging from the popular Harbor Queen, a replica of an old river boat that leaves City Dock every few hours for a 40-minute cruise around the Annapolis Harbor to round trip cruise on a catamaran motor boat named Lady Sarah that takes passengers on a glorious round trip from the City Dock to the picturesque town of St. Michael's on Maryland's Eastern Shore. This perfect "day on the bay" is a double-edged treat, with fare that includes a complimentary ticket to the Maryland Maritime Museum, the boat's docking destination in St. Michael's. Ticket holders for the cruise have a three-hour layover in St. Michael's, a town with many good restaurants – among them the Crab Claw (super casual) and the elegant Inn at Perry Cabin.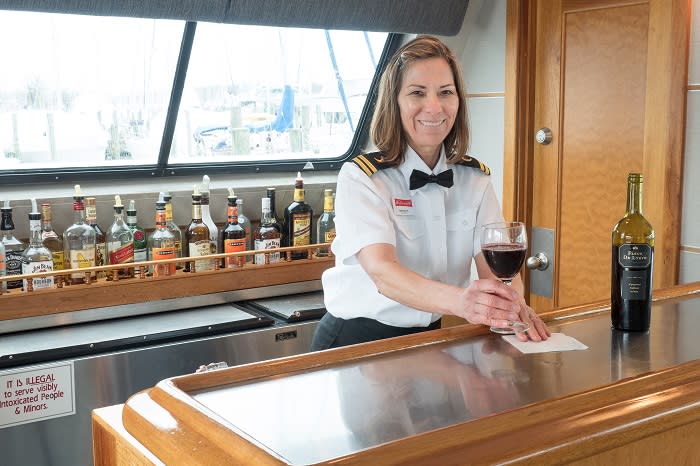 Other members of the Watermark fleet are the Miss Anne, a cozy 22-seater that plies the coves of Carrol's Creek and Cabaret II, a motorized craft whose route focuses on lighthouses on the bay. And there's one more boat in the fleet – a water taxi. Call the Watermark Captain at 410-263-2033 if you need a water taxi to take you to and from the concentration of good restaurants on the Eastport side of the Annapolis Harbor.  This low-cost on-demand service originates at the City Dock, ferrying passengers to the docks of the Annapolis Chart House, Carrol's Creek Café and O'Leary's Seafood Restaurant and to walking-distance destinations like Ruth's Chris, Boatyard Bar & Grill and Lewnes Steak House.  P.S. Watermark folks are pet friendly, welcoming leashed and well-behaved dogs on most cruises.
Call Katy 410-268-7601 for more information and go to www.cruisesonthebay.com for reservations and schedule.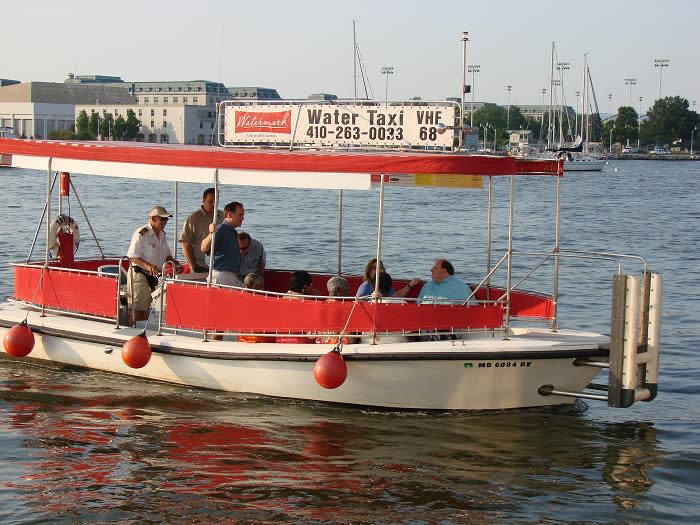 Schooner Woodwind & Woodwind II, a pair of gorgeous 74-foot wooden boats, offer a winning variety of on-the-water excursions ranging from daily two-hour cruises to Saturday night "Boat and Breakfast" accommodations that include a two-hour sunset sail and sunrise breakfast on the deck.  "Party Like a Sailor" events provide a taste of sailboat racing, with both schooners competing with each other during the popular Wednesday Night Races sponsored by the Annapolis Yacht Club. Reservation holders are entitled to a Cuzon Rum Punch beverage on board and another at the informal "after party" at the Boatyard Bar and Grill in Eastport.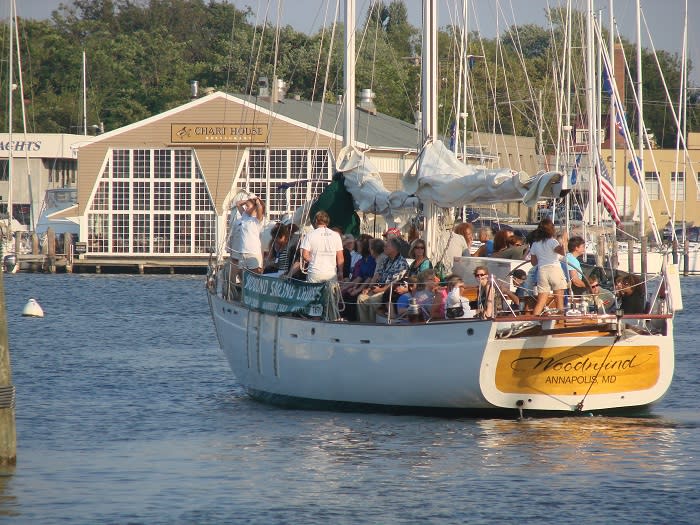 Schooner Woodwind owner and seasoned sailor Jen Kaye is also a "foodie," who masterminds "Wine in the Wind" evenings.  Tickets are still available for August 27, a Spanish-themed two-hour sail featuring four wine samples "perfectly paired with magnificent morsels" provided by prime time Annapolis caterer Palate Pleasers.  Kaye will showcase the wines of Maryland's Dodson Vineyards at a special dinner on August 20, when the menu will include a rose paired with a ceviche of scallops and shrimp, chardonnay with jumbo lump crab salad, red with beef medallions and a floral white with a dessert torte.  At this point, there are nine remaining reservations.
Captain Kaye will celebrate Schooner Woodwinds' 25th anniversary in 2018 – during which time Schooner II achieved international celebrity as the "star" of the movie "Wedding Crashers." These two photogenic schooners are the setting for corporate team building sessions, wedding rehearsals and receptions and high-end social gatherings.  Scheduled cruises happen rain or shine or with only one person on board. Their home port is the dock at the Annapolis Waterfront Hotel, where they depart for two-hour cruises at 11 am and 1:30, 4 and 6:30 pm.  Join the crew with a call to 410-263-7837 for more information and go to www.schoonerwoodwind.com for reservations and schedule.
Photos courtesy of Cruises on the Bay by Watermark and Annapolis Sailing Cruises: Schooner Woodwind.